Friday, January 21st, 2022
Celina wrestlers down Bath
By Gary R. Rasberry
CELINA - It was a perfect Senior Night for the Celina wrestling team.
All five seniors recorded victories and the Bulldogs recorded pinfalls or technical falls in all their wins, picking up a 64-18 victory over Bath in Western Buckeye League dual match action at Celina High School on Thursday. The win moves Celina to 5-1 in league dual matches.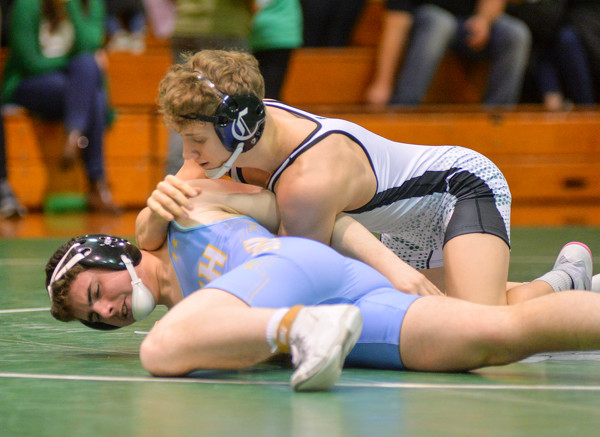 Photo by Paige Sutter/The Daily Standard
"Our seniors all wrestled well. We're excited for them," said Celina coach James Miracle. "We're excited for them going into their last month of their careers. We keep trying to claw at St. Marys and try to get them in the (WBL tournament, which Celina hosts in February)."
The win came as part of a busy week for the Celina wrestling team. Kenzie Miracle, daughter of coach Miracle, competed in a tournament on Sunday. Younger wrestlers competed at National Trail on Tuesday. Tonight, Celina travels to Coldwater for a dual match and then heads to Wapakoneta on Saturday for the Lions Invitational.
"We told the kids to push through it and next week we have nothing with Ottawa-Glandorf forfeiting (due to lack of numbers for team competition)," said coach Miracle. "We have a week to get healthy and take it easy a little bit, then we have two huge duals with Wapakoneta and Defiance heading into league."
Senior Landin Wallace opened up the night for Celina with a pin in 49 seconds over Carter Deppe at 113 points. Senior Brycen Miracle added another technical fall to his school-record total with a 17-2 win over Jaxon Richey. Bath voided out at 126 and 132. The third senior for Celina, Landon Engle pinned Carson Myers in 1:27 to make the score 29-0 Celina. Zack King scored the quick pin of the night at 144 in getting the count over Jayden Shaw in 48 seconds.
Bath scored its first points of the night at 150 as Ezekiel Burkholder pinned Zeph Miller in 64 seconds. Celina got back to the winning ways at 157 as senior Jaden King pinned Skyler Thomas with four seconds remaining in the first period.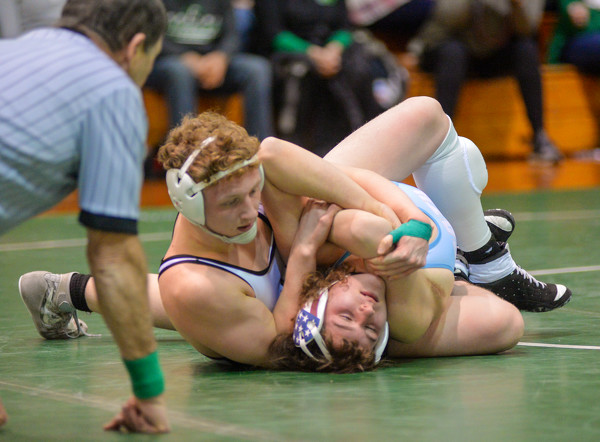 Photo by Paige Sutter/The Daily Standard
Bath tallied its last competitive win at 165, as Nolan Deppe got a reversal of Gavin Brown late in the third period and got the pin with 26 seconds remaining in the match to make the score 41-12. The Bulldogs clinched the match at 175 with Tyler Carlin pinning Landon Oglesbee in 1:47 to make it 47-12. Alex Stachler completed the 5-0 night for the seniors with a 20-3 technical fall over Zoran Cannode at 190 pounds.
The last contested varsity match of the night proved to be a dandy at 215 pounds. Bath's Austin Van Horn led 5-0 after the first period against Rece Rutledge. The wrestlers started from the neutral position to start the second period when Rutledge scored the takedown and maneuvered Van Horn into a pinning position, getting the whistle at 2:48 to make it 58-12.
"He's weighing 185, so he's giving up 30 pounds," said coach Miracle of Rutledge. "For him to come back like that, that's what he has to do against bigger guys: Keep him moving, give them angles and wear them out. "
Bath and Celina traded voids at 285 and 106 to wrap up the match.
"Can't ask for much more," said coach Miracle. "We had one match get away from us at 165, but outside of that, it was a good night."