Wednesday, May 18th, 2022
Earning Another Day
Indians outlast Wildcats, Cardinals fall to Lancers
By Tom Haines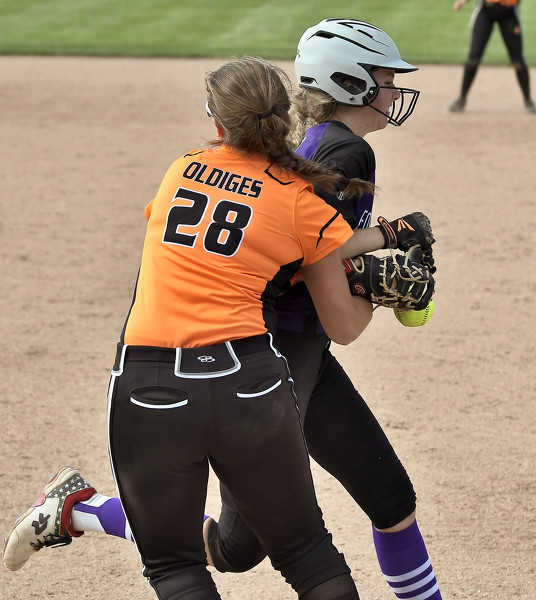 Photo by Nick Wenning/The Daily Standard
WAPAKONETA - Fort Recovery reached its first softball district final in memory as two other Midwest Athletic Conference teams bowed out in the Division IV district semifinals in Wapakoneta on Tuesday.
In the opener, the Indians withstood several blows from Minster before delivering the knockout with two runs in the top of the eighth to secure an 8-6 win. In the nightcap, New Bremen surrendered eight runs in the fourth inning on the way to a five-inning, 12-2 loss to Lincolnview.
Fort Recovery will take on the Lancers in the district final at 5 p.m. Friday in Wapakoneta.


Fort Recovery 8, Minster 6
(8 innings)
After Wildcat miscues helped the Indians force extras, Ella Schoen led off the eighth with a single up the middle off freshman Brooklyn Osterloh and moved to second on a sacrifice before Ava Grisez hit a grounder past the second-base bag that brought Schoen around to make it 7-6.
With Gabrielle Wehrman stepping into the circle, Emma Will hit a grounder to third and Minster first baseman Hannah Oldiges dropped the throw, and Chloey Grisez followed with a potential double-play ball to second. Will beat the flip to shortstop Lyndi Hemmelgarn, and everyone reached safely as Ava Grisez came home.
Wehrman got two groundouts to end the inning, but the damage was done.
"I was just thinking how proud I was of these girls for competing the whole way through," Fort Recovery coach Ryan Thien said. "They jumped on us early in that first inning, and it could've went one of two ways. Luckily it went our way. We just kept battling back, fighting back, scrapping out some hits and getting a few breaks."

After diving grabs by Chloey Grisez at short and Will in right field gave Fort Recovery (14-8) two outs in the eight, the Wildcats mustered one last gasp when Addi Inskeep hit a ground ball through reliever Sophie Pearson's legs for a single and Mikaela Hoskins worked a five-pitch walk to bring up Oldiges.
Oldiges turned on a 1-2 pitch low in the zone and golfed it into the right-center gap, where it hung up for Will to make the catch and end the game.
"We didn't execute when we needed to at times," Minster coach Robb Hemmelgarn said. "You give a good team extra outs, it comes back to bite you, and it bit us tonight."
Trailing 5-2 in the fifth, Minster (19-7) sandwiched two singles around a full-count walk before Kacie Albers and Emma Linn hit back-to-back sacrifice flies. With Oldiges on third as the tying run, Indians starter Jackie Homan got Alayna Prenger to hit a soft line drive to second base to end the inning.
But the Wildcats came back in the sixth, starting with Rylin Trego, who hit a soft ground ball that slipped from Schoen's glove at third base. Lyndi Hemmelgarn moved her to second with a sacrifice bunt and Savanah Bergman lined a single to right, moving up to second on the throw. Homan struck out Inskeep on four pitches before Hoskins doubled over the head of Kensey Gaerke in centerfield to put Minster ahead 6-5.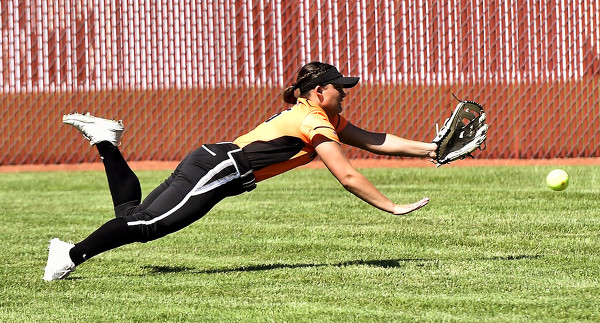 Photo by Nick Wenning/The Daily Standard
Down to the final three outs, Fort Recovery found a much-needed reserve of luck. Chloey Grisez's one-out grounder nicked Hoskins' glove at second and trickled into the outfield grass, and Pearson hit a short grounder that Osterloh looked to turn into a double play and instead threw into centerfield.
With the tying run at second, Homan hit a grounder that Oldiges knocked down into foul territory. As Oldiges recovered and tried to slap on a tag near the base, Homan ran through and knocked the ball out of her glove as Chloey Grisez crossed the plate.
"I didn't see what happened there, I was coaching the girl coming around third," Thien said. "Next thing I know, I looked over and the ball's on the ground and she was safe."
Coach Hemmelgarn appealed and the umpires conferenced, but the call stood.
"I thought we were going for the orange bag, which opens up, and the runner has to go for the white bag, which she did, but they didn't reverse that call," coach Hemmelgarn said. "Is what it is. Their call."
The Indians tried for a double steal, but for the second time, Hemmelgarn cut off the throw and gunned down the runner at the plate, and after an intentional walk, Gaerke hit a grounder to Oldiges at short to end the seventh before Pearson struck out the side in the bottom half to send the game to extras.
Minster got to Homan in the first, stringing together four straight singles to push across two runs before Homan regrouped for the final two outs. Fort Recovery answered right away, as Maddie Guggenbiller hit a line-drive homer to straightaway center and Schoen scored on a wild pitch to tie the game at two. Hoskins, who started in the circle for the Wildcats, left after two innings.
Guggenbiller chased reliever Kaycie Albers with a two-run single in the third, and Osterloh induced a double play to end the inning. In the fourth, Cali Wendel was hit by a pitch, stole second, went to third on a wild pitch and scored on Ava Grisez's single to give the Indians a three-run lead.
"We're young," coach Hemmelgarn said. "We only graduate one senior who's a regular, every-day starter, so we've got a lot of freshmen and sophomores out there, couple junior starters. We'll bounce back."
Lincolnview 12, New Bremen 2
(5 innings)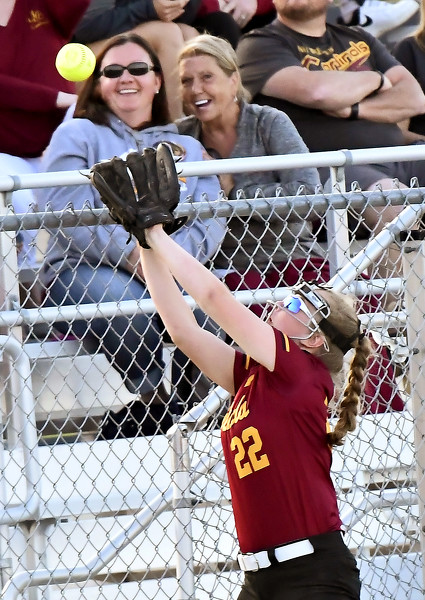 Photo by Nick Wenning/The Daily Standard
The Cardinals struggled to slow down the Lancers' bats all night, and a disastrous fourth inning sealed their fate.
With Lincolnview ahead 4-0, Kendall Bollenbacher led off the fourth with an inside-the-park home run on a drive to right-center, and New Bremen's fortunes only got worse. An error and a single put two more runners on, and Addysen Stevens came home on a wild pitch to make it 6-0 before Cardinals starter Alayna Ross induced a grounder for the first out.
Andi Webb tripled to deep center to drive in another run and Zadria King reached on a soft hit to the left side to bring home Webb. After a flyout, Ashlyn Price singled to right, and the throw back to the infield skittered away to bring King in as the Lancers pushed the margin to 10.

"Nerves started early in the game, and got worse with things that were happening in the game," New Bremen coach Gary Moeder said. "Had a little error here, and I think we let that get to us. Just one of those things. I think for a lot of them, we need to get more solid on that (mental) side of the game, but that comes with age."
Makayla Jackman walked and Bollenbacher hit a fly ball that was misplayed in left, allowing Jackman to score. Stevens singled home Bollenbacher before Ross struck out Taylor Post for the third out.
New Bremen (7-16) got back on the board in the bottom of the fourth after Ross was hit by a pitch and scored on Ella Pape's double, the first Cardinals hit of the game. After Ross pitched a scoreless fifth, Mackenzie Bornhorst doubled to the left-center gap, then scored on Lauren Homan's single to left to cut the lead to 10.
Pinch-runner Katie Mertz stole second and moved to third on a groundout before Allison Hays hit a tailing line drive into right field foul ground, where Jackman ran it down for the final out.
"They hit the ball better than we expected," Moeder said. "And they got to some of ours that I thought were going to fall. Just one of those games."