Saturday, May 21st, 2022
Historic run ends
Indians' comeback is for naught as Lancers score six in seventh
By Tom Haines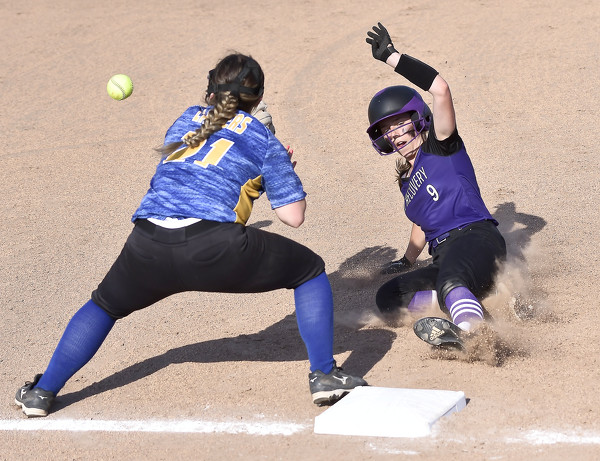 Photo by Nick Wenning/The Daily Standard
WAPAKONETA - After clawing back from a 4-2 deficit, Fort Recovery ran out of steam in the seventh inning.
Starting pitcher Jackie Homan returned to the circle in the top of the seventh and got shelled for six runs as Lincolnview buried the Indians 10-5 in the Division IV district final at Wapakoneta on Friday.
The Indians end their season with their first-ever district runner-up finish after winning in the semifinals for the first time in program history.
"I hope it eats at them all year, to want to get back here and win it," Fort Recovery coach Ryan Thien said.
Fort Recovery (14-9) had gotten three innings of scoreless relief from Sophie Pearson heading into the seventh, but Pearson promptly fell behind 3-0 before issuing a full-count walk to Makayla Jackman. That brought Thien out to give the ball to Homan, who had left after giving up four runs on five hits in the third.
Kendall Bollenbacher singled through the left side before Addysen Stevens smashed a line drive up the third base line past a diving Ella Schoen, and Jackman and Bollenbacher raced home to make it 6-4 as Stevens steamed into third with a triple.
"She was getting a little gassed, I thought, with walking that batter," Thien said of Pearson. "I thought that we could bring Jackie in fresh, and it didn't work out in my favor."
Homan induced an RBI groundout for the first out of the inning, but then the hit parade continued. Braxton Sherrick singled through the left side and moved to second on an errant throw, Andi Webb hit an RBI single to right, and Zadria King hit a line drive to left for an RBI double before Thien went back to Pearson.
Pearson got a groundout before Ashlyn Price hit an RBI double to make it 10-4 and was thrown out trying for third to bring the inning to a merciful end.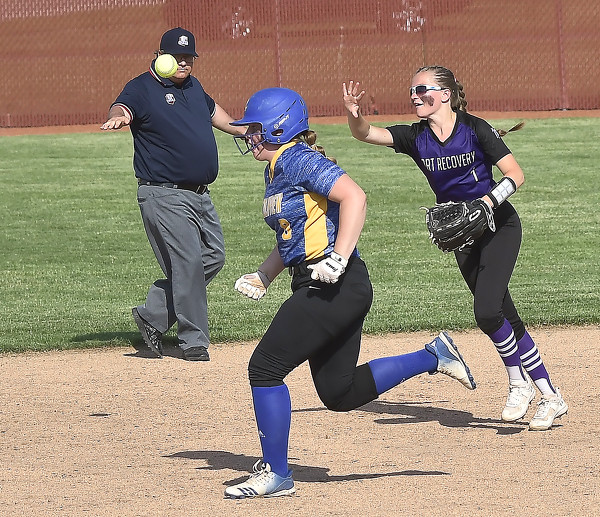 Photo by Nick Wenning/The Daily Standard
Schoen led off the bottom of the seventh with a double but was thrown out trying for third on a passed ball. Cali Wendel was hit by a pitch and moved up to second on the passed ball, then scored on Emma Will's two-out single to center to make it 10-5.
Chloey Grisez swung at the first pitch and sent a flare into shallow right, where Price reached up to make the catch and end the game. Will, at first, became the 12th runner stranded by the Indians.
"I thought we did a great job tonight at the plate," Thien said. "We just couldn't find that timely hit, or that cheap hit, when we needed it. There's nothing, really - I thought our approach tonight went really well."
Fort Recovery took a 2-0 lead in the first after Will reached on an error and Pearson legged out an infield single. Homan brought Will in with a groundout and Maddie Guggenbiller hit a slow bouncer to short for an infield hit as another run scored.
Kensey Gaerke hit a two-out single through the left side to keep the rally going, but Lancers pitcher Taylor Post got a groundout to end the inning.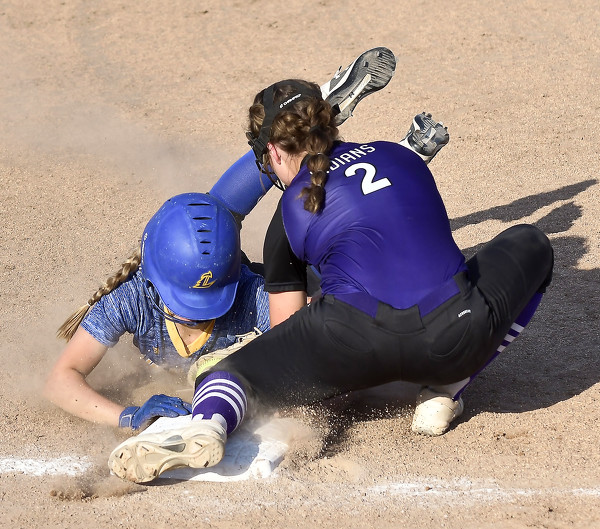 Photo by Nick Wenning/The Daily Standard
In the second, back-to-back one-out singles were erased when Grisez lined into a double play, and two-out rallies in the third and fourth came to nothing as the Indians failed to add on.
Lincolnview (22-4) left the bases loaded in the second before timing up Homan in the third, as a single and an error tied the game before Post hit a two-run single to right-center to put the Lancers ahead. Homan got a flyout before back-to-back singles scored another run.
"Not (struggling) that I could see," Thien said of Homan. "Just a good hitting team."
Pearson took over for the next three innings, with the only blemish a leadoff walk in the fifth that was erased by a double play.
Homan got the Indians' bats going again with a ground-rule double to lead off the fifth, and after two quick outs, Schoen hit a bloop single to center to cut the lead to one. An error put two on for Ava Grisez, who hit a slow roller to shortstop and just barely failed to beat the throw.
In the sixth, Pearson's two out single started things off, and after Homan walked, Guggenbiller hit a drive to left-center for an RBI double to tie the game at 4. Thien held Homan at third, and Gaerke grounded out to first to end the threat.
Only three starters - Homan, Macy Shinabery and Chloey Grisez - graduate these year, leaving the core of the team intact for 2023.
"I told them, 'We have to make it a goal to get back here and win it,'" Thien said. "We're losing some really nice players in our seniors. I can't say enough about how good they were, what leaders they were, and how proud I am of them."