Thursday, May 26th, 2022
Under the Wire
Knapke, Slusher, Winner win regional titles before rainout
By Tom Haines
TROY - The thunder started just after 7 p.m., but that still left Caden Slusher, Jack Knapke and Molly Winner enough time to win individual regional titles.

Parkway's Slusher tied for first in the long jump, Marion Local's Knapke won the discus and Flyers teammate Winner came in ahead of two Midwest Athletic Conference rivals for first in the shot put before lightning erased half of the first day's schedule at the Division III regional track and field meet at Troy's Memorial Stadium on Wednesday.
"Molly as the regional champion, she deserves it," Marion coach Kyle Grabowski said. "She works her butt off… Jack Knapke in the discus, what a bright young star he is. That's something that you just don't see from a sophomore. Just continually impressive marks. Being regularly in the 150s is exceptional."
The meet will resume Friday with the finals of the 100 and 110 hurdles, 100 dashes and 4x200 relays held first. After the 1,600 final, the events that did not run on Wednesday will run two heats, with the four fastest times advancing to state.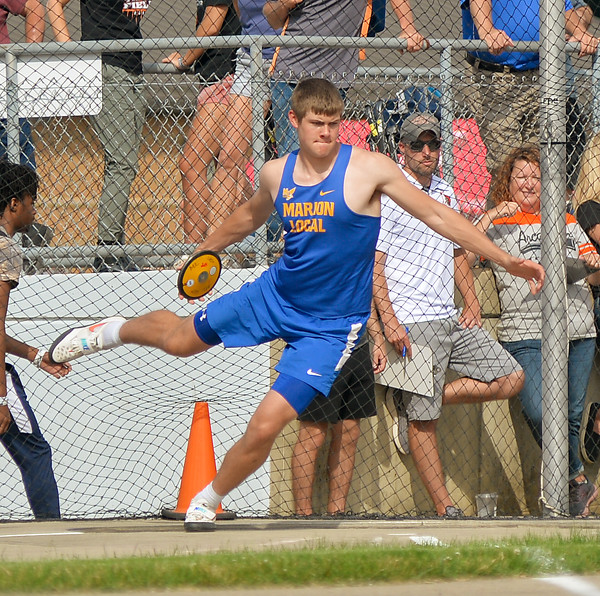 Photo by Paige Sutter/The Daily Standard
Knapke, who placed 14th at state in the discus last year, hit 158-10 on his second throw to put him well ahead of the field. Lehman Catholic's Michael McFarland topped 150 three times, getting as close as 158-2 on his fifth throw, but couldn't prevent Knapke from claiming his second regional title in two years.
"He's had so many opportunities, as a three-sport athlete, in big moments," Grabowski said. "It's crazy. As a sophomore in, let's call it his fifth varsity season, he's so calm and collected. It's great to see out of him."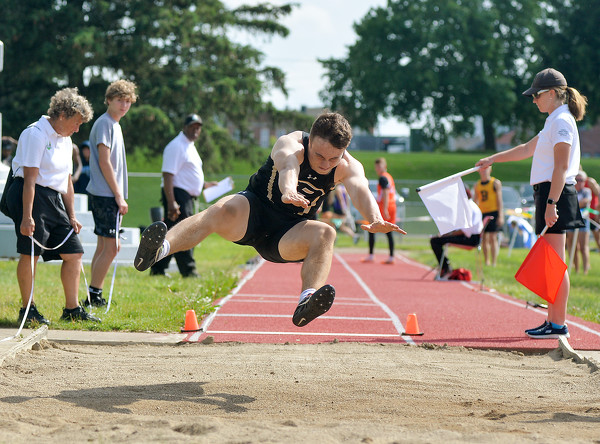 Photo by Paige Sutter/The Daily Standard
After placing sixth in the regionals last year, Slusher, a senior, added six inches to his qualifying mark and nearly a foot to his regional best last year, making a jump of 20-71/4 that tied with Williamsburg's Justyn Fuller for first place and earned him his first trip to state.
"He's been enjoying his senior year," Parkway coach Nathan Rupp said, "and that's been kind of helping him to relax."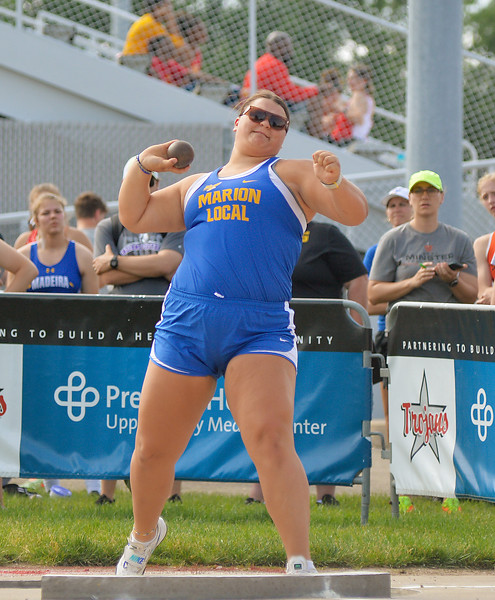 Photo by Paige Sutter/The Daily Standard
Winner was never seriously challenged in the shot put. Four of her throws topping 40 feet and the other one hit 39-91/2, while second-place Whitley Rammel of Fort Recovery topped out at 39-10.
Winner finished with a mark of 41-61/2, 21/2 feet better than the throw that earned her fourth at the state tournament last year.
"Molly of yesteryear, freshman Molly, had the potential but didn't have that clutch gene," Grabowski said. "As a senior now she's kind of flexing her muscles, which is fun to see."
Rammel and Minster's Lillian Barhorst moved on in the discus, but Rammel fell short of another state berth in the high jump, topping out at 5-1 for eighth place. Minster's Kayla Lamm cleared the bar at 5-2 on her third attempt, but couldn't make 5-3 to ensure a trip to state. With only three girls clearing 5-3 and three more tied at 5-2, Fort Loramie's Riley Heitkamp got the final berth on the tiebreaker of fewer attempts as Lamm fell to sixth.
Minster's Russell Heid and Marion's Nate Buschur both advanced in the pole vault, with Heid clearing 13-0 to earn fourth place. Buschur broke his own school record, clearing 14-4 on the third try and slotting in third behind Ansonia's Jackson Shellhaas and Fort Loramie's Gavin Kemper, who broke the meet record with a vault of 15-9.
"A new school record again to finish behind the two favorites for state, that was a great performance from him," Grabowski said.
Coldwater's Jesse Meyer got multiple shots at a state berth, coming in behind Knapke and McFarland with a throw of 144-8 to earn third and a trip to state in the discus before topping out at 19-113/4 in the long jump, six inches short of LCC's Evan Unruh in fourth place.
Unruh and his coach took exception to the order of jumps for Meyer and Anna's Justin Richards, who both competed in multiple events. Unruh made no effort to hide his exasperation and his coach repeatedly berated the officials, who were unmoved.
On the track, the Minster girls won the 4x800 relay finals by five seconds over Fort Loramie, with Coldwater finishing third to move on. West Liberty-Salem held off New Bremen by 10 seconds to secure the final qualifying spot.
Minster, Marion Local and New Bremen were clustered just outside of the top four at the final handoff of the boys 4x800, along with Botkins. Minster's Alex Albers passed Lincolnview for fourth early in the final lap and ran down Springfield Emmanuel Christian Academy to take second behind Fort Loramie, while Botkins' anchor passed the Lancers' Conner Baldauf to take fourth as Lincolnview and Marion finished fifth and sixth.
With a time of 8:19.86, Marion beat the fifth-place teams from the other Division III regionals to earn the last at-large qualifying berth in the state.
"We're going to send six from this region on in the 4x800," Grabowski said. "(It's) just a testament to this area's athletes."
Just after 7 p.m., as the second heat of the boys 4x200-meter relay was just underway, the official by the third turn raised a yellow flag. As he tried to get the attention of the other officials, the teams, including Minster and Marion, continued through the final two handoffs.
Finally the chief official saw and put up a yellow flag as the boys thundered down the homestretch, with Minster's Jack Kohne and Marion's Peyton Otte doing just enough to move on to Friday. A moment later, the official switched to a red flag and the teams and fans were ordered to seek shelter.
At 7:35, with several lightning strikes spotted during the delay, an announcement was made that the rest of the events would be scratched.
With four boys events scored, Fort Loramie and Marion were tied at 22 points apiece while Minster was third with 16. The Minster girls led Fort Loramie 19-16 with three events scored.