Thursday, September 29th, 2022
Few new details on Homeland Security raid
By William Kincaid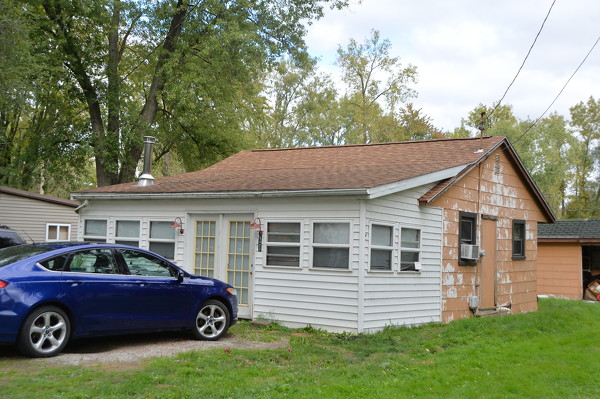 Photo by Paige Sutter/The Daily Standard
The U.S. Department of Homeland Security on Tuesday morning executed a search warrant at 5452 Wilson Drive in Behm's Landing on the south side of Grand Lake.
The operation was carried out in part with assistance from two deputies and two detectives with the Mercer County Sheriff's Office. Both federal and state investigations appear to be ongoing, according to a preliminary, incomplete and heavily redacted incident report from the sheriff's office.
Federal officials have declined to comment on the investigation but sheriff Jeff Grey issued a brief statement on Wednesday afternoon.
"There is not a risk to the community and our citizens are not at risk out of this incident," Grey said.
Federal agents were reportedly targeting a 25-year-old, 6-foot-2-inch tall, 240-pound white male who lives in a small house on Wilson Drive. The dwelling is owned Dexter Family LTD C/O Robert Grimm on leased land, per county auditor documents.
The suspect description matches that of Lucas Russell Vanwoert who was booked into the Mercer County jail on Tuesday on the charge of "U.S. code animal cruelty," a fifth degree felony. He was released from the jail on Wednesday, the jail website shows.
Vanwoert was listed as an active inmate on Wednesday at Lucas County Corrections Center in Toledo. The site shows Vanwoert had been arrested by U.S. Marshals Service and listed the applicable court as federal district court. The charge was listed as "in transit."
The sheriff's office preliminary incident report also listed an involved person as a 5-foot-10-inch tall, 340-pound white female who also resides at the same address. Her date of birth was redacted.
The sheriff's office on Sept. 21 was contacted by the Department of Homeland Security in regards to a matter occurring within Mercer County. A Homeland Security agent reportedly indicated the organization planned to serve a search warrant on Sept. 27 and requested marked units to assist, the report states.
"This matter originated in another (redacted) were being sent on the internet. It was narrowed down to this location at 5452 Wilson Dr in Behm's Landing," the report states.
The male suspect is married. "They (the man and woman) are currently living with her father (redacted) at the above listed address."
"I was advised that (redacted) is from (redacted) and then moved to (redacted) before coming to this area," the report states.
"(The agent) advised me that they are going to have several people coming in from all over the place to assist in the execution of the search warrant," the report states. "He advised that they do not need help with that but rather would like to have at least 2 marked Deputies in the area to assist. He further advised me that they will be staying at the (redacted) and (redacted) in Lima."
The sheriff's office was to provide two marked patrol deputies "to assist with shutting this down to traffic in the area," per the report. Two sheriff's office detectives also were to assist.
A video posted on social media Tuesday purportedly shows footage of authorities in SUVs with red-and-blue flashing lights boxing in a vehicle and making an arrest at a residence on Wilson Drive at roughly 7:05 a.m. Tuesday.
"Police! Show me your hands! Do it now! Don't move!" one officer shouts. "Put the car in park! Turn it off!"
"Get your hands up, all the way up!" another officer yells.
The resident who took the video recording shared further details of the event but wished to remain anonymous.
She said she woke up and saw a big SUV put on its police lights in the back and witnessed a bunch of apparent law enforcement officers "in tactical uniforms," she said. Then they turned off their lights and hid.
She said she doesn't personally know the man who lives at the house but said he typically comes to his home at about 7 a.m.
"Sure enough, he came in at 7 and that's when I started recording. He had just pulled in and, yeah, they had him," she said.
A group of officials conducting the operation included those with HSI and U.S. Immigration and Customs Enforcement, she said.
She also noted the presence of an armored vehicle and a helicopter that flew over the area for about an hour.
"A Homeland Security gentleman did come up and talk to me and my neighbor and said 'I just want to let you know there's no danger. Nobody's injured. Nobody's hurt.' It's somebody they've been investigating for a while and he had just moved there in August or something," she said.
Most people in Behm's Landing own their dwellings but lease the land and must undergo a background check, she said.