Saturday, October 1st, 2022
Riders run wild against Wildcats
By Tom Haines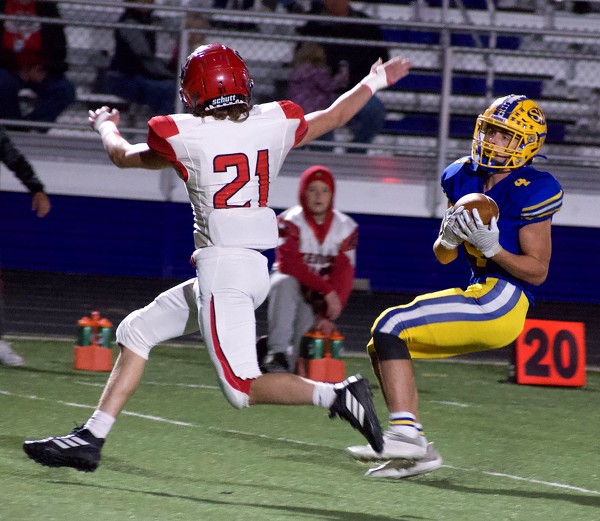 Photo by Zachary Hesse/The Daily Standard
ST. MARYS - St. Marys was cruising on Friday night.
The Roughriders needed just 12 minutes to take a 28-0 lead over Kenton and added 20 points in the second quarter to start the running clock at halftime in a 55-0 victory in a Western Buckeye League football game at Grand Lake Health System Field on Friday.
"Sometimes you win big, and obviously we're doing things right," St. Marys coach Bo Frye said. "If we keep doing that, we can beat anybody."
Jacob Kessler jumped in front of an underthrown deep ball by Kenton quarterback Korbin Johnston on the second play from scrimmage, setting up St. Marys (5-2, 3-2 WBL) at the Wildcats 47. Six plays later, Brayden Sullivan pushed through a tackler at the goal line for a six-yard touchdown run, putting the Roughriders in the lead just over two minutes into the game.
Johnston brought Kenton (1-6, 1-5 WBL) back near midfield before losing the ball as he stepped up in the pocket, and cornerback Caleb Felver dove on the ball to get the Roughriders offense back on the field. This time, St. Marys needed nine plays to drive 43 yards, with Aiden Hinkle darting untouched inside left tackle for a one-yard touchdown.
The defense forced a three-and-out, and a short punt coupled with a personal foul penalty on the Kenton punter gave the Roughriders even better field position. The Wildcats jumped offsides to surrender five more yards, and Hinkle went 27 yards on the first play from scrimmage, tackled over the goal line for St. Marys' third touchdown.
The fourth capped an 83-yard, 1:40 drive, as Cody Wallace rolled left on a play-action pass and found Keegan Sharpe wide open down the left side for a 64-yard touchdown.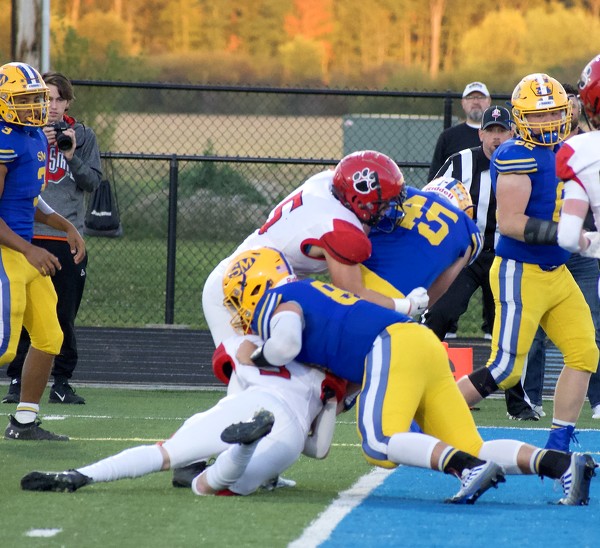 Photo by Zachary Hesse/The Daily Standard
Johnston, who came into the game with 900 passing yards on the season, alternated at quarterback with Luke Leffler and combined for 69 passing yards in the first quarter, getting past midfield twice but turning the ball over both times. The Wildcats finished with 128 passing yards on the game, two weeks after St. Marys surrendered 457 yards through the air against Van Wert.
"It's still a work in progress," Frye said of the secondary. "They want to get better, the ability's there, it's just mental stuff, and that'll come with time. As long as we continue to get better, great things will happen."
Kenton fumbled again with 11 seconds left in the first with Jamal Kessler coming up with the ball for St. Marys. The Roughriders overcame an early holding penalty and drove 82 yards in 10 plays, with Sharpe taking it in from nine yards out for his second touchdown of the night.
Hinkle broke two tackles on a 43-yard touchdown run after another Kenton three-and-out, and Wallace found Sharpe on a wheel route down the right sideline for a 31-yard score with 50 seconds left in the half to make it 48-0.
Felver settled under a tipped pass to give the Roughriders the ball back with 32 seconds left, and Wallace missed on two passes before Sullivan ran out the clock. It marked the first drive that St. Marys didn't find the end zone after touchdowns on its first seven possessions.
Felver added a second pick late midway through the fourth on an underthrown deep ball by Leffler for his third takeaway of the game.
"He just flies around, so we started playing him a little more after the Van Wert game because of his energy," Frye said. "If he was 6-foot or 5-9, 5-10, he'd probably play every position. But he's 5-5 and flies around, and really, that's what high school football is. A lot of guys can play if they'll play hard."
The starters came back in for one drive in the third quarter, with sophomore Dominik Osborne scoring from seven yards out to raise the lead to 55, and then hit the bench.
Hinkle finished with 161 of St. Marys' 486 rushing yards, nearly matching Kenton's total yardage at 167. Sharpe picked up 136 all-purpose yards and three touchdowns.
St. Marys returns to WBL action next week with a trip to Elida.