Friday, November 25th, 2022
Dreaming of a bright Christmas
By William Kincaid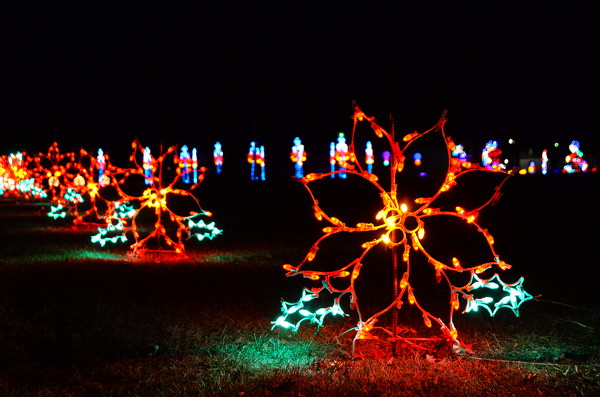 Photo by Paige Sutter/The Daily Standard
Merrymakers and Christmas enthusiasts can start the season off on the right elf shoed foot by wassailing to well-lighted, holiday themed spectaculars in Coldwater, Celina and Wapakoneta.
Gift of Lights got underway Wednesday night at the Auglaize County Fairgrounds while Merry and Bright Christmas Lights kicks off tonight at the Mercer County Fairgrounds. Both events charge a fee per vehicle.
Christmas at Memorial Park, initiated by the Coldwater Kiwanis Club, will take off like a reindeer-powered, Santa Claus-navigated sleigh on Dec. 2 with the Christmas Parade and oodles of other festivities, such as walking Christmas characters, cookies, hot cocoa and an appearance by the jolly man himself. The event is free but donations will be accepted.
The holiday extravagances, boasting Christmas lights galore, will be open on multiple dates throughout December, offering residents plenty of opportunities to set ablaze their Christmas spirits and spark warm memories, organizers said.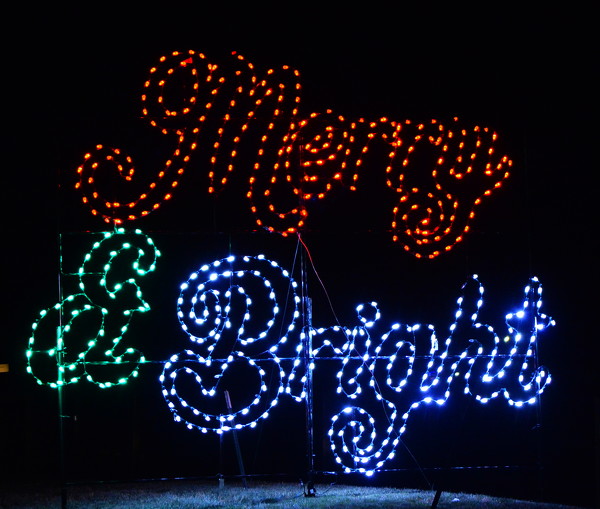 Photo by Paige Sutter/The Daily Standard
What started out as a way to offset losses suffered from pandemic-related restrictions has morphed into a an annual event now in its third edition at the Mercer County Fairgrounds. Merry and Bright Christmas Lights is presented by Mercer Health.
"I think we will keep this as an ongoing tradition," said fair manger Cara Muhlenkamp. "Like the fair, the families, they look forward to it and they want to come out and they want to create memories not only with their kids but with their grandkids and keep that tradition building."
Vehicles will make their way through a holiday wonderland brilliantly illuminated by a bevy of carefully planned Christmas lights and displays, including the North Pole, Toyland, Candyland, Grand Nativity, Cowboy Christmas and two tunnels of lights.

Organizers went all out this year, putting up even more twinkling, multicolored Christmas lights to the tune of roughly 650,000 little bulbs.
"We did add new displays, new archways, and we had a board member, Frank Dues, he built a Christmas tree," Muhlenkamp pointed out. "It's over 30 feet tall and I can't remember how many thousands of lights he put on it but it's something crazy."
Muhlenkamp said with the assistance of an outside company, fair board members, officials and dozens of volunteers logged in countless hours planning and piecing together the holiday wonderland. In the case of the two tunnels, synchronized Christmas lights undergo various color pattern changes.
"It is very much an orchestrated event and it takes us about a month to get everything set in place and ready to go," Muhlenkamp noted, saying all the hard work certainly pays off upon hearing the cheers of joyful children.
Gilbert Station food truck will be on the scene when the light show is in session with a unique menu and hot chocolate, Muhlenkamp said. There will also be crafts, games, visits from Santa Claus and other activities for the whole family in the PBS building.
"We have partnered with Floral Reflections and Unique Roots to come in and do some extra classes for crafts," she said. "On the 22nd, right in time for Santa, you can come and make Christmas cookies with Mrs. Claus."
Fair officials started the event in December 2020 to entertain and boost morale amid the social isolation and downright depressing days of the pandemic. The cascade of lights offered a glimmer of hope in a bleak time.
"We moved into wanting to be able to do something fun for the kids to engage and just be able to give back to the community, and you know, that's really still true today of us wanting to be able to be a year round facility and keep doing things," Muhlenkamp said. "It has carried on. The community has really enjoyed it. They've gotten behind the event."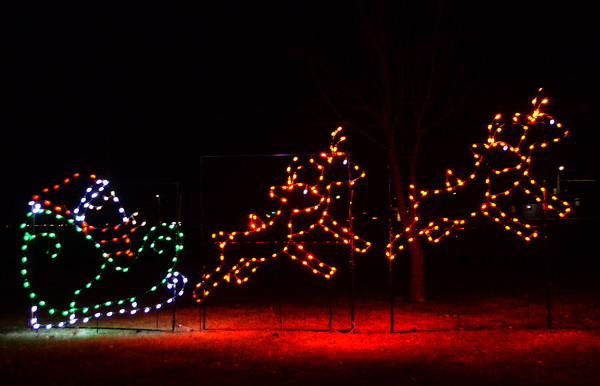 Photo by Paige Sutter/The Daily Standard
• Merry and Bright Christmas Lights at the Mercer County Fairgrounds, starting tonight, is open 6-10 p.m. Friday and Saturday and 6-9 p.m. on Thursday and Sunday. Dec. 24 is the last night. Visit https://mercercountyohiofair.com/christmas-lights/ for a more detailed schedule of planned events.
• Gift of Lights at the Auglaize County Fairgrounds, presented by Grand Lake Health System, began Wednesday, boasting over 150 displays across the 1.1 mile drive. It is open 6-10 p.m. tonight and Saturday; 6-9 p.m. Sunday; 6-9 p.m. Dec. 1; 6-10 p.m. Dec. 2-3; 6-9 p.m. Dec. 4; 6-9 p.m. Dec. 8; 6-10 p.m. Dec 9-10; and 6-9 p.m. Dec. 11.
It is also open Dec. 15-31, 6-9 p.m. Sunday through Thursday, and 6-10 p.m. Friday and Saturday. The event is closed Christmas Day. For more information visit https://auglaizecountyfair.org/gift-of-lights-at-the-auglaize-county-fairgrounds-sponsored-by-grand-lake-health-systems/.
• Christmas at Memorial Park will debut Dec. 2 with a 6:30 p.m. parade and opening night festivities. Special events will be held 2-4 p.m. Dec. 3-4 and Dec. 10-11. From Dec. 2 to Dec. 30, lights will be on in the park every night. Visitors are welcome during the day and evening. This is a walk-thru only event. Multiple other activities, including Christmas bingo, ice sculpting demos, carriage rides, poney rides, live Nativity, gingerbread house display and ice skating are scheduled.
For a more detailed schedule, visit the Christmas at Memorial Park Facebook page.