Wednesday, January 25th, 2023
A changing of the guard at the St. Henry Fire Department
By Leslie Gartrell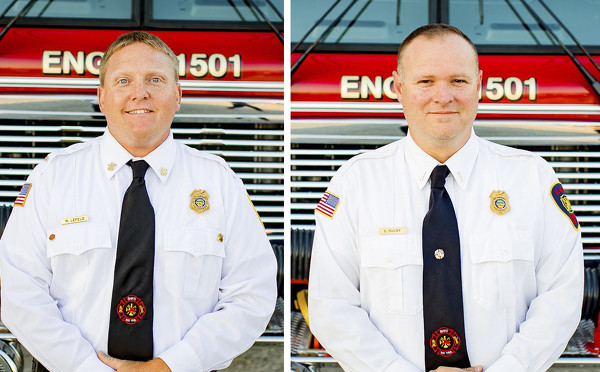 Submitted Photo
ST. HENRY - After serving 11 years as St. Henry fire chief, Matt Lefeld has stepped down and handed the reins to veteran firefighter Lt. Shawn McCoy.
McCoy, 47, took over as chief on Jan. 16. Lefeld will stay with the department as a firefighter.
"For the past 11 years, Chief Matt Lefeld continued to do an outstanding job making the St. Henry Volunteer Fire Department what it is today," McCoy said in a statement. "Fortunately for us, Chief Lefeld is not leaving the department and moving into a fireman's position."
McCoy said he's battled blazes for 30 years, starting as a junior fireman at the Salamonia, Ind., fire department.
He joined the Southwest Mercer Fire Department in Fort Recovery and continued to serve while commuting back and forth to Dayton to study aviation maintenance at Sinclair Community College.
After he graduated, he moved to Vandalia and joined the city fire department as a part-time paid fireman while also becoming a basic emergency medical technician.
McCoy said he met his wife, Jenn, and moved to her hometown of St. Henry where he joined the fire department and St. Henry EMS, now known as Southern Mercer County Joint Ambulance District, in 2010. He ascended to the rank of lieutenant in 2014.
The new chief said his goals include recruiting more members and accelerating response times and actions at fire scenes.
"I'd also like to have the fire department form a great relationship with St. Henry Schools to show our junior program to any interested students and to show students they can make firefighting a full-time career or serve their community by becoming a volunteer fireman or firewoman," he said.
Outside of his service as a firefighter, McCoy has been employed with PSA Airlines for 14 years as manager of maintenance regulatory compliance. He and his wife live in St. Henry with their four children Breonna, 13; Sage, 9, Blaze, 7 and Ember, 4, and their dog Knox.
Lefeld in a statement said he's served a total of 23 years at the department, including six years as a firefighter, two years as a lieutenant, four years as an assistant chief and 11 years as chief.
Some of his accomplishments include adding ice water rescue suits, a fire gear washer and mobile apps and software for response and reporting, as well as replacing the station generator, air packs and radios for communication.

Lefeld was also involved in the purchase of a historic 1936 REO Speed Wagon fire truck, which had served as the department's second fire truck. That truck, as well as a 1917 Model T, which was the department's first truck, are now housed at the station.
Most recently, the department acquired a 2022 Pierce fire truck that will arrive first at structure fires.
"I… have had the privilege of meeting and working alongside some of the most dedicated, courageous, and service-driven chiefs, officers, and firefighters," Lefeld said in the statement. "I would like to thank all that had a part in my development and support as the Fire Chief of the St. Henry Volunteer Fire Department. Thank you, friends, family, and both past and present fire personnel. I wish Chief Shawn McCoy the best in his future endeavors as Chief of the St. Henry Volunteer Fire Department."