Thursday, January 26th, 2023
The Hoops
Battle for the MAC lead
Marion Local, Parkway girls look to take sole possession
By Gary R. Rasberry
Both Parkway and Marion Local did their parts by winning their conference games last Thursday.
Now, this Thursday in Rockford, it's a winner-take-all game with sole possession of first place in the Midwest Athletic Conference on the line in girls basketball.
The Flyers are 7-0 in conference play (15-2 overall), having started league play early in playing Versailles. Parkway, out to its best start in over 30 years if not program history, is 16-1 and 6-0 in league play. The Flyers last won a MAC title in the 2019-20 season, sharing with Fort Recovery, while the Panthers are looking for their first-ever conference title.
Beth Streib's Flyers enter on a seven-game winning streak. After losing the season opener to a solid Division II Bryan squad, Marion rattled off eight straight wins before losing to Celina in the OVISCO Classic semifinals, then picked up the streak again.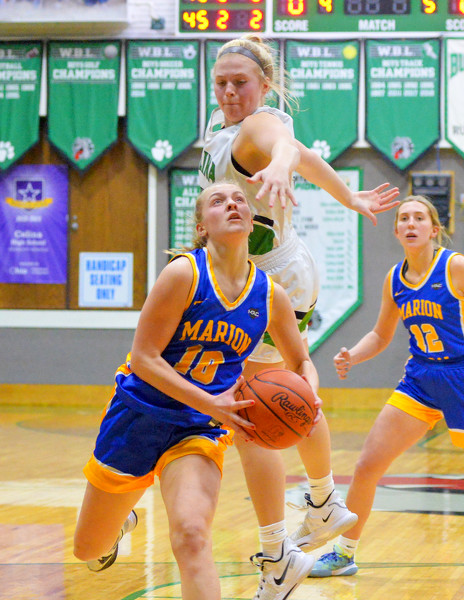 Photo by Nick Wenning/The Daily Standard
Sophomore Avae Unrast has been a steady presence for the Flyers, leading the team in scoring (10.4 points per game), assists (2.2 per game) and steals (2.8 per game) and connecting on 78% of her free throws. Senior Lindsey Koenig is the inside threat at 9.6 points and 5.5 rebounds per game. Senior Stella Huelsman (6.1 ppg) and sophomore Chloe Ronnebaum (6.7 ppg) give the Flyers additional scoring threats along with solid defense as Huelsman averages 2.2 steals per game with Ronnebaum adding 1.5 steals per contest.
All season, Dan Williamson's Panthers have been playing exceptionally well. After opening the season with 10 straight wins before losing on Jan. 2 to Botkins, Parkway has won the last six games by an average margin of 35 points after Tuesday's 52-10 win over Paulding.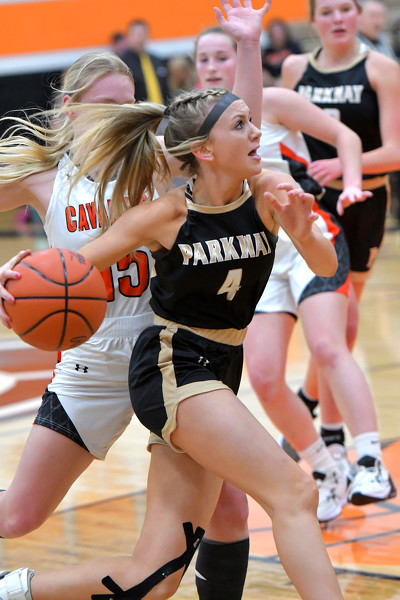 Photo by Nick Wenning/The Daily Standard
In her senior year, Gabrielle Stober is a leading contender for MAC Player of the Year. Stober leads the area in scoring at 17.5 points per game and adds 2.7 assists, 3.3 rebounds and 2.1 steals per contest. Stober's ability to drive to the basket, usually after a steal, or hit a 3-pointer (36 on the season) makes her a tough player to defend.
Classmate Allison Hughes has become a dominant post player, leading the area in rebounding at 11.9 per contest to go with 11.1 points per game and a shooting percentage of 56%. Sophomore Paige Williamson (8.6 ppg, 33 threes) is also a solid shooter with senior Emiree Knittle coming off a breakout game against Coldwater with 11 points.
The rest of the MAC schedule on Thursday has Coldwater at Versailles, St. Henry making the short trek to Fort Recovery, New Knoxville going to New Bremen and Minster hosting St. John's.
Celina travels to Ottawa-Glandorf in Western Buckeye League play. St. Marys plays host to Kenton with Defiance traveling to Bath, Shawnee going to Van Wert and Elida hosting Wapakoneta.
FRIDAY NIGHT
The boys take to the hardwood with the MAC co-leaders looking to remain unbeaten.
Coldwater is 5-0 in MAC play and hosts a Versailles squad that has struggled at times in going 6-9. The Tigers feature Hillsdale-bound Connor Stonebraker, who is averaging 22.1 points and 10.6 rebounds per game for the Tigers. The Cavaliers will look to bounce back from losing their first home game of the season on Tuesday night against St. Marys.
Meanwhile, Marion Local is 5-0 in conference play after Tuesday's win over St. Henry. The Flyers host Parkway at the Hangar. Jayden Mescher returned from a broken nose with a 24-point effort against St. Henry.
The Cavaliers and Flyers will face off Feb. 3 at the Palace in Coldwater.
Fort Recovery travels to St. Henry, New Knoxville hosts New Bremen and St. John's faces Minster at Arnzen Gymnasium to round out the MAC schedule.
Celina hosts state-ranked Ottawa-Glandorf while St. Marys travels to Kenton as Austin Parks looks to add to his career scoring mark he set Tuesday against Coldwater. Van Wert is at Shawnee with Bath traveling to state-ranked Defiance and Elida going to Wapakoneta.
HALL OF FAME
Fort Recovery will hold its Athletic Hall of Fame ceremony on Saturday between games with Mississinawa Valley.
Jennia (Jenkins) Knestrick (Class of 1991) was a three-year letterwinner in both softball and volleyball and a four-year letterwinner in basketball. She was co-captain of the 1990 Division IV state champion volleyball team and earned second team All-MAC and All-District 8 honors. In basketball, she ranks 19th in career scoring. Knestrick went on to play basketball and softball at the University of Findlay.
Joanna (Snyder) Hiatt (Class of 2009) earned four letters in basketball and three each in volleyball and softball. Hiatt excelled in basketball, ranking 12th all-time in scoring and being named co-MAC Player of the Year and The Daily Standard's Dream Team Player of the Year as a senior. Hiatt went on to play basketball at Ohio Northern, scoring over 1,000 career points and being named the Ohio Athletic Conference's co-Player of the Year as a senior.