Friday, January 27th, 2023
Boy honored at council
By William Kincaid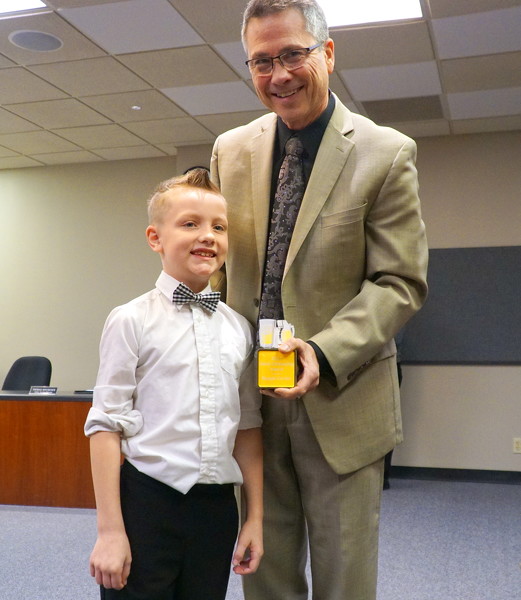 Photo by William Kincaid/The Daily Standard
CELINA - Keagan Carder, now 9, ran a lemonade stand last summer not to earn money for a bicycle or the latest video game but to make sure a few underprivileged kids got a Christmas.
The little boy with a heart of gold was recognized for his efforts at this week's regular city council meeting. Mayor Jeff Hazel presented the Outstanding Citizen Award to Carder, who got all spiffed up for the occasion with a bow tie.
City officials also this week declared Feb. 7-14 as Congenital Heart Disease Awareness Week as did commissioners in Mercer and Auglaize counties during their regular sessions.
Carder's lemonade proceeds were directed to Celina Police Department's Shop with a Cop program that brought holiday cheer to 40 children and their families in December.
"I always wanted to be a heart surgeon to help people so I always thought that it would be nice to help people at a young age," Carder told the newspaper after the meeting.
The annual tradition finds children from low income families paired with local law enforcement officers or personnel, whom help them select toys and practical gifts.
Representatives from Celina, Coldwater, St. Henry and Fort Recovery police departments, the Mercer County Sheriff's Office and Ohio State Highway Patrol volunteered to serve as the kids' shopping buddies.
This year, due to the immense generosity of donors, each of the 40 children could spend up to $200 on items for themselves.
"People in the community really step up," said police chief Tom Wale, noting the majority of donations come from businesses and clubs. "Once in a while we'll get a little bit from individuals but never had we had someone Keagan's age (contribute)."
Carder spent his summer behind a lemonade stand in front of The Willow restaurant on North Main Street to support Shop with a Cop, Wale told councilors and those in attednance including Carder's mother Sheena Brown and stepfather Joseph Brown.
"And he was able to provide Christmas for a couple more kids who would otherwise not have had Christmas this last year," Wale said.
Wale said this isn't the first time Carder has raised money for good causes.
"It's just an awesome thing to be able to see a child have a giving spirit that we don't see in most adults," Wale said. "Really proud to have you as a member of our community and hope he stays and continues to grow in what he's doing."
Hazel said Carder possesses "a servant's heart."
"And that's what we do here at the city," Hazel said. "Those that are elected to office, whether it's the mayor, a councilman, what we're doing is serving the community."

Hazel also issued proclamations declaring Feb. 7-14 as Congenital Heart Disease Awareness Week. Among those receiving proclamations was Molli Schleucher. She and her husband, Adam, have a son who was born with CHD.
Cash, 3, nearly died from the heart defect shortly after his birth. Through the grace of God and the hands of medical professionals, he now enjoys jumping, laughing, bathing, swimming and listening to music, according to his mother.
Congenital heart disease is a serious and potentially fatal abnormality that has affected several families in Mercer County.
"One in 100 babies have CHD and of that 1%, 25% require life-saving surgeries, and so we are of that very small percentage," Schleucher said in a past interview.
Twice as many babies die each year from congenital heart disease and heart defects than all pediatric cancers combined, she said, calling for more awareness of and funding for research into congenital heart disease.
"These children have no cure so it's a continuous fight for their life. Some children require surgery or multiple surgeries but all of them require continued ongoing treatment through specialized care to ensure that their heart is functioning," she said.