Saturday, January 28th, 2023
Marion honors Freddy Flyer
By Tom Haines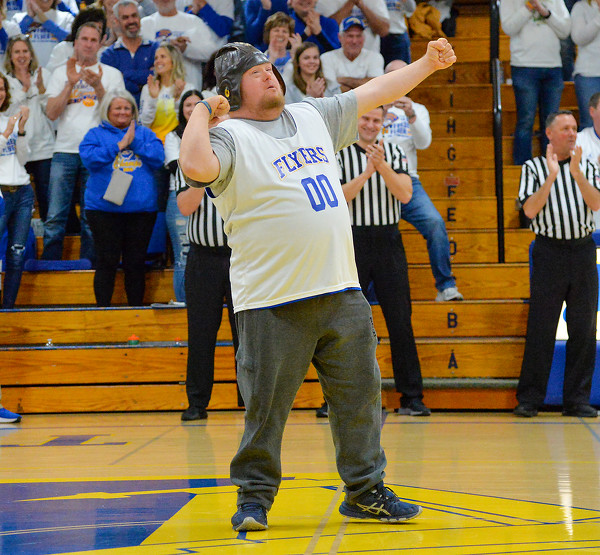 Photo by Paige Sutter/The Daily Standard
MARIA STEIN - In Ross Thobe's 20th year as Marion Local mascot Freddy Flyer, members of the community wanted to honor him.
Athletic director Dan Koenig said that he was approached over the summer about holding a ceremony for Thobe. An anonymous donor volunteered to make a Freddy the Flyer plaque, MVP Sports & More in Chickasaw offered to make T-shirts, and they called Nick Thobe, Ross' father, to get the go-ahead.
Finally, on Friday night, the Hangar was packed with fans wearing the Freddy Flyer T-shirts, and Koenig, superintendent Mike Pohlman and PA announcer Kevin Stucke, Ross' uncle, presented him with the plaque.
"His heart's Marion Local blue and gold," Koenig said. "Just a great person to represent Marion Local."
Both Marion and Parkway coaches wore Freddy Flyer shirts, as did the Flyers cheerleaders and players before warm-ups. In his speech, Stucke said the proceeds from the T-shirt sales would be used to create an award for a Marion Local senior who most exemplified Ross' school spirit, along with a donation to the Mercer County Multiple Disabilities Classrooms.
Ross stood by the main entrance during warm-ups, wearing his aviator helmet and a "00" Flyers basketball jersey and grinning excitedly - the ceremony was meant to be a surprise, but his father said Ross caught on as he saw scores of fans walk by with Freddy Flyer on their T-shirts. He came out on the court to a loud roar as Stucke started his speech and stopped at half-court to acknowledge the crowd and show off a couple moves, including a Hulk Hogan flex pose.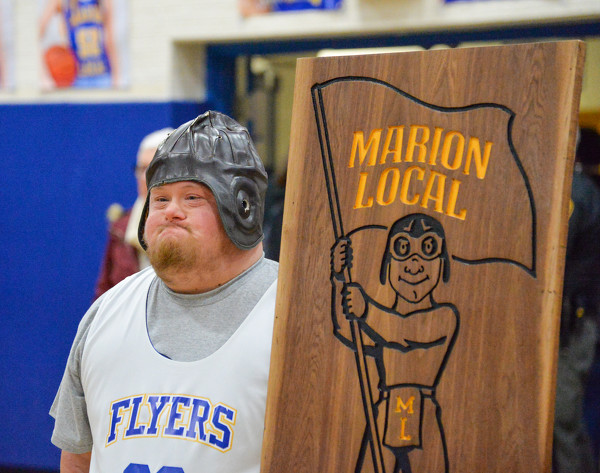 Photo by Paige Sutter/The Daily Standard
In addition to the plaque, Pohlman presented him with a basketball signed by this year's Marion players.
"It was just a good night all around, celebrating Ross Thobe, Freddy Flyer," Marion coach Kurt Goettemoeller said. "We appreciate coach (Doug) Hughes and everything (Parkway) did to help us celebrate it as well."
In his speech, Stucke said that Freddy Flyer would also be getting a new football jersey and flag, to be unveiled at the start of next season.
The Freddy Flyer mascot had been around for about 10 years before Ross reached high school, with a 2003 Daily Standard article placing the first appearance in 1992 with Debbie Homan playing Freddy. It was a week-by-week gig that depended on someone different to step up.

Ross, who has Down syndrome, was on the football team in eighth grade and appeared in the final game, but after a friend suffered a broken leg, he changed his mind. As freshman year rolled around, his father decided to ask his son what he was planning to do for the fall.
"We didn't say anything to him about it the rest of the year, over the summer, and then I finally said, 'Hey, have you thought about what you're going to do this fall? Are you going to play football?'" Nick Thobe said. "And he says, 'No, Dad.' I go, 'What are you going to do?' and he says, 'I'm going to be Freddy Flyer!' I was like, 'Where did that come from?' So that was all his idea."
Ross went to Stan Wilker, the AD at the time, to see what he had to do to get the role.
"We said, 'What's it take to do this, to try out for it?' " Nick Thobe remembered. "Stan said, 'He's got the job.' And he's done it ever since his freshman year."
At the time, there was a bulky cartoon headpiece for Freddy Flyer, but since it would keep Ross from seeing the game, his mother Beck made him his own aviation helmet that he's worn to games since.
Ross took over for the 2003 football season, when the Flyers went to the state championship game. Three months later, the boys basketball team added a state runner-up finish of its own, and since then, Marion has won 11 state titles in football and made three other trips to the final four, with the boys basketball team adding a championship of its own in 2018.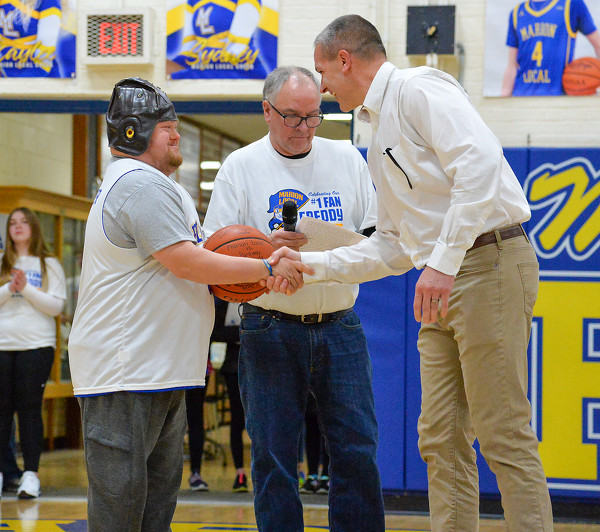 Photo by Paige Sutter/The Daily Standard
At the basketball games, Ross takes up a spot on the Flyers' baseline in front of the student section. At football games, Ross runs down the sidelines to fire up the Flyers' fans, and before the games he warms up with the flag in the backyard.
"He's kind of the Pied Piper at football games, because when he runs, all these little kids run with him," Nick Thobe said. "Kids that are playing now, they used to follow him on the sideline."
After the game, the plaque was brought back out onto the court and fans lined up to congratulate Ross.
Nick Thobe expressed his gratitude for the district rallying around Ross for 20 years and coming together to celebrate him.
"The community has embraced him since he was a kid," he said, and laughed. "They know his passion."
At the end of his speech, Stucke turned to Ross.
"You ready for another 20 years?" he asked.
Ross leaned into the microphone. "Yeah!" he shouted, to a round of applause.