Monday, March 27th, 2017 Edition of The Daily Standard
Online Local News Stories
COLDWATER - The start of the season-opening baseball game was one that Coldwater fans didn't want to see. Vandalia-Butler scored five times in the top of the first and capped off its day with a seven-run sixth as the Aviators r . . .
Print and E-Edition Only News Stories
• Celina illustrator draws on talents in new gig as cartoonist
• Minster girls have big day at Versailles
Local Obituaries
Sara Beiler, 68, of Celina, OH, died on Wednesday, March 22, 2017 in Temple, TX. She was born September 14, 1948 in Hamilton, OH to the late Ray and Anna (Hunter) Schwartz. She married Joe Beiler on June 21, 1970, they were tog . . .
Della Mae Luebke, age 81, of Coldwater, died Friday, March 24, 2017 at Community Hospital, Coldwater. She was born June 19, 1935 in New Weston, to the late William & Alvina (Lefeld) Stammen. She married Paul H. Luebke on Novemb . . .
Evelyn Hooks, age 96, of Celina, OH, passed away at 10:00 pm, on March 24, 2017, at the Miller House in Celina. She was born December 28, 1920 to the late Arnold and Emma (Silk) Pierstorff. She married Stanley "Pete" Hooks on J . . .
Charles Robert McCall, age 93, of Beavercreek, Ohio and formerly of Coldwater, passed away at 12:33 a.m., on Thursday, March 23, 2017 at the Soin Medical Center in Beavercreek, Ohio. He was born on May 3, 1923 in Los Angeles, C . . .
Mary Ann Kremer age 88 of Maria Stein, Ohio died on March 25, 2017 at Otterbein Retirement Center, St. Marys, Ohio. She was born on March 6, 1929 in Chickasaw, Ohio to the late Lawrence & Elizabeth (Luebke) Lochtefeld. She marr . . .
Mary L. Dock, 91, Celina, died on March 26, 2017, at the Celina Manor. Arrangements are pending at Lehman-Dzendzel Funeral Home, Celina. . . .
Eleanor R. Elking, 94, Chickasaw, died on March 26, 2017, at Briarwood Village, Coldwater. Services are pending at Hogenkamp Funeral Home, Coldwater. . . .
Local Pictures
World Pictures
Community Pictures



Photo Albums
Monday, March 27

Monday, March 27

Saturday, March 25
Saturday, March 25


Online Video
Saturday, February 4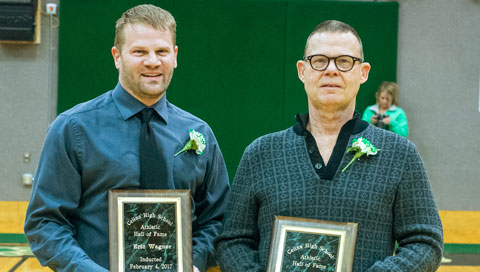 Tweets by @TheDS_sports