Thursday, October 17th, 2019
Cavs, Rockets meet in key game
By Colin Foster
Anna was one of three losses for Coldwater last season.
Redemption, however, isn't a motivating factor entering Friday's contest with Anna, Cavalier coach Chip Otten said. The motivation is what's ahead of them now.
"We have not talked about last year's game or anything like that," Otten said. "The motivation is, you know, you go into this season and as the season progresses, everybody's goal is you want to win the league, you want to make the playoffs - and those things are still attainable for us."
The two teams meet Friday at 7 p.m. at Booster Field in Anna.
The 2018 contest was one of five games Coldwater had decided by six-or-fewer points. The 2019 Cavaliers (7-0, 5-0 Midwest Athletic Conference) are tied with Marion Local (6-1, 5-0) for the league lead, and their closest game was a 38-20 win over Minster on Sept. 20.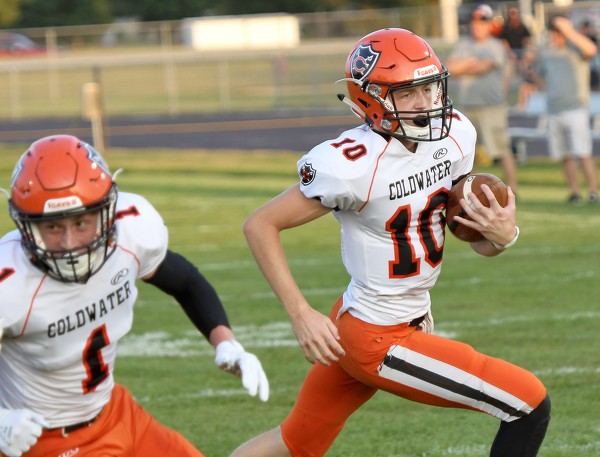 Photo by Nick Wenning/The Daily Standard
This year's matchup features the MAC's best offenses (Coldwater ranks No.1 and Anna is right behind); the conference's best rushing offense against one of the best overall and rushing defenses in Coldwater; and two candidates for MAC Offensive Player of the Year in Cavalier quarterback Jake Hemmelgarn and Rocket running back Riley Huelskamp.
Coldwater is the top team in Division VI and in Region 23. Anna (6-1, 4-1 MAC) is ranked fifth in the state and third in Region 23.
"We've got a really good senior group and they've got a really good senior group," Otten said. "This is a huge game for both teams in terms of playoffs and playoff points."
Coldwater has scored 37-or-more points in every game, and its defense hasn't allowed more than 21 points. The Cavaliers are fresh off a 49-0 drubbing of the Delphos St. John's Blue Jays last week.
Hemmelgarn has made a strong case for MAC Offensive Player of the Year. He enters this week with 697 rushing yards and 1,425 passing. He's averaging more than nine yards per carry, has a 66% completion rate and 29 total touchdowns (12 rush, 17 pass) and just three interceptions.
What's made Hemmelgarn stand out are his football IQ and speed, Otten said.
"His dad (Jason) was a quarterback, his brother (Jack) was a quarterback, so he's been around it," Otten pointed out. "For one) he's smart. Two) he grew about three inches from last year, and he's one of the fastest kids we have. If we had a 100-yard dash, he'd be in the top three. He doesn't look like that because he's really smooth. He is what he is because he has a lot of tools and you can never discount a smart quarterback.
"We have a lot of weapons, so you can't just key on him," he added.
Four receivers have 200-or-more yards in Noah Miller (25 catches, 394 yards, four TDs), Will Broering (20 catches, 303 yards, five TDs), Zach McKibben (18 catches, 253 yards, two TDs) and Ross Weigel (17 catches, 203 yards, two TDs). Nathan Grieshop ranks second in rushing with 39 carries for 257 yards and four scores. Myles Blasingame, who will return this week after a brief injury hiatus, also gets touches and has four rushing TDs.
"We're going to face Anna and then Marion in a couple weeks, which will be probably the two best defenses we face," Otten said. "We'll really get a good test. We have not turned the ball over much and we've only given up one sack. But again, we know we're about to face two really good teams - three teams (including St. Henry in Week 9) that will play almost identical defenses."
Russell Klosterman and Grieshop lead the defense in tackles with 55 and 42, respectively. Josh Hyrcko has 47 tackles and a team-best 4 1/2 sacks. Two others, Blake Dippold and Blake Siefring, also have four sacks.
In last week's 53-20 win at Fort Recovery, Huelskamp became Anna's all-time leading rusher with 281 yards. Huelskamp amassed the yardage on only 21 carries while scoring four touchdowns, raising his career total to 4,137 yards to surpass Chistiaan Williams' mark of 3,972. The dynamic back has averaged 10.3 yards per carry on his way to 1,124 yards and scoring 114 points.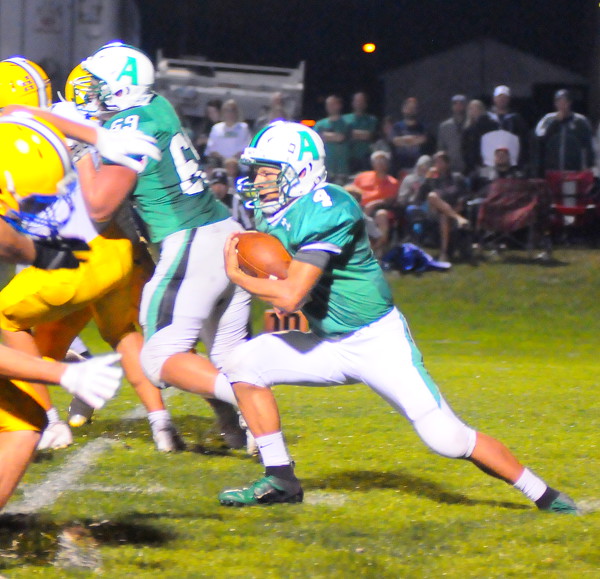 Photo by Colin Foster/The Daily Standard
Huelskamp's running mate, quarterback Bart Bixler, has averaged 8.1 per tote on his way to 652 yards and has tallied 78 points. Bixler's throwing numbers are 55-of-75 completions for 748 yards with eight TDs and three picks.
The Rockets have the MAC's top rushing attack, having run 231 times for 2,011 yards for an average of 8.71 yards per attempt. They'll be up against a Coldwater defense which held St. John's to just 47 yards rushing last week.
"Riley is just a heckuva good player," Otten said. "Their quarterback is a really good player, too. They've got that two-headed run game.
"We feel good because we're playing pretty well," he added. "We're pretty healthy. Myles (Blasingame) is going to be back. He hasn't played the last couple games. But in saying that, you never know. They're really stout up front, and we're not really big but we do have physical kids that can really run. We keep telling the kids that you've got to do your job and when the plays present themselves, you've got to make the tackles."
Huelskamp rushed for 164 yards in last year's game. The Cavaliers fumbled away a chance to win the contest at Anna's one-yard line with 30 seconds to play.
The top-four conference teams square off this week. Marion Local hosts one-loss Minster (6-1, 4-1 MAC). Losses by Marion and Coldwater would make it a four-way tie in the MAC with two games remaining. The Cavaliers are 13-2 all-time against Anna.
"This is kind of what you hope for when it's late in the season," Otten said. "You get a chance to stay undefeated and to really put yourself in a good position to win the league. It's going to be a fun atmosphere. They always have a good crowd. We're looking forward to it."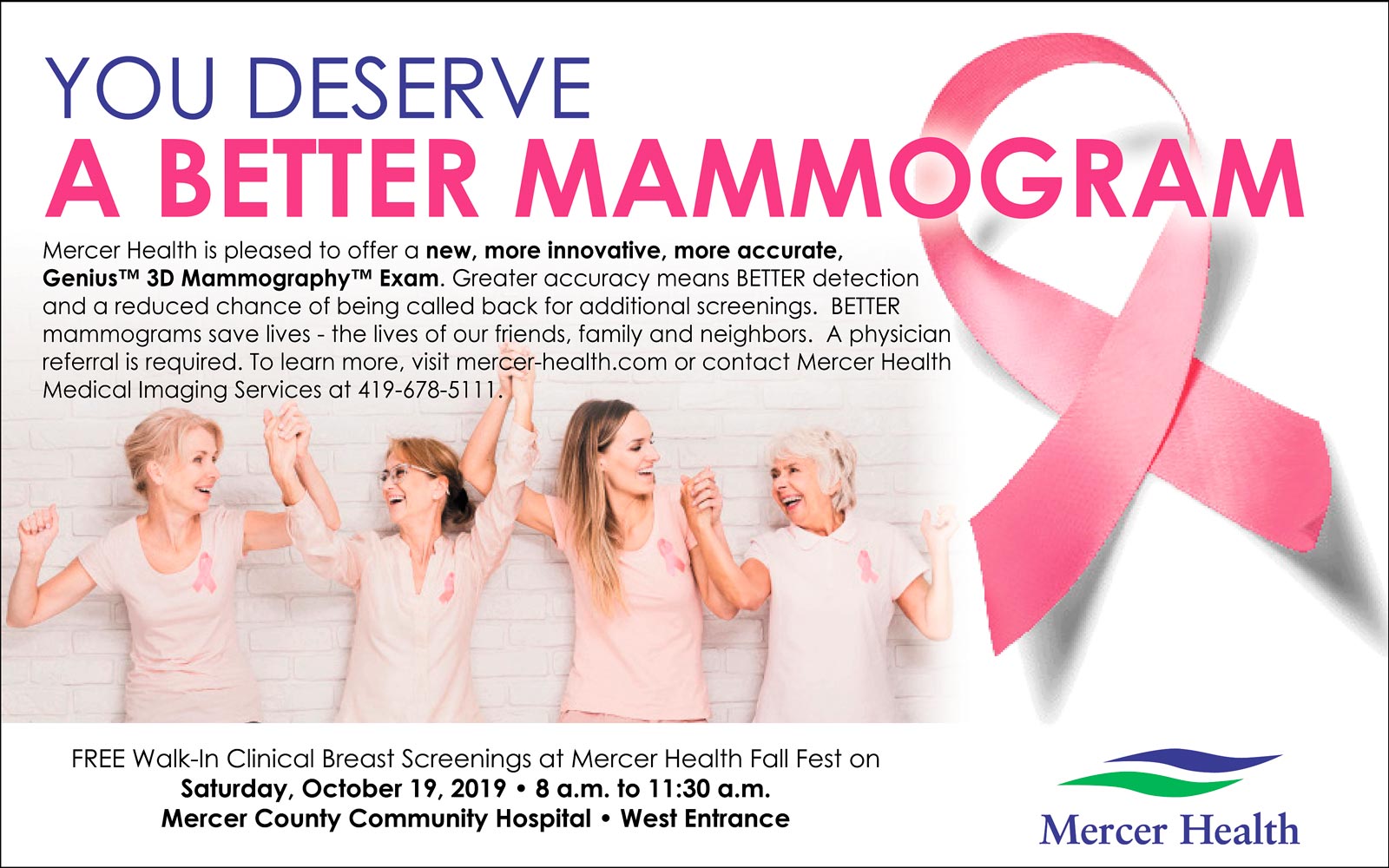 Thursday, October 17th, 2019
Computer Points In Review
A win over Tigers puts Cardinals back into playoff position
By Bruce Monnin
Status quo was the theme of last week, as all four WBL and all five MAC teams who were in the top eight of their regions earned victories. Eight of those nine teams remained in the top eight, with only New Bremen dropping down to ninth place in Region 28. Expect the Cardinals to return to playoff position if they defeat 3-4 Versailles this week.
It was thought several local teams might clinch their playoff spots last week, but no local team was able to achieve this goal. However, five teams (Wapakoneta, St. Marys, Ottawa-Glandorf, Coldwater and Marion Local) can only be kept out of the postseason by the greatest of catastrophes.
Unfortunately, there was more action at the lower end of the rankings. Shawnee, Van Wert, Bath, Versailles, Parkway, Fort Recovery, St. Henry and Delphos St. John's were all eliminated from any hope of the postseason. Celina is likely to join this group shortly.
The WBL still has four teams in the top eight of their regions. Wapakoneta and St. Marys still both look good in Region 12, currently in second and fifth places. Kenton moved up a spot to sixth position in Region 16, while Ottawa-Glandorf fell three places to fourth in Region 14 as other teams had better wins last week.
The MAC also has four teams currently ranked in the top eight of their regions. Coldwater, Anna and Minster are currently second, third and seventh, respectively, in Region 23. Marion Local sits atop Region 28, and the MAC may get a fifth team in the playoffs if New Bremen can move up from ninth place with a couple of wins.
This is another week for the favorites to avoid upsets in the WBL. The four current playoff teams are all big favorites at home this Friday.
Unlike last week, this Friday is full of games with postseason implications in the MAC. The four teams currently in playoff spots play each other, as 7-0 Coldwater travels to 6-1 Anna and 6-1 Minster visits 6-1 Marion Local. Will there be a changing of the guard in the MAC or will the two teams who have dominated this conference recently come out on top once again?
Despite those two games, the most important matchup may be 5-2 New Bremen hosting 3-4 Versailles in a VERY important game for the Cardinals.
The complete computer points for the three regions involving most area teams (12, 23 & 28) can be found throughout the season at: user.nktelco.net/bdmonnin/football.htm.
For even more computer point details, subscribe to my weekly podcast at the I-Tunes store. Search for Bruce Monnin's Computer Points.
This week, I will include the current chance of making the playoffs for each team according to Drew Pasteur's Fantastic 50 website.
Region 12:
Team - Ranking (Computer Points) (Chance of playoffs)
Chaminade-Julienne - 1st (16.19) (99%)
Wapakoneta - 2nd (13.45) (99%)
St. Marys - 5th (10.71) (98%)
Cincinnati Hughes - 8th (9.74) (47%)
Greenville - 9th (9.67) (44%)
Shawnee - 18th (5.04) (0%)
Celina - 19th (4.32) (1%)
Wapakoneta and St. Marys have all but locked up their playoff invitations. Wapakoneta also has an 88% chance of finishing in the top four and thus hosting their opening round playoff game. A win over 3-4 Celina would go a long ways towards achieving this milestone.
St. Marys is much less likely to earn that home playoff game (21%). The Roughriders are heavily favored to win their last three games, but should remain in fifth place unless a helpful upset occurs among the top four teams.
Region 14:
Ottawa-Glandorf - 4th (12.85) (98%)
Clyde - 9th (9.72) (61%)
Van Wert - 17th (5.84) (0%)
Despite defeating 3-4 Shawnee last week, Ottawa-Glandorf fell three spots in the standings. A win over 2-5 Defiance this week should secure a playoff spot. Another win over either 5-2 Kenton or 6-1 Wapakoneta should ought to earn the Titans a home start to the postseason. Winning all three should return them to the No. 1 seed.
Region 16:
Kenton - 6th (12.11) (89%)
Valley View - 9th (8.00) (46%)
Kenton moves up one position and a win in all three of their final games should move them up into the coveted No. 4 spot. However, a loss next week to 6-1 Ottawa-Glandorf may drop the Wildcats to a probable eight seed. Kenton would then have to hope they are not removed from the postseason thanks to an upset victory by another team in this region.
Region 18:
North Union - 8th (8.76) (57 %)
Bath - 22nd (2.67) (0%)
Bath's loss means we no longer have to follow this region since the postseason is now out of its reach.
Region 20:
Cincinnati Mariemont - 8th (6.98) (41%)
Versailles - 19th (3.29) (0%)
Versailles' loss last week also means it will not be playing in Week 11.
Region 23:
Liberty Center - 1st (15.43) (100%)
Coldwater - 2nd (15.34) (99%)
Anna - 3rd (12.81) (88%)
Minster - 7th (10.04) (78%)
Spencerville - 8th (9.79) (48%)
Sherwood Fairview - 9th (9.75) (77%)
Gibsonburg - 10th (9.04) (37%)
Parkway - 14th (4.22) (0%)
Fort Recovery - 20th (2.92) (0%)
St. Henry - 24th (1.05) (0%)
While Coldwater has not quite clinched its spot in the postseason, the Cavaliers have a 96% chance to host their opening playoff game (get those tickets early). Even if Coldwater loses this week against 5-1 Anna and in week 10 against 5-1 Marion Local, the No. 4 seed is most likely.
At the moment, the projections show Allen East, Sherwood Fairview, Archbold, Minster and Anna all finishing in a close logjam for the fourth through eighth seeds in this region. If either Minster or Anna loses their big game this week, they need to win their last two to reach this position. If either team wins this week, they break out of the pack and will be favored to host their opening playoff matchup.
Poor 7-0 Gibsonburg is still 10th in the standings.
Region 28:
Marion Local - 1st (10.25) (99%)
Fort Loramie - 3rd (8.28) (100%)
Waynesfield-Goshen - 8th (6.49) (43%)
New Bremen - 9th (6.44) (81%)
Much like Coldwater, Marion Local has not officially earned its playoff invitation, but unofficially, the Flyers are in. Not only will they be playing in week 11, but there is a 90% chance they will be playing at Booster Stadium. A win over 6-1 Minster this week guarantees that home playoff game.
New Bremen fell to ninth place this week as Hardin Northern and Lima Perry earned more points from their wins than the Cardinals did from defeating 2-5 Parkway. A win over 3-4 Versailles this week should return New Bremen to the top eight in the region.

Thursday, October 17th, 2019
Two-Minute Drill
By Daily Standard Staff
Celina at Wapakoneta
Harmon Field
Last Season: Evan Kaeck rushed for 183 yards and four touchdowns in the Redskins' 35-0 win over the Bulldogs at Celina Stadium. Celina was held to just 106 yards of total offense.
About the Bulldogs: For a second straight week, Celina played a stellar game only to fall one point short. This time it was a 28-27 loss to Defiance. Quarterback Cooper Jones rushed for 198 yards and three touchdowns in the loss, keeping him among the leaders in the WBL in rushing yards. Celina has not allowed fewer than 21 points in any game this season.
About the Redskins: Wapak keeps rolling after beating Bath 27-3 last week. Kaeck continues to be the go-to back in the Wing-T of the Redskins, rushing for 774 yards and 12 touchdowns this season. Connor McDonald adds 624 yards and eight scores with quarterback Reed Merricle rushing for 481 yards. Merricle has also thrown for 212 yards and two touchdowns. The Wapak defense has held teams to 14-or-fewer points in six of seven games.
Fort Recovery at St. Henry
Wally Post Athletic Complex
Last Season: Quaterback Sam Lefeld rushed for two touchdowns and Zach Niekamp rushed for 117 yards in the Redskins' 20-0 victory at Barrenbrugge Park. The Indians were held to just 123 yards of total offense with three fumbles.
About the Indians: After snapping a four-game skid in Week 6 against Parkway, the Indians ran into the buzzsaw known as Anna in falling 53-20. While the passing game has been solid, with Clay Schmitz passing for 2,555 yards an 15 touchdowns, the running game has been limited to 105.1 yards per game with Derek Jutte tallying 550 of the team's 736 rushing yards.
About the Redskins: St. Henry has struggled throughout the season and ran into a tough Minster team in falling 45-7 at Memorial Field. The Redskins recorded just 148 yards of total offense against Minster and were 2-of-9 on third down conversions.
Minster at Marion Local
Booster Field, Maria Stein
Last Season: In a game played in a torrential downpour, the teams scored all their points in the first quarter and then muddled through the rest of the game with the Flyers winning 7-6. Nolan Habodasz had Marion's touchdown and Jacob Niemeyer scored the Wildcats' score with Alex Klosterman's made PAT being the difference.
About the Wildcats: Minster has been chugging along since losing to Coldwater in Week 4. Alex Schmitmeyer is one of two area backs to rush for more than 1,000 yards, along with Anna's Riley Huelskamp The Minster defense has given up an average of 113.3 rushing yards per game and 259.3 total yards per game. A win would solidify the Wildcats' playoff spot.
About the Flyers: Marion still holds a share of the MAC lead at 5-0 going into the contest with Marion. The Flyers pulled away early in their last two wins. Marion's defense has tallied 14 sacks, seven interceptions and six fumble recoveries this season with no player having more than 42 tackles.
Versailles at New Bremen
Cardinals Stadium
Last Season: Nolan Bornhorst's 50-yard pass to Grant Selby with 8:29 remaining in regulation gave the Cardinals a 14-7 come-from-behind victory at Hole Field. The teams combined for 362 total yards of offense and four turnovers.
About the Tigers: Versailles was held to just a touchdown for the second straight week in falling to Marion Local 38-7. The Tigers were held to just 138 yards of total offense against the Flyers and just 67 yards rushing.
About the Cardinals: New Bremen picked up a new look to its passing game as Mitchell Hays hit Dan Homan for two first-half touchdown passes en route to a 40-18 win at Parkway. The Cardinals then used solid running in the second to pull away for the win. Hays, while a strong runner on offense, has played stellar defense, leading the team with 48 tackles and adding 11 pass breakups.
Parkway at St. John's
Stadium Park, Delphos
Last Season: The teams played back and forth for four quarters at Panther Stadium before the Blue Jays hung on for a 27-22 win.
About the Panthers: Penalties hampered a strong first series for Parkway against New Bremen. The Panthers' 340 penalty yards is the most in the MAC with the 35 penalties among the most in the conference. Quarterback Eli Rich has been solid this season, but has struggled when put in long-yardage situations. Parkway has taken care of the ball, only having a minus-1 turnover ratio (seven takeaways to eight giveaways, right in the middle of the pack in the MAC).
About the Blue Jays: St. John's was shut out for the second time this season and gave up the most points in any game this season in falling 49-0 to Coldwater. The offense is averaging just under 200 yards per game with the defense allowing 341.9 yards per game. The last time the Blue Jays finished with just one win on the season was 2015.
Bath at St. Marys
Grand Lake Health System Field
Last Season: Braeden Dunlap rushed for 164 yards and passed for three touchdowns in the Roughriders' 60-14 win over the Wildcats. Bath was held to 113 yards of total offense.
About the Wildcats: Bath only trailed Wapakoneta 7-3 at the half before giving up 20 points in the third quarter to fall 27-3. Quarterback Dallin McDermott passed for 173 yards with an interception but the Wildcat defense gave up 258 yards of offense - all rushing - to the Redskins.
About the Roughriders: St.Marys had a 35-0 lead at halftime and did not allow Elida a score until taking a 48-0 lead to keep the clock rolling in a 62-14 win. Ten different players had at least one rush and two yards en route to gaining 412 yards on the ground.

Thursday, October 17th, 2019
Players of the Week
Offense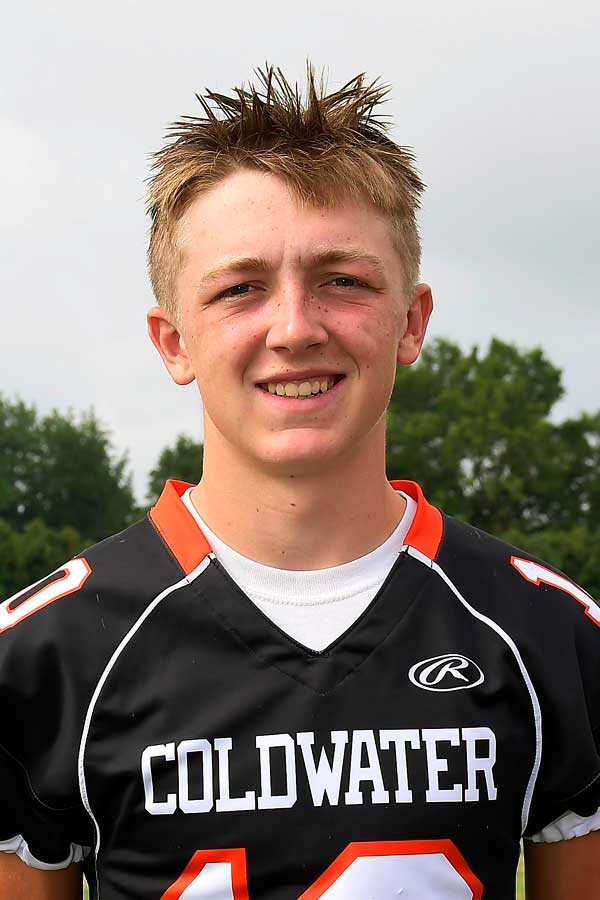 Jake Hemmelgarn, QB
Coldwater
Three rushing touchdowns, three passing touchdowns and more than 200 yards of total offense in 49-0 victory over Delphos St. John's.
Defense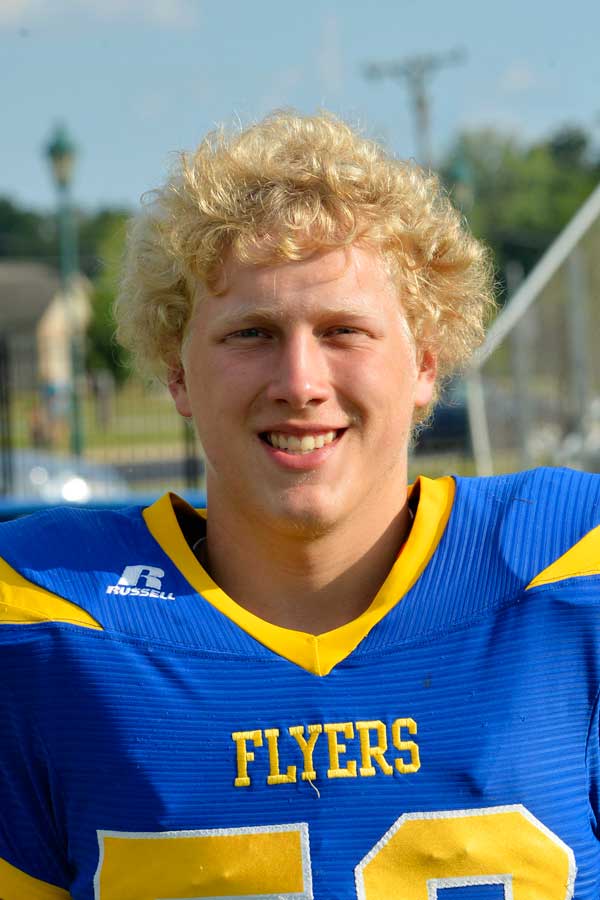 Matt Everman, DE
Marion Local
Fumble recovery, blocked punt in Marion Local's 38-7 victory against Versailles.
Thursday, October 17th, 2019
Goal Line
Standings
WBL
| | | |
| --- | --- | --- |
| | WBL | Overall |
| Ottawa-Glandorf | 6-0 | 6-1 |
| Wapakoneta | 5-1 | 6-1 |
| Kenton | 5-1 | 5-2 |
| St. Marys | 4-2 | 5-2 |
| Celina | 2-4 | 3-4 |
| Shawnee | 2-4 | 3-4 |
| Van Wert | 2-4 | 3-4 |
| Bath | 2-4 | 2-5 |
| Defiance | 2-4 | 2-5 |
| Elida | 0-6 | 0-7 |
Friday's Games (7 p.m. starts unless indicated)
Celina at Wapakoneta
Bath at St. Marys
Defiance at O-G (6 p.m.)
Van Wert at Elida
Shawnee at Kenton
MAC
| | | |
| --- | --- | --- |
| | MAC | Overall |
| Coldwater | 5-0 | 7-0 |
| Marion Local | 5-0 | 6-1 |
| Anna | 4-1 | 6-1 |
| Minster | 4-1 | 6-1 |
| New Bremen | 3-2 | 5-2 |
| Versailles | 2-3 | 3-4 |
| Fort Recovery | 1-4 | 2-5 |
| St. Henry | 1-4 | 1-6 |
| Parkway | 0-5 | 2-5 |
| St. John's | 0-5 | 1-6 |
Friday's Games (7 p.m. starts)
Coldwater at Anna
Minster at Marion Local
Versailles at New Bremen
Fort Recovery at St. Henry
Parkway at St. John's