Thursday, November 19th, 2020
Cardinals ready for Eagles
By Tom Haines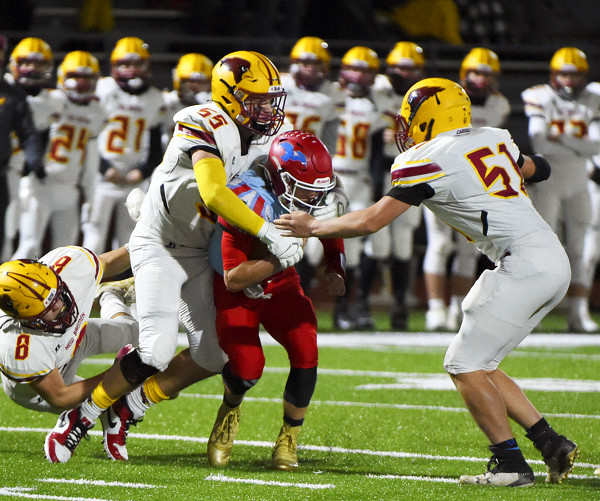 Photo by Dan Melograna/The Daily Standard
In 47 years as a varsity football program, New Bremen had never won so much as regional championship.
The 2020 team roared past that benchmark two weeks ago with a huge upset of Marion Local, and now the Cardinals are thinking bigger. As it takes on Warren John F. Kennedy on Friday in the Division VI state championship game at 1:15 p.m., New Bremen has a shot at its first state title.
"I'm thinking to myself it's just a blessing that we've gotten this far in the season and we've been able to play this many games," New Bremen coach Chris Schmidt said. "When we got back to the school last Friday there was a huge turnout of people here at the school, that was really neat to see."
The Cardinals (10-2) have put together a remarkable run, pulling out three straight upsets. In three of the last four games, New Bremen has trailed in the second half and come back to win.
That's been possible thanks to a special teams unit that's blocked three punts, an extra point and a field goal since the playoffs began, with help from a strong defense that's put up a plus-18 turnover ratio in 12 games this year and shut down high-powered offenses the last three weeks.
"You just try to build off of it," Schmidt said of the recent defensive success. "Try to stress to the kids that when we've played assignment football and been disciplined and done our jobs, each one of us individually, we've been pretty good defensively. When we get away from that and get out of what we're supposed to do, or try to do this or that which isn't what our job is, that's when we're not as good."
On offense, the Cardinals will have to move the ball without top running back Zach Bertke. Bertke left the state semifinal game with an injury and is not available for the championship.
In his place, Hunter Schaefer stood out for New Bremen last week, rushing for 76 yards on nine carries after being thrust into the spotlight.
Generally, though, the offense has run through quarterback Mitchell Hays, who has recorded 784 yards rushing and 1,227 passing with 14 rushing touchdowns. Two scores in the last two weeks have been breakaway runs of 40 yards or more.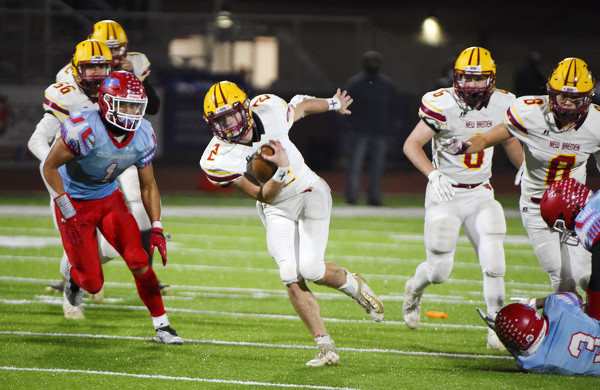 Photo by Dan Melograna/The Daily Standard
On the other side is Warren JFK, which was 4-2 at the start of the playoffs and, like New Bremen, has just kept winning. Most recently, the Eagles thwarted a late rally by Newark Catholic in the state semifinals for a 20-13 win.
The Eagles are powered by quarterback Cameron Hollabaugh, who has racked up 1,427 yards and 31 touchdowns. Against the Green Wave last week, Hollabaugh was responsible for 125 of the Eagles' 161 rushing yards and all three touchdowns. Hollabaugh is also a force on defense, earning two defensive player of the year nods for the Northwest Ohio region.
The other threat is offense is running back Jesse Likens, an Air Force Academy commit, who had a breakout season as a junior. Likens has been less of a factor his senior year, but Schmidt still sees the talent that he flashed last season.
"He's got great quickness and feet, and if he gets a little bit of daylight it looks like he's got some really good speed," Schmidt said. "That's a concern, to make sure that we're getting to him and not giving him a lot of daylight to get running."
On defense, the Eagles boast a strong defensive line led by defensive end Eddie Kiernan, a junior captain. Warren JFK has only allowed 30 points twice, once in a late-season loss to Howland and again in the first round of the playoffs, when the Eagles won 65-33 over Lowellville.
"Their defensive line comes off the ball fast, inside linebackers are really aggressive in attacking the line of scrimmage," Schmidt said. "I think they want to try to force you into some negative plays or create some turnovers."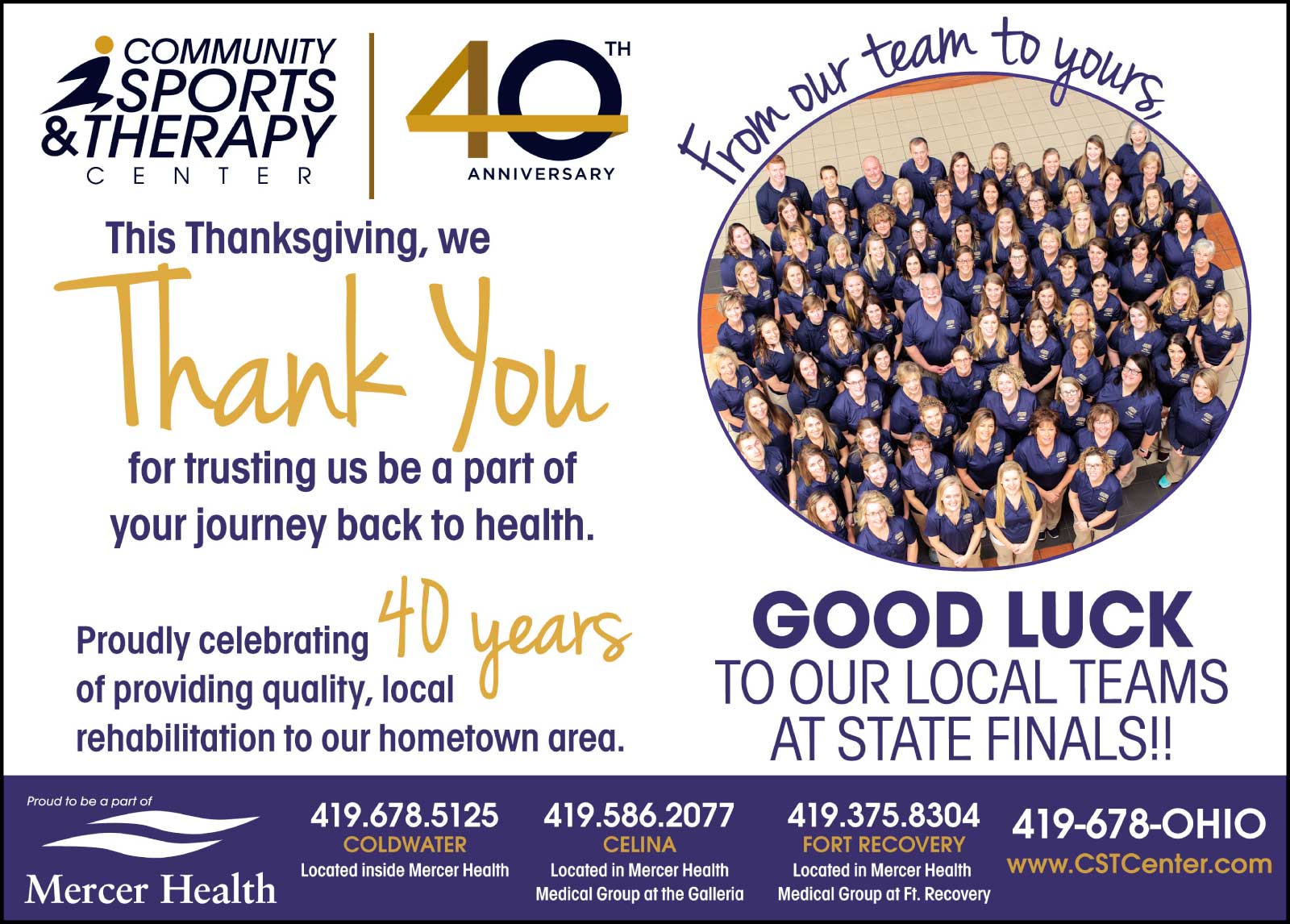 Thursday, November 19th, 2020
Cavaliers prepare for tough Tigers
By Gary R. Rasberry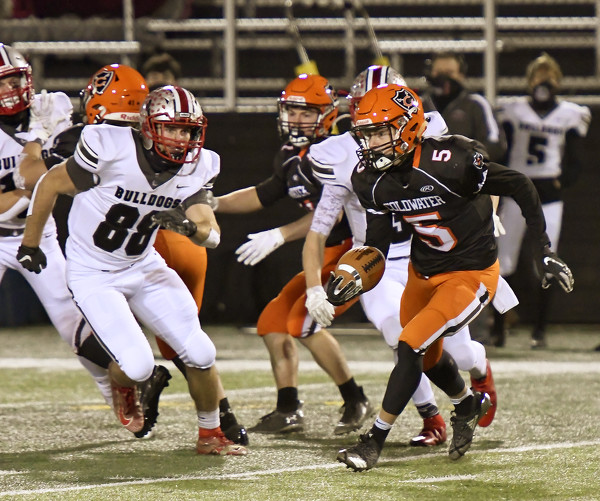 Photo by Nick Wenning/The Daily Standard
After a three-season hiatus. Coldwater is back in a state football championship game.
The 11-0 Cavaliers take on 11-0 New Middletown Springfield on Sunday at 5 p.m. at Fortress Obetz in the Division VI state championship game.
A win by the Cavaliers would give the program seven state titles since winning their first in 2004. Since 2000, the Cavaliers have appeared in a state final 13 times.
TIGER TALK
While it will be the first meeting between the teams, Springfield felt the sting of the MAC last season in falling 48-14 to Anna in the Division VI final in Canton. Last year was the first state final appearance for the Tigers.
Sean Guerriero's squad has been dominant all season in Mahoing County, not allowing more than 18 points in a game before having to win a 52-48 shootout over Norwayne in the regional final and then beating Beverly Fort Frye 16-13 last week to return to state.
SIMILAR STYLE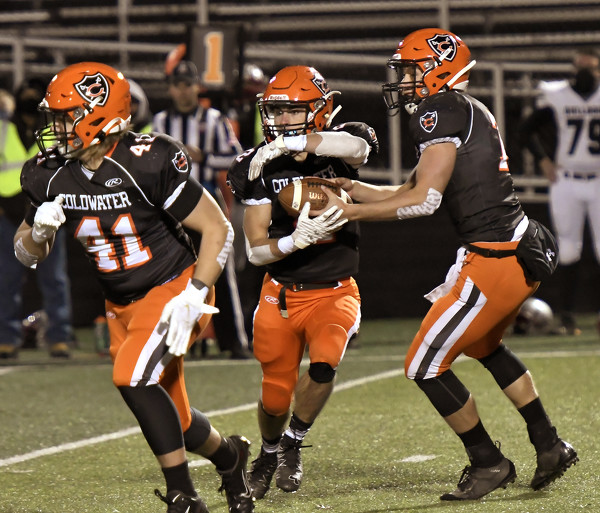 Photo by Nick Wenning/The Daily Standard
Quarterback Beau Brungard is the key cog of the Tiger offense. The 6-0, 197-pound junior has passed for 1,827 yards with 18 touchdowns and just one interception this season to go along with 773 yards and 19 touchdowns.
"Teams have given him the short passing game and he takes it," said Coldwater coach Chip Otten. "Running the ball, he's a lot like Brody Hoying, to be honest. He and Myles (Blasingame) are like a mirror image."
In the backfield, three running backs complement Brungard's running. Clayton Nezbeth (511 yards, 9 TDs), Austin Tindell (372 yards, 7 TDs) and Bo Snyder (163 yards on 13 carres, 2 TDs) add to the depth.
"Their backs reminds me of (the backs at) Mechanicsburg," said Otten.
Clayton Medvec leads the receiving corps with 38 receptions for 609 yards and two scores. Lukas Yemma added 442 yards and three scores. In all, seven players have at least two touchdown receptions.
"They've got some pretty good weapons. They had some good weapons last year," said Otten. "Hopefully, we have more weapons than them than just the quarterback."
TIGER DEFENSE
Nezbeth (106 tackles), Snyder (75 tackles) and Tindell (58 tackles) are the leaders on defense.
"We saw (the defense) with two different philosophies," said Otten. "Against Fort Frye, which is more power-running, they stayed in their base, which looks like a 4-3 (four down linemen, three linebackers) to us. Against Norwayne, which is more like us with the spread and trips (three receivers on one side), they blitzed quite a bit more and had more man coverage.
"It will be interesting to see what they do. Are they going to spy on Kibby (Zack McKibben). (Tindell), who plays outside linebacker, tends to go to the side of strength. I'm guessing they'll have a plan to line up that we'll have to figure where Tindell is at."

Thursday, November 19th, 2020
Computer Points In Review
Sizing up the state championship games
By Bruce Monnin
Three for three.
For last week's state semifinals we were down to two local teams (Coldwater and New Bremen) as well as one non-local WBL school (Van Wert). For this week's state championships, the same three teams are still alive.
While Coldwater is an old hat at these opportunities to earn the big trophy, the other two football teams are not. Van Wert has not been to a state title game since they lost to Canton Central Catholic in 2000, 27-26 loss in double overtime. New Bremen has never before reached the final game of the playoffs.
Once again we shall compare teams' Harbin computer points as well as listing the predictions made by the Calpreps.com website. The complete computer points for all OHSAA teams can be found throughout the season at: user.nktelco.net/bdmonnin/football.htm.
Division IV
Team - Ranking (Computer Points)
Van Wert - 1st (38.78)
Mentor Lake Catholic - 6th (33.47)
This is a rare state title game matchup between two teams who both missed the playoffs the year before. Mentor Lake Catholic has been the stingier defense in the playoffs, giving up only about one touchdown per game, while Van Wert has been winning by a slightly larger margin of victory.
Both computer systems like Van Wert. The Cougars have 16% more computer points than Mentor Lake, while Calpreps envisions a tighter game, with Van Wert winning 28-27.
Division VI
New Middletown Springfield - 1st (35.25)
Coldwater - 3rd (32.19)
This will be the second year in a row that New Middletown Springfield will face an MAC team in the state finals, as they lost to Anna 48-14 last year. Springfield has survived their last two playoff games by a combined seven points, while Coldwater has won by larger margins since surviving their two point game against Fort Recovery.
Springfield has 10% more computer points, but Calpreps envisions a seventh state championship for the Cavaliers, this time by almost two touchdowns, 34-21.
Division VII
New Bremen - 2nd (26.16)
Warren John F Kennedy - 3rd (25.86)
This is JFK's third state championship game against a MAC team. Warren JFK lost to St. Henry 28-7 in the Division V title game in 2006, then earned some revenge by defeating Minster 24-6 for the 2016 Division VII championship.
The computer points only give 9-2 New Bremen a 1% advantage, but Calpreps becomes more enamored with the Cardinals every week. It picks New Bremen as the heavy favorite to win their first football state championship, 31-12.
Following is a quick look at the other state title games this weekend.
Division II
Akron Archbishop Hoban - 1st (54.40)
Massillon Washington - 2nd (48.97)
Hoban is a dynasty in the making. Massillon, coached by former Minster coach Nate Moore, is a former dynasty looking for that first playoff title to awaken the ghosts. Calpreps favors the new dynasty, predicting Archbishop Hoban to win 22-17.
Division III
Chardon - 1st (48.57)
Col. St. Francis DeSales - 2nd (40.06)
Neither 11-0 Chardon nor 9-1 St. Francis DeSales has been challenged in the playoffs, except for DeSales' 10- point win over Archbishop Alter last week. Calpreps predicts Chardon to win 34-20.
Division V
Kirtland - 1st (36.05)
Ironton - 2nd (35.49)
This is another old versus new school matchup. 11-0 Ironton has 35 playoff appearances, two state titles and seven runners-up performances. 10-0 Kirtland is probably the greatest current football dynasty in the state. This will be Kirtland's ninth state championship game in the last ten years. Calpreps predicts Kirtland to win 28-22.

Thursday, November 19th, 2020
Van Wert looking for Division IV title
By Gary R. Rasberry
It's been 20 years since Van Wert has played in a state football championship game, but the Cougars are going to get their chance on Sunday at noon when they play in the Division IV title game at Fortress Obetz against Mentor Lake Catholic.
Coached by Delphos St. John's alum Keith Recker, the Cougars are having one of their finest seasons in going 10-1, the only loss coming to Ottawa-Glandorf.
Quarterback Owen Treece is having a season fit for a Mr. Football contender. Treece, who was both the Co-Offensive and Co-Defensive Player of the Year in the Western Buckeye League, has thrown for over 2,600 yards and 33 touchdowns while rushing for over 900 yards with 18 scores. In the 28-20 state final win over Wyoming, Treece rushed for 80 yards and passed for 155 with a touchdown.
Dru Johnson has been a favorite target, going over the 1,000-yard mark in receiving yards with 14 touchdowns. Nate Jackson adds depth in the running game.
Mentor Lake Catholic comes in at 10-2, with losses to Walsh Jesuit and Division V state finalist Kirtland.
Panthers quarterback Joe Malchesky rushed for 135 yards and a touchdown and was 9-of-16 passing for 61 yards in the state semifinal win over Bloom-Carroll.

- Gary R. Rasberry
Thursday, November 19th, 2020
State Finals Schedule
NOTE: Due to the recent order for a 10 p.m. to 5 a.m. curfew, the times for this weekend's state football championship games have been changed.
Friday
Division VII
New Bremen (9-2) vs. Warren JFK (9-2), 1:15 p.m.
Division II
Massillon Washington (10-1) vs. Akron Hoban (10-0), 6:15 p.m.
Saturday
Division V
Kirtland (10-0) vs. Ironton (11-0), 1:15 p.m.
Division III
Columbus St. Francis DeSales (9-1) vs. Chardon (11-0), 6:15 p.m.
Sunday
Division IV
Van Wert (10-1) vs. Mentor Lake Catholic (8-2), 12:15 p.m.
Division VI
New Middletown Springfield (11-0) vs. Coldwater (11-0), 5:15 p.m.