Thursday, September 12th, 2019
Friendly Rivalry
Battle rages on between Wildcats and Indians
By Colin Foster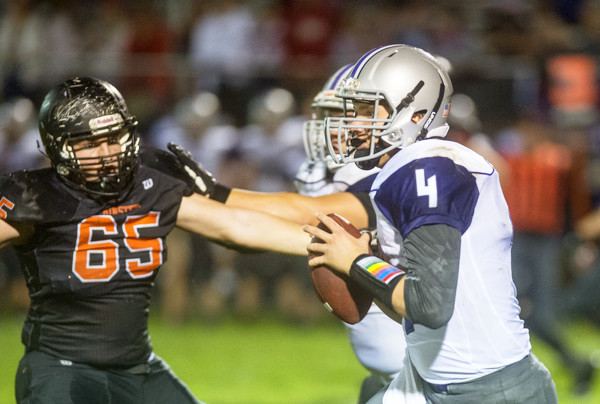 Photo from The Daily Standard Archives
Minster and Fort Recovery have fought a five-year football war.
But don't let all those hard hits on the field fool you. The two teams really do in fact like each other.
"This (rivalry) has been awesome because those guys are good guys over there, the coaching staff does a good job and the kids play the right way and play hard," Minster coach Geron Stokes said. "We've had some wars - some really, really fun games that we've won and we've lost. I think it just makes both of us better. I think when you plays teams like this that are coached like that, everybody gets better from it."
"We always tell the kids that the opponent is really your best friend because they never lie to you," Fort Recovery coach Brent Niekamp said. "They'll show you what reality is every time. You want that. You want that challenge and to see how good you can be."
The war rages on for a sixth year Friday night at Barrenbrugge Park.
The Wildcats hold a 19-7 lead in the all-time series against the Indians, according to Daily Standard correspondent Bruce Monnin. But since 2014, Minster is 4-3 against Fort Recovery, which includes a 1-1 split in the playoffs. Those seven games were decided by an average margin of 5.4 points.
Last year, Minster needed some final-quarter heroics to defeat Fort Recovery at Memorial Field.
Trailing midway through the fourth quarter, Minster went on a 14-play, 65-yard drive - converting two fourth downs along the way - which was capped by Jacob Niemeyer's 9-yard scoring pass to August Boehnlein with 54 ticks remaining and secured a 28-22 win.
Through two games this year, Niemeyer has completed 30-of-43 passes for 329 yards with three touchdowns and one interception. His top targets are Trent Roetgerman (12 catches, 127, 2 TDs) and Brendan Bornhorst (10 catches, 110 yards, 1 TD). Alex Schmitmeyer leads the backfield for a second straight season. He has rushed 55 times for 247 yards and four scores in 2019.
Roetgerman (16 tackles), Conner Albers (15) and Bornhorst (13) lead the defense for the Wildcats, who opened the season with wins over Cross County Conference powers Fort Loramie (20-13) and Covington (35-25).
"We've been fortunate to make enough plays the last couple of weeks to come out on top, but I feel like we're always in the same spot right here, right now," Stokes said. "We're trying to get a lot of things corrected.
"We have to marry our execution and our effort," he continued. "Sometimes we're playing really hard, but we're playing really bad football. Then sometimes we play really good football, but some guys aren't playing hard. … So we've got to marry the execution and the effort together in almost all aspects of where we're at."
Clay Schmitz is again at the helm of Fort Recovery's offense, and the 2018 second team All-MAC quarterback has shown progression in his junior season. With two games in the books, Schmitz, who threw for more than 300 yards against Minster last season, has completed 32-of-53 passes for 389 yards with five TDs and one pick.
Also back for the Indians this season is leading rusher Derek Jutte (37 carries, 168 yards in 2019), along with wideouts Regan Martin (14 catches, 170 yards, 1 TD) and Gavin Thobe (six catches, 103 yards, 3 TDs).
Linebacker Owen Schoen anchors the defense. Last week, he had 13 tackles, including one for loss, at Valley View. The Indians also have back kicking ace Cobe Wendel, who connected from 38 and 26 yards last week.
"Their run game mixed with their quarterback being able to throw it all over the yard puts a lot of stress on your defense," Stokes said. "Then they're so sound defensively that you've got to be able to execute at a high level consistently."
Fort routed Lehman 35-0 in the opener and then suffered a 16-13 loss at Division IV Valley View in Week 2, which Niekamp thinks will prepare his team for the road ahead.
"We feel like we've seen a very quality opponent (Valley View), an MAC style team as far as how physical they are, how strong they are, how fast and disciplined they are," Niekamp said. "We feel like that was a good test to have. Of course, we'd like to have the win and the computer points, but I feel like we are definitely going to be able to grow from that game. We definitely took some strides from Week 1 to Week 2."
Friday's 7 p.m. contest is the Midwest Athletic Conference opener for Minster and Fort Recovery, both of which were considered to be among league favorites entering the season.
With many of the same players in uniform, another competitive and chivalrous encounter is expected.
"I hope it's an incredible game," Stokes said. "It's going to be two teams that are playing their tails off, and somebody's going to make more plays than the other team."
"I almost feel like this year's game is going to be a continuation of last year's game," Niekamp said. "We're very similar in personnel and what we want to do. So are they. They are very true to their system and their scheme, and that game last year was so back and forth. … I almost feel like the game wasn't lost as much as it was we were behind when the time ran out. It almost feels like we just get to start that right back up - we're going to go four more quarters here and see who is one top when the time runs out."

Stat of the Week:
• Since 2014, Minster holds a 4-3 record vs. Fort Recovery. Those games were decided by an average margin of 5.4 points.
Thursday, September 12th, 2019
Two-Minute Drill
By Daily Standard Staff
Kenton at Celina
Celina Stadium
Last Season: Jaron Sharp passed for 343 yards and four touchdowns as Kenton beat Celina 49-13 at Robinson Field. The two teams combined for more than 860 yards of total offense in the contest.
About the Wildcats: Brent Fackler's squad bounced back from the opening night loss at Coldwater to roll past Bath 48-9 in a WBL contest. Junior Blaine Huston has been solid in his first two starts in replacing Sharp, who is now at Tiffin University. Huston threw for 407 yards on 21-of-29 passing and five touchdowns against Bath. All-Ohio wideout Jayden Cornell had eight catches for 189 yards and three scores and Landon Rush added 137 yards on seven snags and a score.
About the Bulldogs: Celina struggled during the second half in a 30-20 loss at Shawnee in the WBL opener to complete a 1-1 season-opening road trip. Cooper Jones has been a factor running the ball for the Bulldogs, leading the WBL with 273 yards rushing to go along with three touchdowns but has completed just 43.9% (18-of-41) of his passes for 134 yards and two scores. RB/LB Jaxson Silliman has been all over the field, leading the team with 19 tackles and tallying 238 yards of offense with two scores.
Versailles at Coldwater
Cavalier Stadium
Last Season: Jake Hemmelgarn passed for three touchdowns and Mitch Niekamp ran for two more as the Cavaliers opened MAC play with a 35-7 win at Hole Field.
About the Tigers: Versailles rebounded from a tough one-point loss to Celina in the opener to shut out Delphos Jefferson 48-0 at Stadium Park. Quarterback Ryan Martin passed for 186 yards and three touchdowns and Eli McEldowney, who had two 87-yard kickoff returns against Celina, rushed for two scores. Landon Henry averaged more than 10 yards per carry as part of his 93-yard performance.
About the Cavaliers: Coldwater completed its non-conference portion of the schedule with a 37-7 win at Mount Healthy. Hemmelgarn has completed 75% of his passes this season (33-of-44) for 499 yards and seven touchdowns. Four different receivers have caught TD passes, led by 6-foot-5 tight end Noah Miller (184 yards, 4 TDs).
Marion Local at Parkway
Panthers Stadium, Rockford
Last Season: Nolan Habodasz rushed for 141 yards and two touchdowns as the Flyers outgained the Panthers 383-121 in a 51-7 win at Booster Stadium.
About the Flyers: Marion Local ran into a tough Division III Bishop Watterson program and took a 31-7 loss. The last time Marion Local lost a regular season non-conference game was on Aug. 25, 2011, when the Flyers were defeated by Shawnee 13-7 in overtime. Flyer quarterback Kyle Muhlenkamp struggled in being picked off three times by Eagles defenders last week.
About the Panthers: Parkway is 2-0 for the first time in more than a decade and has looked good in the process, winning its first two games by an average margin of 14 points. Quarterback Eli Rich has improved his game, passing for 346 yards and four touchdowns this season, giving opposing defenses something to consider in contrast to the running game led by senior back Nick Hawk (189 yards, 3 TDs).
New Bremen at Anna
Booster Field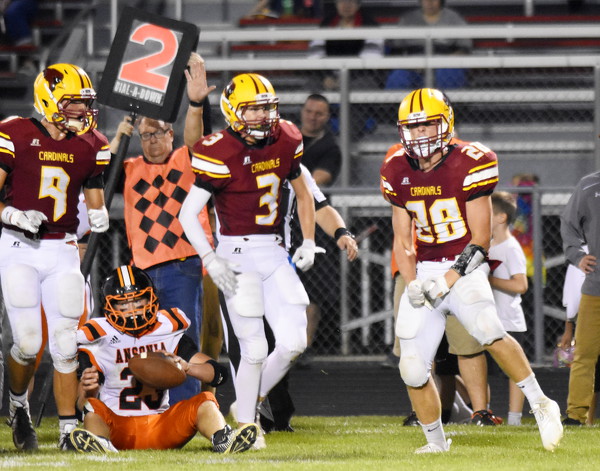 Photo by Jason Snyder/The Daily Standard
Last Season: Bart Bixler rushed for 135 yards and two touchdowns and passed for another in the Rockets' 42-7 win at Cardinals Stadium. Nolan Bornhorst passed for the lone New Bremen score.
About the Cardinals: New Bremen spotted Ansonia a touchdown before rattling off 34 straight points in a 34-6 win at Cardinals Stadium. The running game has been blistering this season with an average of 381.5 yards in the first two games. Quarterback Mitchell Hays (181 yards, 5 TDs) has done most of his work as a rusher, but if he can start connecting with receivers like Nolan Bornhorst and Patrick Wells, it will give opposing teams issues on defense.
About the Rockets: The tandem of Bixler at quarterback and Riley Huelskamp at running back continues to be a potent 1-2 punch this season as the Rockets have started 2-0. Huelskamp rushed for 147 yards and three scores in Anna's 49-16 win over Brookville while Bixler rushed for 134 yards and four touchdowns and was 9-of-13 passing for 101 yards.
St. Henry at St. John's
Stadium Park, Delphos
Last Season: Zach Niekamp rushed for 143 yards and four touchdowns in the Redskins' 37-7 win over the Blue Jays at the Wally Post Athletic Complex. St. Henry rushed for 264 yards as a team.
About the Redskins: St. Henry's youth has struggled out of the gate, losing back-to-back non-conference games. It is the Redskins first 0-2 start since 2013 when they opened with four straight losses. The running game has struggled in tallying just 86 yards in the first two games while quarterback Andrew Lange is just 16-of-37 passing for 188 yards with six interceptions.
About the Blue Jays: St. John's struggled in a 40-6 loss to rival LCC last Saturday at Stadium Park. The Blue Jays were able to produce 198 yards of offense - 132 rushing - but had four turnovers in the contest. Veteran coach Todd Schulte has worked with two quarterbacks this season in senior Brady Parrish and sophomore Brady Kerner. Parrish has thrown for 150 yards with three interceptions and leads the team with 98 rushing yards and two touchdowns.
St. Marys at Ottawa-Glandorf
Titans Stadium, Ottawa
Last Season: The Roughriders jumped out to a 28-0 lead and never looked back in beating O-G 49-6 at Baughman Stadium. Braeden Dunlap passed for two touchdown and ran for another.
About the Roughriders: St. Marys put up a tremendous effort in battling WBL and county rival Wapakoneta to a 19-13 overtime loss last Friday at Harmon Field. The Roughrider running game has been rolling with Ty Schlosser (249 yards) and Ethan Wedding (113 yards) leading the way. The game on Friday is the last of a three-game opening road trip before St. Marys makes its regular season debut at Alumni Field against Van Wert.
About the Titans: O-G bounced back from a tough Week 1 loss to roll past Elida 51-7 in the WBL opener. QB Jacob Balbaugh set a school record with six touchdown passes on 11-of-15 passing for 228 yards and rushed for another touchdown. The Titan defense picked off Elida QB Keshawn Spivey four times in the game and held the Bulldogs to just 142 yards of offense.