Thursday, September 13th, 2018
Bulldogs back home to face Bath
By Gary R. Rasberry
After a big bounce-back victory at Elida last week, Celina returns home this Friday for Homecoming and a matchup against 0-3 Bath.
Bulldogs head coach Brennen Bader was pleased how his team rebounded from a 49-13 loss to Kenton in Week Two to beat Elida 56-36 in a game where Celina rushed for over 400 yards and had over 600 yards of total offense.
"I was proud how our kids responded against Elida coming off the loss to Kenton," Bader said. "We got up early. Elida made a run and took the lead from us (at 29-28). I was proud how the kids kept fighting (outscoring Elida 28-7 over the final 14 1/2 minutes of the game). Then we took the game the rest of the way out. That was refreshing to see."
Bath, under the tutelage of first-year coach Bryant Miller, who was an assistant along with Bader under Jared Rolfes at Celina several years ago, has struggled to start the season, losing to Allen East, Elida and Ottawa-Glandorf while allowing an average of over 36 points per game. The Wildcats have just 10 seniors on the roster and have played a sophomore (Lex Boedicker) and freshman (Cyrus Burden) at quarterback.
"He's a very good coach," Bader said of Miller. "He's getting Bath ready. They are young but a physical team. They're inexperienced, but in the WBL, you have to be ready to roll."
The Wildcats like to establish the run with sophomore back Tre Johnson, who leads the team with 134 yards rushing. Freshman Carter Parlapiano has rushed for 61 yards while offensive lineman Micah Cox has also saw carries, leading the team in yards per attempt at 6.8 and second on the team with 88 yards. Boedicker leads the team in passing yards with 57 with a touchdown while Burden, who started last Friday's game against Ottawa-Glandorf, is 4-of-8 for 15 yards with a touchdown and two interceptions.
"They want to establish the run and keep possession of the ball," Bader said. "They want to slow down the game a bit. They run a bit of the option, a little like we're doing with our option. They'll get it going eventually, but we're not going to take them lightly."
Defensively, Bath ranks near the bottom in the WBL in rushing yards allowed with 161.3, a tough stat considering Celina leads the league with over 1,000 yards in just three games.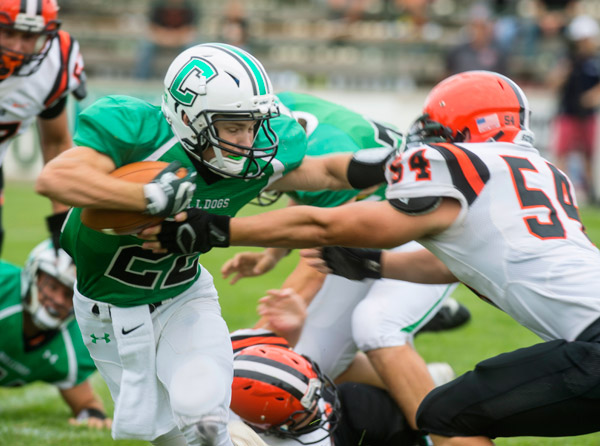 Photo by Mark Pummell/The Daily Standard
Celina has plenty of weapons in its offensive arsenal. Kyle Zizelman (341 yards - second-best in WBL - and four TDs), Chase Stephens (251 yards, four TDs), Brett Schwieterman (194 yards, two TDs) and Jordan Song (112 yards, two TDs) are potent running threats. Schwieterman's passing numbers (30-of-53 for 378 yards with four touchdowns and five interceptions) are lower due to the team's running strength, but he is equally potent when teams try to over-defend the run. Bransen Miller (three receptions for 111 yards and two TDs) and Cooper Jones (10 receptions for 90 yards and a TD) are solid, but the play of senior Austin Okeley, who joined the team for the first time this season, is notable. Okeley, who led the Bulldogs with four catches for 54 yards against Elida, is averaging 11 yards per catch (eight receptions for 88 yards) with a touchdown.
"He's a pleasant surprise and he's only getting better each and every week," Bader said. "Starting in the summer and each week of the season, he's gotten better. His blocking is getting better and he's more comfortable and confident."
Thursday, September 13th, 2018
Computer Points In Review
Digging deeper into the numbers for making the playoffs
By Bruce Monnin
Last week's column detailed the number of wins I project that it will take for area teams to reach the football playoffs. One item that stood out was that it is expected to require fewer wins to qualify for the postseason in the lower divisions. Part of this is due to the more points per win available to local MAC teams after their outstanding non-conference performance each year.
However, the mathematician in me wanted to look a little deeper. In theory, if every team in each division was equal, and all teams only played opponents in their own division, then every team would win 50 percent of its games. If you assume that schools with larger enrollment (i.e. in the higher divisions) are better than teams with smaller enrollment, then things change. In Division I, the teams all play opponents their own size or smaller. In Division VII, the opposite is true. So, you should expect Division I schools to win over 50 percent of their games, Division VII teams to win less than 50 percent, and the divisions in between to win close to half of their contests.
Let's look at  2017 data. Below are the winning percentage of all teams in each division, and the average number of wins for the 32 playoffs teams in each division.
Division I - 56.4% - 7.9 wins
Division II - 48.5% - 7.6 wins
Division III - 53.7% - 8.3 wins
Division IV - 50.7% - 8.4 wins
Division V - 50.4% - 8.1 wins
Division VI - 51.2% - 8.3 wins
Division VII - 42.6% - 7.4 wins
So, the 2017 winning percentage numbers are about as expected, with some slight anomalies in Divisions II and III. You would think that Division I would require the most wins of its playoff teams, but since the OHSAA limits that top division to only 72 teams (while the other divisions consist of between 106 and 110 teams), it takes about the same number of wins to make the playoffs in all divisions except the small school division.
Why such a dramatic drop-off in Division VII? It's probably due to a number of teams who are not really competitive, because of their low numbers of players (such as Bradford, which is working with a 13-14 player roster), being a relatively new program, etc.
Minster was the big winner in the MAC last week, surviving against 2-1 Fort Recovery. St. Marys may have had the best result in the WBL with its win over 2-1 Van Wert, though Celina's win over Elida was possibly more important for the Bulldogs' playoff hopes.
This week features three big MAC games: the battle of the undefeateds as Minster travels to Coldwater, 3-0 St. Henry visits 2-1 Anna and 2-1 New Bremen heads west to face 2-1 Fort Recovery.
The two biggest games in the WBL are 2-1 Van Wert at 2-1 Ottawa-Glandorf and 3-0 Wapakoneta traveling to 2-1 Kenton.
The complete computer points for the five regions involving most area teams can be found throughout the season at: http://user.nktelco.net/bdmonnin/football.htm
Division III Region 12:
Team - Ranking (Computer Points)
Wapakoneta - 2nd (8.30)
Celina - 8th (4.23)
Shawnee - 19th (1.68)
Elida - 20th (1.67)
Wapakoneta rises to second place as one of the only three undefeated teams in this region. A win at 2-1 Kenton would send the Redskins over halfway to the seven wins they will need to reach the playoffs.
Celina's much-needed win over Elida places them barely in the top eight for now. Few points are available this week against 0-3 Bath.
Division IV Region 14:
St. Marys - 1st (7.77)
Kenton - 6th (5.72)
Clear Fork - 8th (5.43)
Van Wert - 16th (2.62)
Bath - 22nd (0.00)
St. Marys remains at the top of the heap, ahead of the six other teams without a loss. With Sidney starting to look like a team that will provide the Roughriders with some second-level points, St. Marys has the look of a playoff team with just four more wins.
Kenton moves up thanks to beating 2-1 Defiance. Fewer points will come from playing 1-2 Elida this week, but a "winner goes to the playoffs" game looms in Week 5 when the Wildcats travel to St. Marys.
Division V Region 18:
Pemberville Eastwood - 8th (4.72)
Anna - 9th (4.32)
Ottawa-Glandorf - 10th (4.27)
Versailles - 19th (1.68)
In a phrase not heard in recent years, Anna rises in the rankings, thanks to defeating 2-1 New Bremen. Meanwhile, Ottawa-Glandorf almost gets the same benefit from a win over 0-3 Bath as Versailles did from losing to Coldwater.
Ottawa-Glandorf and Anna both have critical games this week. The Titans host 2-1 Van Wert while the Rockets welcome 3-0 St. Henry.
Division VI Region 24:
Coldwater - 1st (7.33)
Marion Local - 7th (5.17)
St. Henry - 8th (4.72)
Fort Recovery - 9th (3.88)
Parkway - 23rd (0.00)
With Kenton and Clinton-Massie looking like they will pile up the wins, Coldwater's spot near the top of the rankings in this region looks fairly secure. Marion Local does not expect to receive such help from its three victims to date, and 1-2 Delphos St. John's (with an injured quarterback) will not provide many points either.
St. Henry and Fort Recovery are already fighting for that eighth and final playoff spot, though results throughout the region suggest four MAC teams might find themselves in the top eight. Potential points await both teams this week, with the Redskins visiting 2-1 Anna and the Indians hosting 2-1 New Bremen.
Division VII Region 28:
Minster - 1st (5.53)
New Bremen - 3rd (4.28)
Ansonia - 8th (2.95)
Delphos St. John's - 14th (1.83)
Minster replaces New Bremen at the top of the standings. The Wildcats may earn enough points to reach the postseason just from their first three wins. A victory at 3-0 Coldwater this week would definitely ensure a playoff berth.
New Bremen only drops to third place with last week's loss to Anna. Another tough challenge awaits as the Cardinals visit 2-1 Fort Recovery this week.
Thursday, September 13th, 2018
Two-Minute Drill
By Daily Standard Staff
Games begin at 7:30 p.m. unless indicated
MINSTER AT COLDWATER
Cavalier Stadium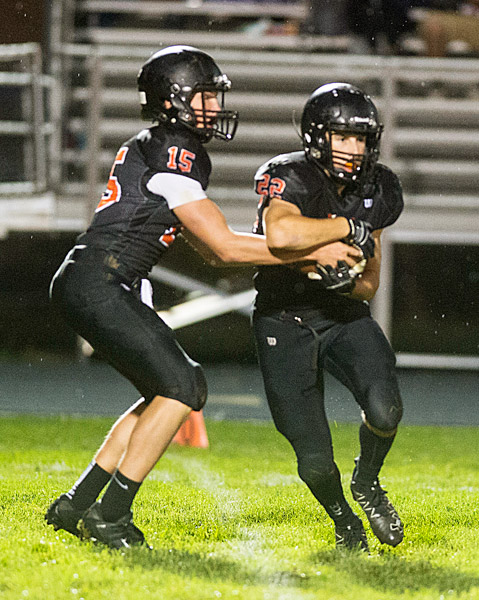 Photo by Mark Pummell/The Daily Standard
Last Season: The Cavaliers held off a late run by Minster for a 17-16 win. It was to be the last loss of the season for Minster as the Wildcats won their final eight games en route to a Division VII state title.
About the Wildcats: Minster rallied for a 28-22 win over Fort Recovery at Memorial Field last Friday night. August Boehnlein snagged a nine-yard pass from Jacob Niemeyer with 54 seconds left for the winning score, with Niemeyer catching a pass from Trent Roetgerman for the key two-point conversion. Niemeyer has completed 72.7 percent of his passes for 567 yards and six touchdowns this season. The depth of the receiving corps has meant diversity in who gets the ball as seven players have caught three or more passes with Boehnlein's eight leading the team. Roetgerman leads the team with 124 yards receiving. The Minster pass defense has been sharp with seven interceptions this season, including three by Mike Ketner.
About the Cavaliers: Coldwater rolled to a 35-7 win at Versailles in its MAC opener. Jake Hemmelgarn threw for 222 yards and three touchdowns and Mitch Niekamp rushed for 73 yards and a pair of touchdowns as Versailles snapped the shutout in the final three minutes of the game.
MARION LOCAL AT DELPHOS ST. JOHN'S
Stadium Park
Last Meeting: The Flyers shut out the Blue Jays 42-0 on Oct. 30, 2015 to finish the regular season 9-1. The teams have not met the last two seasons due to the MAC's formula-based scheduling.
About the Flyers: Marion had 378 yards of total offense in a 51-7 win over Parkway at Booster Stadium. Nolan Habodasz rushed for 138 yards and two touchdowns and Nate Bruns passed for three touchdowns. The Flyer defense has allowed just 306 yards of total offense this season (102 yards per game), including just 91 yards passing.
About the Blue Jays: St. John's has struggled with injuries at the quarterback spot with veteran started Jared Wurst having been hurt in the Week 1 win over Toeldo Woodward and backup Brady Grothaus having gone down in the Week 2 loss to Lima Central Catholic. Sophomore Issac Fairchild started against St. Henry last week and threw two interceptions andfor just 21 yards.
NEW BREMEN AT FORT RECOVERY
Barrenbrugge Athletic Complex
Last Season: Will Homan rushed for 291 yards and three touchdowns in the Indians' 38-7 win over the Cardinals at Cardinals Stadium. New Bremen's Nolan Bornhorst passed for the only Bremen score.
About the Cardinals: New Bremen struggled early, allowing Anna to come away with a 42-7 win. The Cardinals were stopped on two straight possessions after having been unable to convert on fourth-and-short situations. The Cardinals have outscored their opponents 27.3 to 20.7 this season, but the bulk of the team's 82 points came in a 48-8 win over Mississinawa Valley.
About the Indians: Fort Recovery gave Minster a battle before falling in the closing minutes 28-22. Clay Schmitz has thrown for 641 yards and five touchdowns as the team has relied more on the passing game after having had a dominating running game last year with the now-graduated Will Homan. Jacob Acheson leads the team with 143 rushing yards.
ST. HENRY AT ANNA
Booster Field
Last Season: St. Henry scored with 7:15 remaining in the game, but missed the tying two-point conversion to give Anna the 21-19 win at the Wally Post Athletic Complex.
About the Redskins: Zach Niekamp rushed for 163 yards and four touchdowns in St. Henry's 37-7 win over St. John's. Niekamp has 393 yards on 51 carries (7.7 ypc) with seven touchdowns on the season. Jay Knapke and Daylen Froning each have two interceptions on defense.
About the Rockets: Anna took control early in a 42-7 win at New Bremen. Quarterback Bart Bixler rushed for 135 yards and two touchdowns and passed for another. Jeffery Richards contributed three touchdowns. The first on a 36-yard option pass to Isaac Lininger, the second on a 45-yard interception return touchdown and the third on a 21-yard touchdown reception.
VERSAILLES AT PARKWAY
Panther Stadium
Last Season: The Tigers outgained the Panthers 329-137 in a 36-8 win at Panther Stadium.
About the Tigers: Versailles was limited to 176 yards of total offense and a late Jake Poling touchdown to avoid a shutout in a 35-7 loss to Coldwater at Hole Field. Poling leads the team in rushing with 188 yards and three touchdowns.
About the Panthers: Parkway was held to just 125 yards of offense in a 51-7 loss to Marion Local. Nick Hawk rushed for 69 yards ad caught a 19-yard pass from Eli Rich to keep his team from being shut out. After having scored 35 points in the season-opener against Crestview, the Panthers have scored just 28 points in their next two contests.
ST. MARYS AT SHAWNEE
Shawnee Field (7 p.m.)
Last Season: Ty Schlossler's one-yard run and Gabe Vandever's PAT in overtime gave the Roughriders a 35-28 lead, but after Shawnee had scored, it took a missed two-pointer to give St. Marys a 35-34 win. Sean Perry rushed for 117 yards and scored a touchdown with 1:29 left in regulation to force overtime.
About the Roughriders: St. Marys spotted Van Wert the first touchdown before rattling off 38 straight points in a 38-6 win over the Cougars at Eggerss Stadium. Braeden Dunlap rushed for two touchdowns and passed for another. St. Marys has outscored opponents 122-19 this season with no points allowed in the second half.
About the Indians: After opening with a win over Delphos Jefferson, Shawnee has been outscored 49-20 by Defiance and Wapakoneta in WBL play. Quarterback Johnny Caprella has been the main cog of coach Jerry Cooper's offense, leading the team with 288 rushing yards to go along with 359 passing yards, two touchdowns and two interceptions.