Thursday, December 5th, 2019
Passing The Torch
QB spot has stayed in the family at Marion
By Colin Foster
MARIA STEIN - Nate Bruns quarterbacked the Marion Local football team to consecutive OHSAA State Championship games in 2017 and 2018.
He passed the torch to first cousin Kyle Muhlenkamp this season.
"As far as similarities, they both have blonde hair. Other than that, there's not a lot," said Marion Local coach Tim Goodwin during Monday's OHSAA State Football teleconference.
Muhlenkamp has produced similar results. After this weekend, both quarterbacks can say they've started in a state championship game.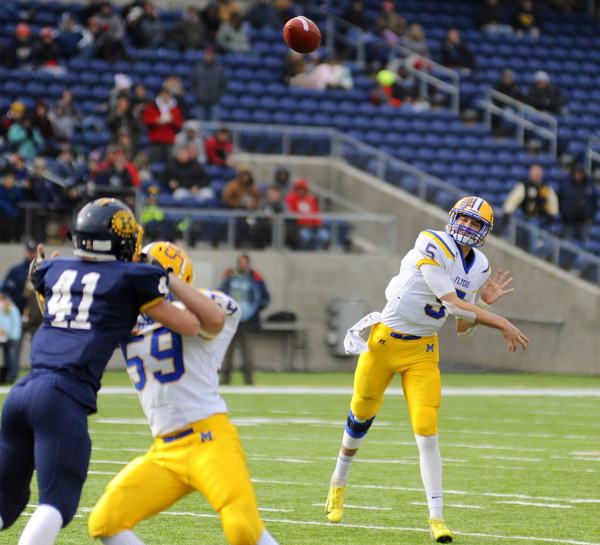 Photo by Dan Melograna/The Daily Standard
Bruns went 1-1 in those games, defeating Kirtland 34-11 in 2017 before last year's 16-7 loss against the same program. Muhlenkamp was the understudy in both of those years - he even played a few snaps in last year's Division VI title contest against Kirtland after his cousin was briefly sidelined with a knee injury, finishing 0-of-1 passing with seven yards rushing. Muhlenkamp will pilot the Flyers this Saturday when they meet Lucas in the Division VII title game.
"Obviously Kyle has watched Nate for a couple of years and learned from Nate," Goodwin said. "He's one of the kids who we are really, really pleased with this year and we're happy for him."
The 6-foot-6 Bruns was a unique talent for Marion Local who could have likely played Division I college football had he not chosen to play basketball for Findlay. Last year, he broke Adam Bertke's single-season passing record by throwing for more than 2,500 yards.
"You have a high school quarterback who can make any throw that you could possibly ever draw up on a piece of paper," said Goodwin of Bruns before last year's state game. "You don't get guys that come around like that very often. Anything is in play with that kid."
Photo by Dan Melograna/The Daily Standard
Muhlenkamp has proved to be a more-than-capable QB in his senior season.
The 6-3 Muhlenkamp has completed 108-of-192 pass attempts for 1,912 yards with 18 touchdowns and 12 interceptions, and he's showed some moxie in these playoffs. In last week's 40-6 rout of Patrick Henry, Muhlenkamp completed 10-of-12 passes for 289 yards and three touchdowns.
"(Muhlenkamp) is a good athlete, but he's been behind a pretty special athlete," Goodwin said. "He struggled at times this year. He gets frustrated with himself, but he's just been a great kid. He puts the work in. He's got a great attitude. He came up big when we needed him a couple weeks ago against Fort Loramie and had a great game last week against PH."
His cousin has enjoyed watching it, too.
"For only seeing a handful of games this year, I have thought Kyle has played really well over the whole entire season," replied Bruns in a text message on Monday. "I think every time I watch him play this year, he has gotten better and better and it's been really noticeable, especially the last game with Patrick Henry. Also, from the couple games I have watched, he's done a great job of extending plays and finding different ways to get first downs, whether it be by running or throwing it. Overall, I think Kyle has done a fantastic job at quarterback this year and helped them get to the state championship again."
COACH'S KID
Peyton Otte grew up on the Marion Local sideline.
And he's grown into a Flyer standout.
After starting on defense and playing some offense last year as a freshman, Otte has made an impact in all three phases of the game a year later.
In his sophomore season, Otte has scored eight total touchdowns (four receiving, two rushing, one kickoff, one punt). He has accumulated 731 yards of total offense (574 receiving, 157 rushing), averages 28.9 yards per kickoff return and 17.8 on punts while also collecting three interceptions.
"He's a coach's kid," said Goodwin of Otte, who had a 97-yard TD run, a 9-yard scoring rush and an interception in last week's victory over Patrick Henry. "His dad, Kevin, has been on our staff for 15 years. He was a manager for us, a ball boy for us. He's grown up with Marion Local football. The first thing is he understands what we're trying to do. He's been blessed with good athleticism. He started last year for us as freshman. He played in all 15 games last year."
GOLD STANDARD
Lucas coach Scott Spitler considers Marion Local is the gold standard in Ohio small-school football.
The Flyers have 10 gold trophies to back it up.
"When you look at Marion Local, they are the standard, they are the bar of small-school football, especially Division VII," said Spitler, whose team is making its first-ever state title appearance. "Coach Goodwin has built just a tremendous program over there. I think if you run any type of football program in the state of Ohio, your goal is to emulate the quality of program that he has built at Marion Local and the style of football that is played in the MAC."
With its ninth straight trip to the title game, Marion Local surpassed the mark of eight previously held by Coldwater (from 2009-2016) and Newark Catholic (1980-1987).
The Flyers have won six titles over the last eight years, which included a victory over Newark Catholic in the 2012 championship game.
Marion Local (from 2011-2015) and Coldwater (2012-2016) are tied for the consecutive playoff wins record at 24 each. Coldwater, however, is atop the OHSAA list all by itself in consecutive playoff appearances with 23 from 1997-2019.
The always-talked-about MAC has 33 state football titles (38 if you count the five crowns won by Versailles while it was a member of another conference). Next closest is the Great Catholic League with 24. Independent programs have won 37.
Marion's 10 state crowns are an MAC-best. Goodwin credited the success of his program and the MAC as a whole to the area communities.
"We're in a very unique area," Goodwin said. "Very traditional values. Great kids that will take hard coaching. I mean, we've got some type-A personalities on our coaching staff that'll get in your face and really coach hard, and kids are willing to go through that. The parents allow us to coach. In some areas, I'm not sure we could coach the way we do. … But they're just great kids. If we're lifting at 6 in the morning, we're going to have 100% there. If we're practicing on Thanksgiving, every freshman's going to show up. We're very fortunate to be in the area that we're in."
IF IT AIN'T BROKE …
Having been to so many state games, Marion Local has kept the same preparation routine.
If it ain't broke, there's no need to fix it.
"Other than the logistics, we pretty much have our plans down for what we like to do," Goodwin said. "We try to treat it like any other game."
But new challenges present themselves every year (aside from a recent stretch of facing Kirtland at state three times in four seasons). Lucas has Marion's full attention this week.
"They're going to present challenges for us that we haven't seen," Goodwin said. "There's a level of excitement in that community and you can just see it on film. They've been in a ton of close games and they've found ways to come back and win. Even though we've been here before, somehow we've got to find a way to match that excitement."
Thursday, December 5th, 2019
Division VII State Final Preview
1st-timers vs. 14-timers when Cubs meet Flyers
By Colin Foster
It will be the first-timers verses the 14-timers when Lucas meets Marion Local in Saturday's OHSAA Division VII State Football Championship game at 10 a.m. at Tom Benson Hall of Fame Stadium in Canton.
This is Lucas' first trip to the state finals in any sport.
"We're extremely proud of the community we come from, and we're extremely excited about the opportunity we have this weekend," said Lucas' coach Scott Spitler, who has been with the program for 11 years.
On the flip side, Marion Local is making its ninth straight trip to the state championship and 14th overall in coach Tim Goodwin's tenure (all since 2000). But most of the Flyers' lineup will be making their first start in a title game.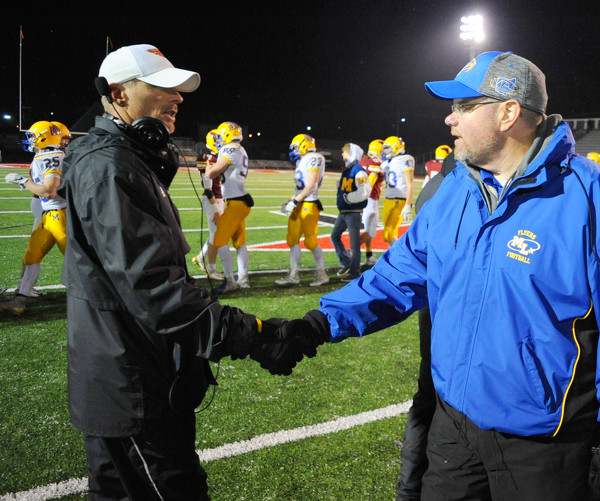 Photo by Dan Melograna/The Daily Standard
"We're proud of our accomplishments
That amount of state appearances has given Marion Local what one Northeast Ohio reporter referred to as "legendary status" during Monday's OHSAA state football teleconference.
Spitler and his team know all about it, too.
"I don't think that you're involved in high school football without knowing the MAC and the Marion Local football program," Spitler said. "Our kids are aware of the quality of program they're up against this week and the standard that they've set in our division of football. A few years ago a local team, Buckeye Central, faced Marion Local in the state championship game. Our kids are familiar with that matchup and understand the task that they have in front of them this weekend."
That matchup to which Spitler alluded occurred in 2011. Marion Local defeated Buckeye Central 61-21.
This year's Flyers (12-2) won the Associated Press regular-season poll championship. The Cubs (12-2) were ranked seventh in the final poll.
ROAD TO CANTON
Regional Quarterfinals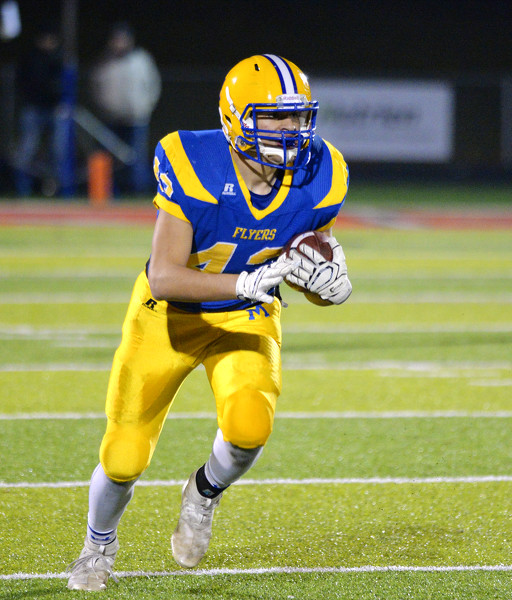 Photo by Dan Melograna/The Daily Standard
Lucas 21, McDonald 20 (OT)
Marion Local 56, Mississinawa Valley 6
Regional Semifinals
Lucas 35, St. Thomas Aquinas 21
Marion Local 24, No. 2 Fort Loramie 21 (OT)
Regional Finals
Lucas 21, No. 6 Cuyahoga Heights 13
Marion Local 27, No. 13 New Bremen 0
State Semifinals
Lucas 15, No. 4 Harvest Prep 12
Marion Local 40, No. 10 Patrick Henry 6
WING-ING IT
Lucas runs the Wing-T offense.
It isn't an offense Marion Local encounters often.
"They're going to line up in some very tight splits, double wing and just give the ball to some hard-running dudes with a lot of pounds in front of them going through the hole," Goodwin said. "We don't see that, so we've got to find a way to hold up against that and we've got to find a way to get off the field defensively."
"We utilize our entire backfield," Spitler added. "Our wings are both over 1,000 yards rushing, Tommy Zirzow at the left wing and Ethan Sauder at the right wing. Our quarterback, Logan Niswander, is also an integral part, as well as our fullback Ethan Wallace."
Zirzow leads the team in rushing attempts (288), yards (1,860) and touchdowns (22). Sauder has tallied 169 carries for 1,315 yards and 12 TDs.
Ironically, it was a pass that sent Lucas to the title game. Facing a fourth-and-goal from the 13 with under 1 minute to play, Niswander connected with Riley Mounts for the game-winning pass attempt in the 15-12 win over Harvest Prep.
The Cubs have rushed for 3,880 yards and passed for 755. Niswander has completed 42-of-88 pass attempts for 755 yards with 12 touchdowns and five interceptions on the season. Carson Hauger leads the Cubs with 10 catches for 270 yards and six scores.
"The funny thing is we kind of get the M.O. that we don't want to throw the ball or we can't throw the ball," Spitler said. "But we actually spend a tremendous amount of time in our practices each week on throwing the ball. What we want to do is throw the ball when we want to throw the ball and not have teams force us to throw the ball."
ALL-OHIO
Marion Local will have seven All-Ohio players take the field - including Division VII Co-Defensive Player of the Year Matt Everman, a defensive end who leads the team with 87 tackles and 18 sacks. Also earning All-Ohio honors were linebacker Grant Meier (first team), wide receiver Charles Huelsman (second team), running back/ linebacker/ punter Brandon Fleck (special mention), lineman Nathan Ungruhn (special mention), kicker Alex Klosterman (special mention) and defensive back/wide receiver Peyton Otte (special mention).
Lucas had four All-Ohioans in defensive back Niswander (first team), offensive lineman Blake Coffman (second team), all-purpose offensive player Hauger (third team) and linebacker Tristan Arnold (third team).
OUCH, CHARLIE!
Remember that 2007 viral video with the kid saying "Ouch, Charlie" after his baby brother repeatedly bit his finger?
The Patrick Henry defense was probably saying "Ouch, Charlie" several times last weekend.
Charles Huelsman absolutely torched the PH secondary with a career-best 250 yards and three touchdowns on seven catches - what is believed to be a Marion Local school record for yards in a game. Quarterback Kyle Muhlenkamp and Huelsman hooked up for 239 yards by halftime.
KEYS TO VICTORY
"It's really early in our game prep, but the biggest thing I see is how balanced they are in running the ball and passing the ball, and just how long and athletic their team is," Spitler said.
"I think it starts up front," he added. "I think we're going to need to be able to establish the line of scrimmage on both sides of the ball, and then win the turnover battle."
"Because of the style of their offense, we need to be efficient," Goodwin said. "I don't know how many possessions we're going to have in this game. We can't shoot ourselves in the foot."
PREDICTION
Drew Grissom and his family are Ohio high school football super fans who tour the state to watch games every Friday night in the fall (we had a story in The Daily Standard about them two years ago).
The Grissoms, who hail from Canal Fulton in Stark County, visit MAC Country a few times a year, and they contact coach Goodwin whenever they'll be in the area.
The family will be there to watch on Saturday. Asked to give a prediction, Drew Grissom said he likes the Flyers.
"I think they can win by two touchdowns," he wrote in an email.
Thursday, December 5th, 2019
Division VI State Final Preview
Anna looks to win it all in first-ever title appearance
By Colin Foster
The OHSAA Division VI State Championship has some new blood for a change.
The Midwest Athletic Conference will still be represented, though.
Co-MAC champion and top-ranked Anna meets second-ranked New Middletown Springfield in Friday's 10 a.m. state final in Canton. Each team is making their first-ever appearance in the game.
"For our school and our whole community it's huge. We've never been in a state championship game," Anna coach Nick Marino said. "It's only our 20th season of football here at Anna, so we're a relatively young program."
It has been a group of 22 seniors who have led the Rockets to unchartered territory. The ones who have been generating all the headlines are running back Riley Huelskamp and QB Bart Bixler, both of whom showed up in last weeks' 36-6 win over Mechanicsburg.
Huelskamp rushed for four touchdowns and Bixler completed all eight of his pass attempts for 122 yards. It was Anna's 11th running-clock victory of the season.
This is the sixth straight year the MAC has been represented in the D-VI title game (Marion appeared in last four and Minster won it all in 2014).
New Middletown Springfield has knocked off three ranked teams to reach this point, including No. 3 Trimble, No. 8 Mogadore and No. 11 Howard East Knox. The Tigers thumped East Knox 42-14 last week.
Marino said the key for his team this week will be getting after Tigers quarterback and being efficient offensively.
"Their quarterback adds an extra element to the run game that you've got to make sure you account for at all times," Marino said. "That's what we're focused in on. On the other side of the ball, we've got to be efficient. We can't have any negative plays. Those are drive killers."