Thursday, October 21st, 2021
Getting ready for Battle of Grand Lake
By Gary R. Rasberry
Big-time rivalry games in football, like Ohio State-Michigan or Cal-Stanford, are made for the final week of the regular season.
Based on the rotating schedule of the Western Buckeye League, this week means the Battle of Grand Lake between Celina and St. Marys, this year, the 103rd meeting being played at Celina Stadium.
Both teams are out of the running for the WBL title, so for the most part the game is one of pride for the teams, although for St. Marys, the game is big for sewing up a high seed in Division III region 12 as the postseason gets underway next week.
Both coaches know the rivalry well. First-year St. Marys coach Bo Frye ran the ball for the Roughriders while playing for his father Doug Frye. Celina coach Brennen Bader was a key player for the Bulldogs during his high school days.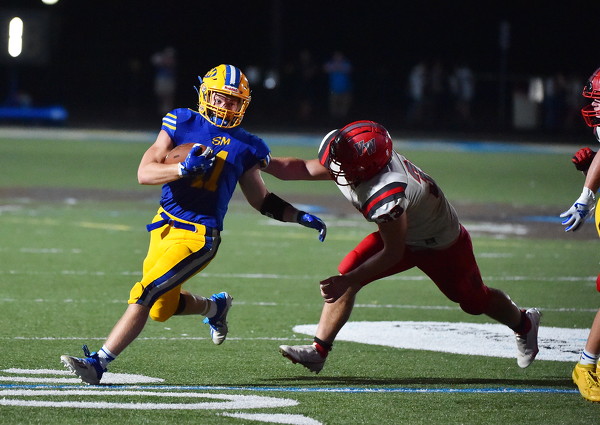 Photo by Dan Melograna/The Daily Standard
The two teams are going in opposite directions. St. Marys won its first two games, then lost two straight to Wapakoneta and Ottawa-Glandorf. After the O-G loss, Bo Frye refocused his team to use its strength: the Wing-T offense. Since then, the Roughriders have rattled off five straight wins to move up to the second seed in the region, which would ensure the team at least one home playoff game and a second if they win the opener.
Depth, especially at the running back spots in the Wing-T, is a plus for the team. Five players have 249 or more rushing yards this season and 10 players have scored at least one rushing touchdown. Ross Henschen has been the durable runner, leading the team with 580 yards and four scores. Braeden Hemmelgarn (345 yards, six TDs), Tanner Howell (317 yards, TD) and Colton Mabry (300 yards, 3 TDs) will also get plenty of carries. Quarterback Gavin Reineke has thrown for 391 yards and three touchdowns when St. Marys does pass.
The Roughrider defense has been blistering since giving up 35 to Ottawa-Glandorf. During the five-game winning streak, St. Marys has given up just 31 points (6.2 ppg). Opposing teams are averaging 203.1 yards of offense per game and the Roughriders are plus-6 in turnover differential (17 takeaways, 11 giveaways).
St. Marys has recorded 38 quarterback sacks this season with defensive lineman Dylan Giesige leading the team with eight sacks.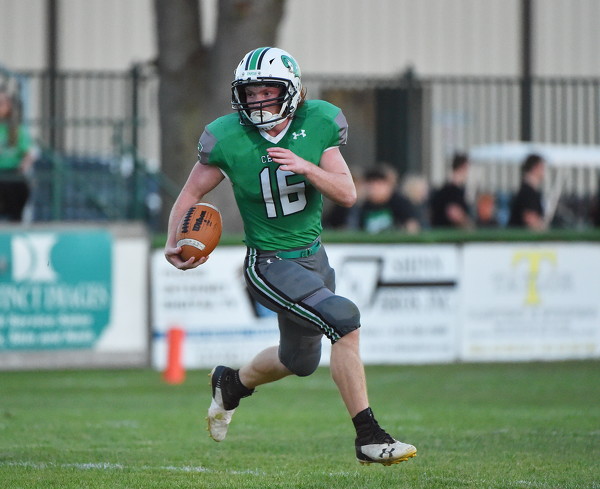 Photo by Dan Melograna/The Daily Standard
Celina, on the other hand, has just one win, winning the home opener in Week Four 21-20 over winless Kenton before dropping five straight. The Bulldogs, young and undersized at key spots on the offensive and defensive lines, has allowed 37.6 points per game during the five-game skid. One plus has been Celina has been only shut out once during the recent skid, having been shut out in two of the first three losses.
Quarterback Nick Adams has been consistent, hitting 61.9% of his passes for 1,251 yards. Aidan Song has been one of the top receivers in the WBL, leading the Bulldogs with 46 receptions for 483 yards. Running back Jaden King leads the team with 402 yards, but averages just over four yards per carry.
King is also the Bulldogs' top defender, leading the team with 81 tackles. Conner Alstaetter has 60 tackles with Jack Hassan and Braylon Gabes each tallying 59 and Gabes leading the team with two interceptions.
Thursday, October 21st, 2021
Computer predicts who's in and who's out
By Bruce Monnin
With just one weekend remaining in the high school football regular season, the postseason begins to loom large for area teams. At the moment, it appears six WBL and seven MAC teams will keep on playing next week in the newly expanded OHSAA football playoffs.
The projections included below use www.Calpreps.com to predict the winner of the remaining games for the final two weeks. If a game is projected to be within a point or two, we go with the home team.
The final projections based on these computer predictions are listed below, and we shall also show what can happen to some local teams if results go against expectations. Do not forget, the final standings may be slightly little different. After all, we are trying to predict the actions of teenage boys.
If every game were won according to the projections, St. Marys, Wapakoneta, Van Wert and Ottawa-Glandorf will be hosting playoff games while Lima Shawnee and Lima Bath will be representing the WBL as visiting schools. Elida and Defiance still have an outside chance of playing next week.
On the MAC side, Versailles, Coldwater, Marion Local, St. Henry and New Bremen should all be hosting first round playoff games. Anna and Fort Recovery should also be playing next week, while Parkway and Minster are both extreme long shots to earn invitations.
Below are the current projected playoff seed, record and computer points for the top teams in Regions 12, 24 and 28.

Team (Record) - Projected Computer Points
Division III Region 12:
1) Hamilton Badin (8-1) - 30.90
2) Bellbrook (8-2) - 24.10
3) Hamilton Ross (7-2) - 22.71
4) St. Marys Memorial (8-2) - 22.65
5) Wapakoneta (8-2) - 21.70
6) Tipp City Tippecanoe (8-2) - 21.55
7) Monroe (7-3) - 21.00
8) Cincinnati Hughes (6-2) - 14.76
9) Shawnee (6-4) - 13.45
10) Chaminade-Julienne (4-4) - 13.15
11) Dayton Dunbar (4-3) - 11.45
12) Cin. Mt. Healthy (6-4) - 11.29
13) Franklin (4-6) - 9.96
14) Trotwood-Madison (4-5) - 8.37
15) Cin. Northwest (4-6) - 8.06
16) Vandalia Butler (3-6) - 7.96
19) Elida (4-6) - 5.90
27) Celina (1-9) - 0.50

Both St. Marys and Wapakoneta are heavily favored this week, which makes these predictions fairly solid. Our projection still shows St. Mary and Wapakoneta both hosting a first-round playoff game. A slight shakeup from last week shows the Roughriders now hosting Franklin while the Redskins would be visited by Mount Healthy in their opening games. If both these teams win their opening playoff games, Wapakoneta may visit St. Marys for round two of the postseason.
This projection also assumes Shawnee defeats Elida this week. If Elida pulls off the upset, Shawnee drops to 10.95 points and down to 12th place. Conversely, Elida would have 10.80 points, which would put them in the playoffs with the 13th seed.

Division VI Region 24:
1) Mechanicsburg (9-1) - 15.69
2) Allen East (7-3) - 15.53
3) Arcanum (8-2) - 11.63
4) Coldwater (8-2) - 10.98
5) Cin. Country Day (7-2) - 10.55
6) Fairbanks (6-4) - 10.00
7) Cin. Gamble Montessori (6-2) - 9.57
8) Paint Valley (6-4) - 9.54
9) Spring. Northeastern (6-4) - 7.50
10) Anna (4-6) - 7.10
11) Jamestown Greeneview (5-5) - 6.69
12) Cin. Deer Park (3-7) - 5.35
13) Delphos Jefferson (3-7) - 4.74
14) Fort Recovery (3-7) - 4.25
15) St. Bernard-Elmwood Pl. (3-5) - 3.72
16) National Trail (4-6) - 3.60
23) Parkway (1-9) - 0.40
25) Minster (0-9) - 0.00

Coldwater is projected to finish in fourth place, but just ahead of Cincinnati Country Day. Results from the Cincinnati area smaller schools are notoriously less predictable than games in west central Ohio, so don't be surprised if the Cavaliers end up in fifth place instead. Expect Coldwater to host Delphos Jefferson next week, but Deer Park is also a possibility.
Unchanged from last week, Anna is projected to finish 10th and travel to face Gamble Montessori. If the Rockets could pull off that mild upset, a trip north to play Allen East could follow.
Fort Recovery is expected to lose to New Bremen, but still finish in 14th place. That would give the Indians a postseason road trip to Arcanum. A win over New Bremen gives the Indians 7.10 points and a rise to 11th place, giving them a bus ride to Milford Center to play Fairbanks instead.
Parkway and Minster can both still sneak into the playoffs. An upset of Coldwater gives the Panthers 3.88 points and a finish in 15th place. A Minster shocker over Versailles would give the Wildcats 4.00 points, also good for 15th place in the standings and a trip to play Allen East.

Division VII Region 28:
1) Marion Local (10-0) - 28.19
2) Tri-Village (9-1) - 16.35
3) Portsmouth Notre Dame (7-2) - 14.12
4) Cincinnati College Prep (7-2) - 12.83
5) DeGraff Riverside (7-3) - 12.55
6) St. Henry (7-3) - 11.46
7) New Bremen (7-3) - 10.40
8) Springfield Catholic (7-3) - 7.75
9) Ansonia (6-4) - 7.65
10) Lockland (4-4) - 7.09
11) Fayetteville (5-5) - 6.95
12) Portsmouth Sciotoville (5-3) - 6.59
13) Troy Christian (6-4) - 5.70
14) Tri-County North (5-5) - 5.45
15) Miami Valley Christian (3-7) - 4.53
16) Fort Loramie (3-7) - 4.21

It now appears that Marion Local's first round opponent will be Fort Loramie, which can thank Sidney for upsetting Division II Stebbins last week and adding an extra 0.61 points to its average. Maybe most important for the Flyers is that St. Henry and New Bremen remain projected to finish sixth and seventh, thus keeping them on the other half of the regional bracket.
St. Henry is projected to defeat Delphos St. John's and finish sixth, thus hosting Fayetteville-Perry to start the postseason, with a long bus ride to Portsmouth to play Notre Dame looming in the following week. If the Redskins lose, their computer points fall to 9.87 and they should only drop one place to seventh.
New Bremen is projected to finish in seventh place and then receive a postseason visit from Lockland. If the Cardinals lose to Fort Recovery this week, they are projected to remain seventh in the standings with 8.67 points.

Other Regions of Interest
Division III Region 10
Defiance should finish 19th if it loses to Wapakoneta. An upset would certainly secure a playoff berth, perhaps as high as the 11th seed.

Division IV Region 14
Van Wert should finish second with a win over Bath and host Galion in their playoff opener. A loss should drop the Cougars no lower than fourth in the standings.

Division V Region 18
Ottawa-Glandorf is currently fifth in the standings but will probably fall to seventh after playing winless Kenton. The Titans would likely host Doylestown Chippewa. Unless it upsets Van Wert, Bath should finish 12th and travel to face Liberty-Benton to start its playoff run.

Division V Region 20:
Much like Ottawa-Glandorf, Versailles will likely drop from fourth to sixth after playing Minster. The Tigers would likely host Greenon to start the playoffs.

Division VII Region 26
Unless it upsets St. Henry, Delphos St. John's will likely finish 19th and miss the postseason. Even an upset is unlikely to propel the Blue Jays into the top 16.
Thursday, October 21st, 2021
Two Minute Drill
MARION LOCAL at ANNA
Booster Field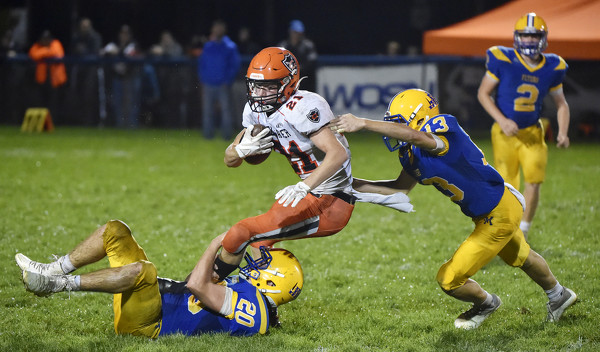 Photo by Dan Melograna/The Daily Standard
Last Meeting: Alex Klosterman's 21-yard field goal with 6:12 remaining in regulation gave the Flyers a 17-14 win in Shelby County on Sept. 27, 2019. The teams did not play last year due to the truncated COVID-19 schedule.
About the Flyers: Marion cliched at least a share of the MAC and can take an outright title and undefeated regular season with a win over the Rockets. Quarterback Peyton Otte came up with a big game in rushing for 159 yards and two touchdown while throwing for 100 in the defensive-minded game. Kevin Partington came up with several big defensive plays against Coldwater on the Cavaliers' final drive and then booted the game-winning field goal as time expired.
About the Rockets: Anna snapped a four-game skid in holding off Minster 28-21. The 28 points was the most points scored since a 28-0 win over Fort Recovery. The Rockets were limited to 235 yards of offense against the Wildcats, but were helped by Zach Ambos' 87-yard kickoff return to the game.
PARKWAY at COLDWATER
Cavalier Stadium
Last Meeting: Ben Wenning rushed for two touchdowns and the Cavaliers forced three turnovers in defeating the Panthers 35-5 on Sept. 29, 2017.
About the Panthers: Parkway suffered a 51-19 loss at the hands of New Bremen in the home finale. Parkway QB Fletcher Smith has passed for 1,272 yards and is completing 53.3% of his passes, but faces a Coldwater squad that has allowed an average of 123 passing yards per game. One area the Panthers will try and take advantage of is Coldwater's issues with turnovers. The Cavs are minus-7 in differential while the Panthers are minus-5.
About the Cavaliers: A fourth-quarter comeback to tie the game went to naught as Coldwater lost 24-21 to Marion on a game-ending field goal. Coldwater is set for a playoff spot but will look to go into the postseason on a positive note. Running back/linebacker Isaac Fullenkamp leads the team in rushing (394 yards) and tackles (80).
FORT RECOVERY at NEW BREMEN
Cardinal Stadium
Last Meeting: Mitchell Hays' eight-yard touchdown run - his second rushing touchdown of the night - with 8:48 to play in regulation lifted the Cardinals past the Indians 34-27 on Sept. 20, 2019 at Cardinal Stadium. Hays rushed for 130 yards in the victory.
About the Indians: Fort Recovery had a chance for their fourth win last week and solidify a possible playoff berth before losing in overtime to St. John's on an incomplete two-point conversion try. Riley Hiser is just 21 yards away from joining the 1,000 rushing yard club and has scored 50 of the team's 153 points this season. The Indians have only recorded one interception on defense this season.
About the Cardinals: New Bremen bounced back from the Week Eight loss to Marion by scoring the second-highest amount of points in a game this season in a 51-19 win at Parkway. Quarterback David Homan entered the 1,000-1,000 zone by going over 1,000 yards rushing this season (1,026) to go with his 1,363 passing yards and is the area's top scorer with 20 touchdowns. The Cardinals are a hearty plus-17 in turnover differential with the team recording 19 interceptions and six fumble recoveries.
ST. HENRY at DELPHOS ST. JOHN'S
Champions Field at Stadium Park
Last Meeting: Logan Lefeld booted a 20-yard field goal with eight seconds remaining in the game to give St. Henry its only win of the 2019 season with a 24-21 decision in Delphos.
About the Redskins: The Redskins had their four-game winning streak snapped against a dominating Versailles squad 27-7 in the home finale at the Wally Post Athletic Complex. Owen Lefeld had his streak of six straight games of 100 or more rushing yards snapped when the Tigers held him to 58. Only in the season opener against Covington did Lefeld rush for fewer yards (52).
About the Blue Jays: St. John's 27-26 overtime win at Fort Recovery last Friday gave the team some hope for a possible playoff spot, but will need a win on Friday. QB Nolan Schwinnen had one of his best throwing nights of the season, connecting for 209 yards with three touchdowns and no interceptions. The Blue Jays have committed 19 turnovers this season, including 16 interceptions.
MINSTER at VERSAILLES
Hole Field
Last Meeting: Jacob Niemeyer rushed for 184 yards and three touchdowns and passed for 205 yards and two scores as the Wildcats rolled past the Tigers 42-20 on Oct. 25, 2019.
About the Wildcats: Minster played one of its best games of the season in losing 28-21 on a last-minute touchdown run by the Rockets' Carter Seigle. Quarterback Brogan Stephey passed for 281 yards and a touchdown in the game and rushed for a touchdown. The Wildcats gained just three total rushing yards in the game as Stephey was sacked three times resulting in zero rushing yards on 16 carries.
About the Tigers: Versailles shut down a St. Henry team that has been dominating teams of late with a 27-7 win. Versailles has held opposing teams to just 53.4 rushing yards per game and just 2.3 yards per carry this season. Ball State-bound lineman Taran Tyo had two fumble recoveries - with the first one resulting in a 39-yard return for a touchdown.