Thursday, December 1st, 2022
New Bremen meets JFK in 2020 rematch
Cardinals meet familiar foe in final
By Tom Haines
For the second time in three years, New Bremen and Warren John F. Kennedy are set to meet in the Division VII state football championship game.
The Cardinals won their first state title with a 31-0 victory over the Eagles at Massillon Washington in 2020 and look to add a second on Saturday when the two teams face off at 3 p.m. at Tom Benson Hall of Fame Stadium in Canton.
New Bremen coach Chris Schmidt, who lifted the program from back-to-back winless seasons to its first state championship, is making his first trip to Canton since visiting the Hall of Fame museum at age 9 or 10.
"I never even attended as a spectator," he said. "I always thought, I want my first time going to Canton to be part of a team, as an assistant coach or head coach."
New Bremen (12-3) boasts a number of players who made an impact in the 2020 state title game, including quarterback David Homan, who started at safety as a sophomore and scored a punt return touchdown against the Eagles.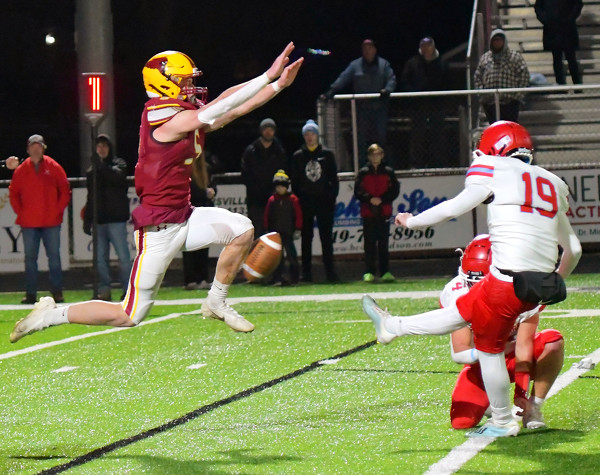 Photo by Nick Wenning/The Daily Standard
Top running back Hunter Schaefer also played a key role the first time around, making his first start in place of injured senior Zach Bertke and rushing for 101 yards on 15 carries. As a senior this year, he's compiled 1,803 yards on the ground.
"I'm going to be honest with you: two years ago, I think I underestimated who they were from film," Warren JFK coach Dominic Prologo said. "Obviously that showed, in a 31-0 ballgame. I think they're really good. I think their quarterback is one of the best athletes we've seen this year, and we've seen some good ones, playing the schedule we do with all the teams we've seen, but I think Homan's really good.
"Their tailback tore us up two years ago. I think he's better now, and he looks a little bit thicker now, and they're really good up front … in my opinion, I think they're better, which makes you nervous."
Homan took over for title-winning quarterback Mitchell Hays and won the Midwest Athletic Conference Offensive Player of The Year in 2021. But his first season under center ended with a 32-29 loss to Tri-Village in the regional semifinals, as the Patriots ran off 26 unanswered points and held off the Cardinals' rally.
This year, though Homan didn't repeat his conference honors, he has racked up 3,115 total yards - 1,615 rushing, 1,453 passing and 47 receiving - and guided New Bremen through the playoff gauntlet.
"A kid that obviously drives our team, not only as quarterback but in attitude as well," Schmidt said. "He's not a kid, when you watch him play quarterback, that you'd be taken aback by his footwork or his arm angle or some of the things that you'd evaluate a quarterback on. But when it comes to his competitiveness, leadership, just toughness, it really starts with him."
Schmidt said he saw his quarterback take another step forward after New Bremen suffered a 38-16 loss to Marion Local in September, which represented the most points scored against the Flyers this year but left the Cardinals disappointed in their performance.
"He was really upset about not playing better in that game, and he used that the right way, to build off of that," Schmidt said.
Though the Cardinals' defense hasn't decided games the way it did in 2020, it still has held opponents to an average of 15.6 points per game and recorded 21 takeaways. Homan stars at safety, while linebackers Evan Eyink and Dylan Bambauer add sideline-to-sideline pursuit and cornerback Aaron Thieman gets the nod when New Bremen needs to lock down an opposing receiver.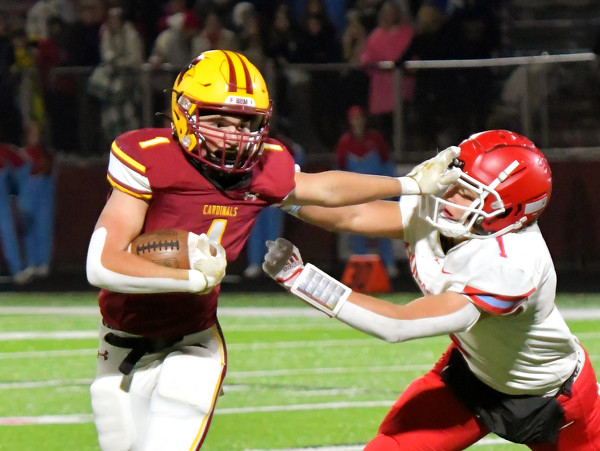 Photo by Nick Wenning/The Daily Standard
After Homan missed the season finale, a 14-7 loss to Delphos St. John's, with a toe injury, New Bremen won its first two playoff games in dominant fashion before a last-minute comeback win over top-seeded Ansonia in the regional semifinals, then shut down Fort Loramie's high-octane passing attack in a snowstorm in the regional final. Last week, the Cardinals recovered from an early 15-point deficit and controlled the second half in a 42-34 win over Lima Central Catholic.
New Bremen, which also lost to Coldwater near the end of the season, is the only team in any division this year to advance to the state final with more than one loss.
"I'm really proud of this group of kids, the way they've just kind of handled the season," Schmidt said. "We've had some situations in the playoffs where we've been down and had to battle back, faced some adversity. I think it's a good group of kids, they're a little more blue-collar than some other groups we've had. But they prepare and practice the right way, and they respect their opponents and the game."
Warren JFK has survived its share of close calls, holding off Springfield 13-6 in the second round before rallying to beat Danville 22-21 on a touchdown and two-point conversion in the final minute of the regional final.
In the state semifinals, the Eagles forced four second-half turnovers to stifle Newark Catholic, which knocked them out last year and finished as state runner-up.
"I think they're better than they were two years ago," Schmidt said. "I think they're better up front, maybe more athletic than they were two years ago. You know they're going to be well-coached, you can tell they're going to be physical. They've played a challenging schedule. So we've got to play well on Saturday, no doubt."
On the field, New Bremen and Warren JFK boast similar strengths. Both teams focus on running and stopping the run, and both coaches expect the game to be decided at the line of scrimmage. The Eagles have allowed opposing teams over 100 rushing yards just five times.
In the trenches, Prologo identified Pat Valent as the Eagles' standout.
"Our offensive and defensive lines are anchored by Pat Valent," he said. "It kind of starts with him on both sides of the ball."
Quarterback Caleb Hadley has thrown for 1,259 yards and 11 touchdowns against four interceptions, while Antonio Smith has racked up 1,286 yards on the ground. Aiden Rossi adds an explosive element to the offense and has compiled 800 total yards of offense.
Hadley contributes on the other side as the "bandit", the weak-side defensive end, joining Valent and Abe Rivera on the defensive line. Linebacker Ambrose Hoso is a four-year starter who started against New Bremen in 2020, while safety Thomas Valent, Pat's twin brother, acts as the field general for the defense.
"I really don't think we're a whole lot different than we were a couple years ago," Prologo said. "I think we play sound defense, and offensively, I don't know how much we've changed."
Warren JFK is making its seventh appearance in the state title game, looking for its first win since beating Minster in 2016.
Thursday, December 1st, 2022
Flyers meet familiar foe in final
Marion to resume rivalry with Hornets
By Tom Haines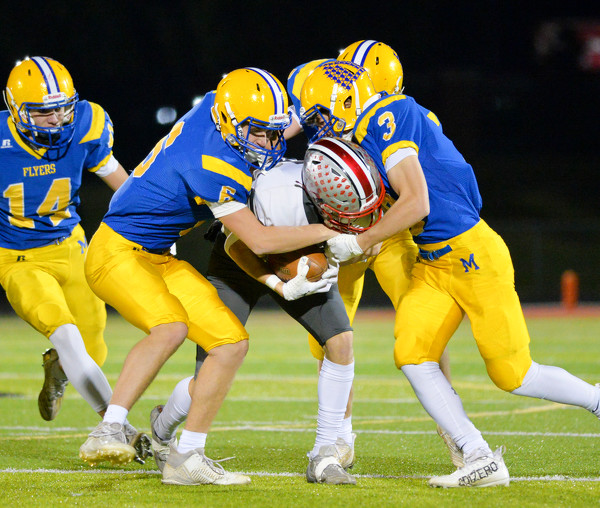 Photo by Paige Sutter/The Daily Standard
Marion Local is set to renew a rivalry in the Division VI state championship game.
The Flyers take on Kirtland at Tom Benson Hall of Fame Stadium at 10:30 a.m. on Saturday, the fourth meeting of teams that only face off in state title games.
"The last time we played them was in '18, so these seniors would've been eighth graders," Marion coach Tim Goodwin said. "I'm sure they were at that game, hopefully they remember how good Kirtland was and what a battle that was, and we weren't able to make enough plays to win that game.
"I know that they're going to figure out, once they really start watching them, this team is almost like us. We don't do the same things, but we've got good high school players who play hard, good coaches who put them in the right spots. It's almost like we're watching a mirror of ourselves, to be honest with you."
Kirtland (15-0), the Division V runner-up to Versailles last year, is 2-1 against Marion, defeating the Flyers in 2015 and 2018 and losing in 2017. Marion's 34-11 victory was the most lopsided of the series, with the Hornets squeaking out a 22-20 win in 2015 and outlasting the Flyers 16-7 in 2018.
Kirtland went on to win Division V state titles in 2019 and 2020, making this its fifth straight championship game appearance and 11th in the last 12 years since its first trip to the state final four in 2011.
"When I was a young coach, I was watching the games on TV and thinking, 'That would be so cool, to coach in one of these games,'" Kirtland coach Tiger LaVerde said. "To be here doing it for the 11th time is just crazy. It's crazy to me, and I thank God every day. I feel really blessed and fortunate. It's really cool for our community and our kids."
Marion (15-0) has reset records on defense, breaking a school record for fewest points allowed with 30 in the regular season and a state record for shutouts in a season with 11. The Flyers have held opponents to an average of 155 yards a game.
In five playoff games, the Flyers have outscored opponents 218-3.
"I just think we know what we're doing," Goodwin said. "We don't do anything fancy, but everyone knows their responsibilities and we keep it simple, allow the kids just to play fast…
"We've got good players at all three levels, so you've got to start there. You've got to have talent."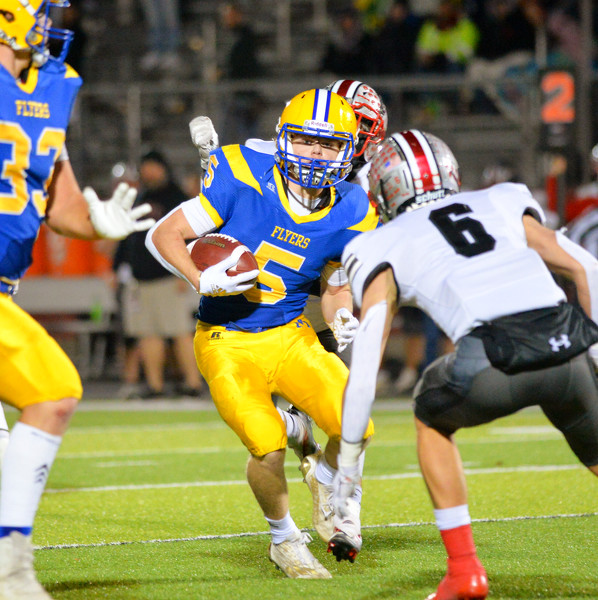 Photo by Paige Sutter/The Daily Standard
Marion boasts two strong cornerbacks, Tate Hess and Nathan Buschur, who have combined for nine interceptions, and an experienced linebacker corps. Aidan Eifert, Drew Seitz and Darren Meier all have at least three years starting, while the fourth, Landon Arling, has emerged as a surprise contributor.
Arling stepped up after the projected starter was lost to an off-field injury and has racked up 82 tackles and two interceptions.
"He stepped in and has really played well, been a great complement to the other three," Goodwin said. "He's got good range and good speed, so we can move him around a little bit, ask him to do some different things. He has definitely improved our defense."
The Flyers' offense was more of a question mark coming into the year, with Hess stepping in at quarterback as a senior to replace top weapon Peyton Otte. Buschur was tasked with replacing Brady Ronnebaum at receiver, while Meier and Drew Lause were joined in the backfield by Kyle Otte, who was working back in from an ACL injury.
It helped that Kyle Otte has starred in his comeback season, rushing for 978 yards and adding 356 yards receiving with 22 total touchdowns.
"He's a coach's son - his dad, Kevin, has been on my staff for about 20 years now - so I've seen this kid grow up, and I've seen what kind of balance and agility he has," Goodwin said. "What he's doing is not a surprise. He's very well-balanced, kind of a natural runner in terms of seeing things."
Goodwin expected the offense would need time to figure things out, and said he thought it started to click in back-to-back wins against New Bremen - which plays in the Division VII state championship after the Marion-Kirtland battle - and defending state champion Versailles.
"We figured out, we've got two pretty good tight ends, we've got three hard-running running backs, we've got a quarterback that can do a little bit of this and a little bit of that," Goodwin said. "We started just figuring out who can do it and putting them in their best spots, I would say right there in the middle of the season there, when we got tested."
Kirtland's offense starts with running back Tommy Gogolin, who has compiled 1,643 rushing yards and 16 touchdowns. Gogolin, who was an all-Ohio defensive back in 2021, rushed for a school-record 363 yards in the Hornets' 41-6 state semifinal win over Fort Frye.
Rocco Alfieri adds 1,264 yards and 24 touchdowns on the ground, while freshman quarterback Jake LaVerde, the coach's son, has thrown for 980 yards and 11 touchdowns.
"He's had some rough days, and he's not happy, and my wife says, 'This isn't happening. We're not doing this. Leave it on the field,'" coach LaVerde said. "I don't bring it home. I come home and try to make him laugh and smile. He's hard on himself, I'm not the one yelling at him. He knows when he's missing throws, he knows when he misses reads, he knows when he does something wrong in practice, and he comes home and is frustrated. My wife and I don't let him be too frustrated - we try not to, anyway."
Kirtland's defense has allowed an average of five points per game with six shutouts, posting an average margin of victory of 34 points per game. Philip LaVerde, coach LaVerde's older son, leads the team with 153 tackles and 26 tackles for loss.
"Our defense is pretty young," coach LaVerde said. "They've done a nice job, but they're young. We don't play many seniors on defense."
Coach LaVerde also noted that this year's crop of seniors is the smallest in about 15 years, with just 10 seniors on the team, and that when they started playing in sixth grade, they went 0-8.
"We're going to play 16 games, which is unbelievable with these kids," he said. "If you saw them six years ago, you'd just laugh. It's really remarkable what they've accomplished."
Thursday, December 1st, 2022
State Football Championship Schedule
All games at Tom Benson Hall of Fame Stadium in Canton
Tonight
Division II - 7 p.m.
Akron Hoban (14-1) vs. Toledo Central Catholic (14-1)
Friday
Division V - 10:30 a.m.
Ironton (15-0) vs. Canfield South Range (15-0)
Division III - 3 p.m.
Canfield (13-1) vs. Bloom-Carroll (14-1)
Division I - 7:30 p.m.
Lakewood St. Edward (14-1) vs. Springfield (13-1)
Saturday
Division VI - 10:30 a.m.
MARION LOCAL (15-0) vs. Kirtland (15-0)
Division VII - 3 p.m.
NEW BREMEN (12-3) vs. Warren JFK (13-1)
Division IV - 7:30 p.m.
Cincinnati Wyoming (15-0) vs. Cleveland Glenville (14-0)