Thursday, September 21st, 2017
Tribe, Cats meet again
Fort Recovery, Minster set for fifth clash in three years
By Colin Foster
The Fort Recovery-Minster rivalry has been one of the Midwest Athletic Conference's best over the last two years.
Friday's clash in Minster is expected to be a good matchup, too.
The programs have battled each other closely in the regular season and have also fought for a state berth in the playoffs each of the last two seasons. They've split the last four meetings, with those games being decided by a total of 28 points. Last year, Minster ended Fort Recovery's season in the Division VII Region 28 with a 35-33 win in a highly entertaining game at Wapakoneta's Harmon Field.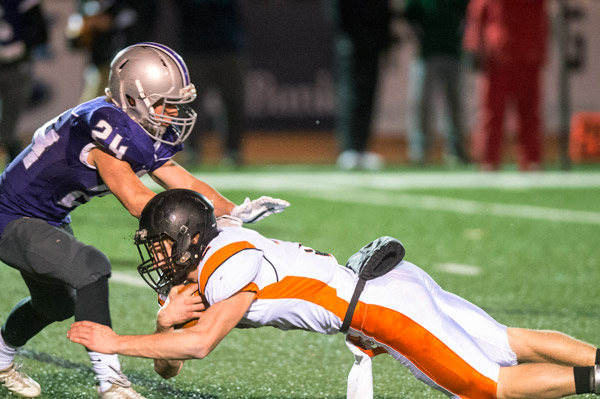 Photo by Mark Pummell/The Daily Standard
"I said this last year, they make us better," Minster coach Geron Stokes said. "They're a well-coached, good, balanced football team that attacks you really well on both sides of the ball. We've always gotten better from them."
"This has been a really big game for our kids," Fort Recovery coach Brent Niekamp said. "There's a lot of guys who have friends in Minster. The players know each other well. I've got a lot of respect for coach Stokes and what he's done at Minster. For the last two years, we've played these guys four times and split the series overall, with each of us getting a trip to state by beating the other one in the playoffs. That's about as tight as it gets."
The playoff meeting won't happen this year, as Minster remained in Division VII and the Indians moved to Division VI. This game definitely holds playoff implications, though.
The Wildcats enter the contest 3-1 and ranked fourth in Division VII. They were ranked No. 1 in the state last week before falling 21-7 to Marion Local, the top-ranked squad in Division VI.
"We've got a lot of work to do," Stokes said. "We're not anywhere near where we need to be, but I love our leadership and our seniors. We're a scrappy group and we haven't always been that way. We're about to find out how hungry we are to get better."
Minster has on its side the reigning MAC Offensive Player of the Year in Jared Huelsman. The senior has completed 40-of-71 passes for 538 yards with three touchdowns and two interceptions. He has carried the ball 86 times for 465 yards and three scores.
Isaac Schmiesing has been one of Minster's other offensive playmakers, entering the week with 40 carries for 180 yards and three touchdowns to go along with 12 catches for 117 yards.
"Huelsman is a really nice dual threat," Niekamp said. "He's really a second runner for them along with Schmiesing. Huelsman does both things effectively. He gets the ball down the field well and he's got nice touch on those passes. He's also a big, physical runner. They use him well. They use Schmiesing well, moving him around to different spots, kind of like they did with his brother (Bryce) a year ago. And at the other spots, they've just got guys who do a good job and make plays when they're called upon. They've got some nice-looking guys up front on the offensive line. They're physical. They move the line of scrimmage."
Minster has allowed just 35 points on the season and has 15 takeaways (nine interceptions, six fumble recoveries). The Boehnlein boys, Anthony and August, lead the defense with 30 and 29 tackles respectively. Austin Brown has a team-best three interceptions.
"It's going to be a case where we're going to have to physically beat them position-by-position," Niekamp said.
The Indians are 2-2 this season and were ranked No. 14 in last week's Division VI state rankings before a 33-7 loss to Coldwater last Friday.
Fort Recovery has on its side a player who's making a push for MAC Offensive Player of the Year this season in Will Homan. The senior running back has 100 carries for 709 yards and 10 touchdowns on the season. The last time Homan went against Minster, he finished with 24 carries for 167 yards and three touchdowns.
"He's as good as they get. I love watching him compete," Stokes said.
Cade Wendel has completed 31-of-62 passes for 414 yards with three touchdowns and four interceptions in his first year under center. He has also run 47 times for 183 yards.
"They're physical on both sides of the ball, and they force you to be sound at what you do," Stokes added. "You can't have weaknesses on Friday night."
The Indians have been outscored 104-97 on the season, and turnovers continued to plague them last week. They trailed Coldwater just 13-7 at halftime last week before turning the ball over three times and getting outscored 20-0 in the second half.
"We need to win the turnover battle - period," Niekamp said. "We're miserable in that category right now. Even if we go dead even on turnovers, we have a better shot than we've been doing. If we go plus-one or plus-two, we're going to have a real good shot to win. I think that's critical.
"I hope we can play at a high enough level to have a shot to get these guys, because I know what they're going to do," he added. "They're going to be disciplined. They're not going to beat themselves. They're going to be physical. They're going to be tough. They're going to present some problems with alignments and things like that. We've got to come to play ball. It's fun, I gotta tell you, to be in these types of games that matter with these teams. We've got to step up to that challenge."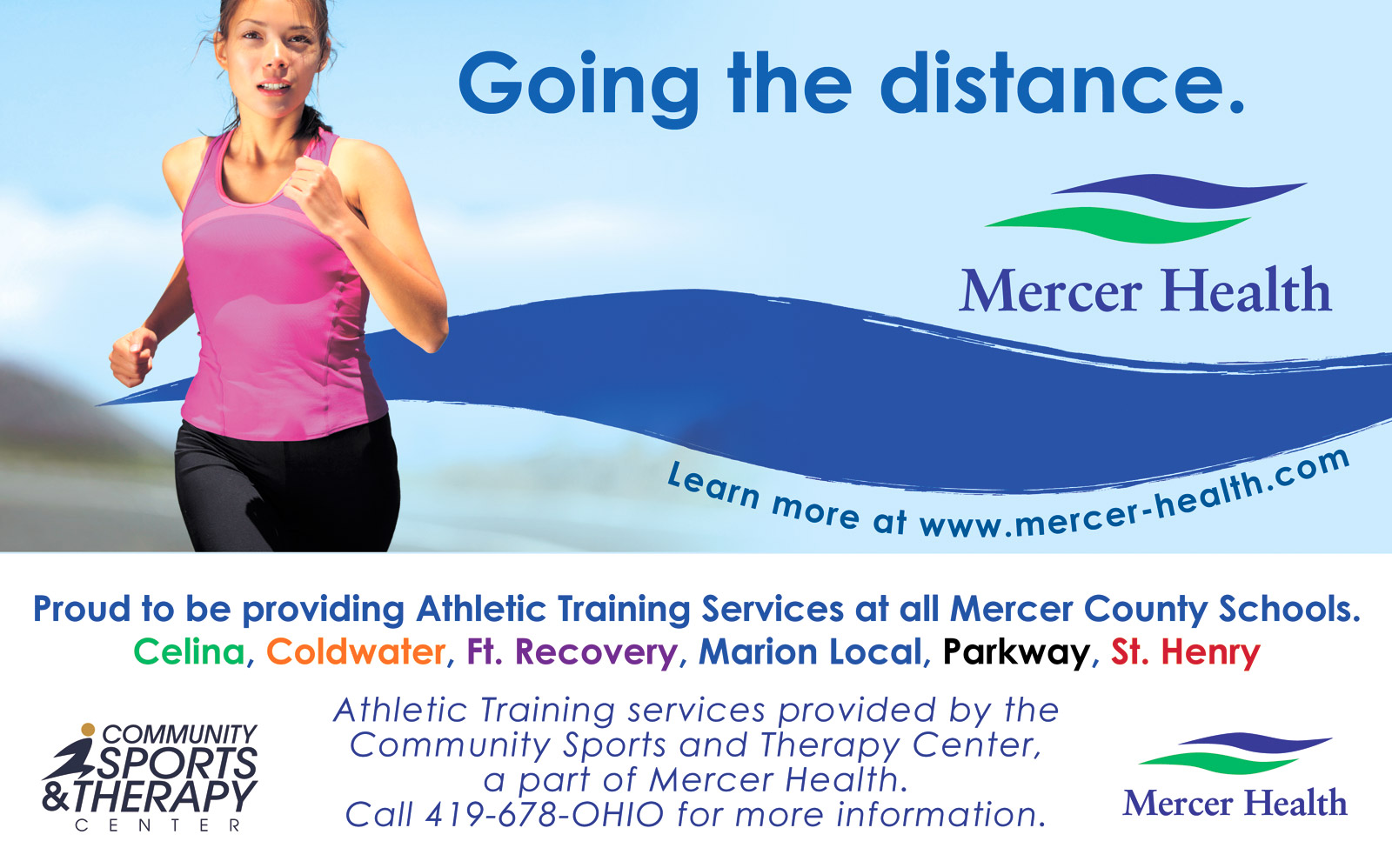 Thursday, September 21st, 2017
Playoff chances becoming more predictable
Computer Points In Review
By Bruce Monnin
As we approach the midway point of the high school football regular season, we are starting to be able to sort the contenders from the pretenders. For instance, 4-0 Marion Local again looks like a state championship contender, while 0-4 Defiance, well, may be anticipating the start of basketball season.
Just like last week, three WBL teams (Elida, St. Marys and Van Wert) are in the top eight of their regions. Celina and Wapakoneta are both in contention to join them, but neither team can afford more than one additional loss (and even one could be deadly) to keep its hopes alive. It is possible that the third league playoff spot may go to the winner of the Auglaize-Mercer County portion of the WBL.
In the MAC, three teams (Marion Local, Minster and Delphos St. John's) are incredibly within one win of clinching playoff spots, so realistically you can pencil in all three. Surprisingly, St. Henry needs at least two more wins due to the toughness of their region and lack of a big computer-point win to date.
Anna is the fifth MAC team currently sitting secure in the top three of the rankings in its region. The drama is trying to find a sixth MAC playoff squad, and Coldwater grabbed the advantage over Fort Recovery with its big road win against the Indians last week. New Bremen is also one to watch after its close contest with Anna and the weakness of Region 28.
The complete computer points for the five regions involving most area teams can be found throughout the season at: http://www.nktelco.net/bdmonnin/football.htm
Region 12:
Team - Ranking (Computer Points)
Elida - 4th (6.90)
Kettering Alter - 8th (5.63)
Dayton Dunbar - 9th (5.40)
Wapakoneta - 14th (4.13)
Celina - 15th (3.45)
Shawnee - 17th (3.23)
Elida didn't gain much from its win over 0-4 Defiance, but next is its toughest stretch remaining this season, with road trips to 2-2 Wapakoneta and 3-1 St. Marys. If Elida wins one of these two games, it has a good shot at the playoffs.
Wapakoneta, however, needs to win against Elida. A loss means the Redskins have to win their final five games just to have a 50-50 chance of returning to the postseason.
Celina has two more weeks of must-win games that will not help them much in the standings. Only a few points can be gained from defeating 1-3 Ottawa-Glandorf and 0-4 Defiance. Surviving those two games will lead to important matchups the final four weeks of the season.
Region 14:
St. Marys - 4th (6.70)
Van Wert - 6th (6.30)
Port Clinton - 8th (5.48)
Galion - 9th (4.84)
Kenton - 22nd (1.38)
Bath - 25th (1.35)
St. Marys' win over 2-2 Shawnee moved the Roughriders up another three spots in this week's rankings. Combined with six of the 2-1 teams after having lost last Friday, St. Marys is looking in better shape each week. This week's trip to 1-3 Kenton will not help much, but a home matchup with 4-0 Elida awaits seven days later.
Van Wert gained a few points from defeating 1-3 Ottawa-Glandorf. A few more points would roll in with a win over 2-2 Shawnee, after which the Cougars' only good computer-point games remaining are Week 7 against 4-0 Elida and Week 9 against 2-2 Celina.
Region 20:

Anna - 1st (6.40)
Preble Shawnee - 8th (4.68)
Mariemont - 9th (4.35)
Versailles - 18th (2.38)
Though Anna was less than dominant in beating 2-2 New Bremen, the win still earned the Rockets a sufficient number of computer points to be the top dog in this region. Anna will gain a bigger batch of points should it win at home against 3-1 Delphos St. John's this week. However, since the Rockets need to finish 7-3 to play in the postseason, a loss this week would be painful with games still remaining against Marion Local, St. Henry, Coldwater and Minster.
At 1-3, Versailles has an opportunity to move back up the ratings if the Tigers upset 4-0 Marion Local this week. If Versailles loses, it will need to win its final five games to have any chance at the playoffs.
Region 24:
Marion Local - 1st (8.05)
St. Henry - 2nd (6.78)
Cincinnati Country Day - 8th (4.39)
Mechanicsburg - 9th (3.78)
Fort Recovery - 11th (3.58)
Coldwater - 12th (3.55)
Parkway - 19th (1.75)
Marion Local flips positions with St. Henry as beating 3-1 Minster was worth more than the Redskins' defeating 1-3 Parkway. The Flyers have the early look of a 10-0 team. They can still lose twice and be guaranteed of still hosting their first playoff game.
This week's crucial Region 24 MAC matchup is 4-0 St. Henry at 2-2 Coldwater. The Redskins still need three more wins to make the postseason and their final five opponents have a combined record of 16-4. While Coldwater's last five games are somewhat lighter (combined record 12-8), the Cavaliers need to win four more games (five to be 100% safe). Thus, neither team wants to have to overcome a loss this week.
Fort Recovery needs to win at least four of its last six games. Considering the Indians still have to face undefeated Marion Local and St. Henry, their playoff chances are more than three times better if they get a win at 3-1 Minster this week than if they lose.
Region 28:
Delphos St. John's - 2nd (5.85)
Minster - 3rd (5.40)
Upper Scioto Valley - 8th (2.45)
New Bremen - 9th (2.10)

Delphos St. John's nudges ahead of Minster this week, not so much due to defeating 1-3 Versailles as from Lima Central Catholic's defeating Division II Toledo Waite (gotta love those big second-level points from bad city schools). Both the Blue Jays and the Wildcats are projected to be in the playoffs if they get one more win, so they can clinch by being victorious against 4-0 Anna and 2-2 Fort Recovery, respectively. Both teams are essentially playing to earn that first round home playoff game right now.
At 2-2, New Bremen is in a different boat. Since the Cardinals' vanquished opponents bring in fewer computer points, they need at least five and probably six total wins to play in the postseason. A home win this week over 1-3 Parkway is probably a necessary first step.
Other Regions of Interest:
Defiance needed to finish 7-3 to have any chance at the playoffs. With an 0-4 start, those hopes have evaporated.
If 1-3 Ottawa-Glandorf wins out, it will get into the playoffs at 7-3. However, with one more loss the Titans have to hope others open the door for them at 6-4, so this week's trip to Celina may be do or die.

Thursday, September 21st, 2017
Two-Minute Drill
By Daily Standard Staff
Ottawa-Glandorf at Celina
Last meeting: Ottawa-Glandorf, 21-14. The Bulldogs rallied back from a 13-0 halftime deficit but came up short. Connor Niese's touchdown in the third quarter put the Titans up two scores, and Celina couldn't answer late in the game.
About the Titans: Ottawa-Glandorf rallied to get to within two against Van Wert late before the Cougars won 19-17. The Titans have tried to find consistency after having lost All-State QB/LB Jay Kaufman for the season after a springtime knee injury. Jacob Ballbaugh took over as starting QB last week and threw for two touchdowns. Daniel Beemer is the go-to back in the lineup, rushing for 439 yards this season with four touchdowns.
About the Bulldogs: The Bulldogs hit the ground running - literally - in a 49-6 win at Bath to come back after a hard-fought loss to Elida that was decided on a field goal as time expired. Celina had 449 yards rushing against Bath with QB Brett Schwieterman rushing for 168 yards and two touchdowns. Kole Murlin continues to have a breakout offensive season with 90 yards rushing and three scores.
St. Henry at Coldwater
Last meeting: Coldwater, 21-14. The "Backyard Battle" lived up to the billing. Coldwater quarterback Dylan Thobe rushed for 118 yards on 18 carries and passed for 121 yards on 10-of-17 completions to lead the way in the win. It was Coldwater's 21st straight victory in the series.
About the Redskins: St. Henry continued its hot start to the season with a 41-8 win over Parkway. The Redskins mixed up the attack with three different players rushing for touchdowns and quarterback Daylon Lange (152 yards on 7-of-11 passing) hitting two different receivers for scores. Ryan Bruening had a big night with 77 receiving yards and a touchdown and an interception return touchdown. St. Henry has allowed just 15 points this season, shutting out teams in 14 of 16 quarters played.
About the Cavaliers: Coldwater bounced back from suffering two straight losses for the first time in over 20 years with a 33-7 win over Fort Recovery in a game that was close for 2 ½ quarters. Sam Broering had a breakout game with 187 yards passing and four TDs without an interception and Ben Wenning's school-record 99-yard touchdown run helped the Cavaliers pull away in the second half.
St. Marys at Kenton
Last Meeting: St. Marys, 58-14. The Roughriders scored twice in the first four minutes of the game, and the rout was on. Eric Spicer, who carried the ball just once in the second half, rushed for 250 yards on 16 carries to lead the way for St. Marys at Skip Baughman Stadium.
About the Roughriders: St. Marys rallied to tie Shawnee in the final minutes of last Friday's game, went ahead on Ty Schlosser's touchdown in overtime, and then stopped Indians' quarterback Johnny Caprella short of the goal line on a two-point conversion to take the 35-34 win. With St. Marys ranking first in the WBL in rushing offense and Kenton last in rushing defense, the Roughriders should dominate on the ground against Kenton.
About the Wildcats: Kenton had a 27-7 second-quarter lead evaporate in the second half as Wapakoneta outscored the Wildcats 42-8 over the final 24:35 to take a 49-35 win at Harmon Field. Quarterback Jarron Sharp threw for 397 yards and four touchdowns, but the Wildcats struggled against Wapak's rushing attack, which had three players rush for 100 or more yards and tally 392 of its 511 total yards on the ground.
Parkway at New Bremen
Last meeting: Parkway, 41-10. May caught touchdown passes of 90 and 48 yards and added another rushing score as the Panthers rolled to their first victory of the season.
About the Panthers: Parkway struggled for most of last Friday's 41-8 loss to St. Henry but became the first team to post significant rushing yards against the Redskins and snapped St. Henry's 13-quarter streak of shutting out teams with a late score. Sophomore back Nick Hawk rushed for 76 yards and the lone Panther score, drawing praise from St. Henry coach Brad Luthman.
About the Cardinals: New Bremen gave unbeaten Anna a battle, especially in the second half after having trailed 28-7 early but could only get as close at 28-20 at the final whistle. Quarterback Nolan Bornhorst rushed for 133 yards and threw for a touchdown in the defeat.
Marion Local at Versailles
Last meeting: Marion Local, 28-7. The Flyers were sluggish offensively but managed two fourth-quarter touchdowns to lock down the victory at Booster Field.
About the Flyers: Marion continued to roll but had to shake off Minster in the second half for a 21-7 win at Booster Stadium. Nathan Bruns had a big night passing as he had his first breakout game as the Flyer signal caller. The Flyers have allowed just 21 points this season and only seven points after the first quarter of games this season.
About the Tigers: Versailles lost a hard-fought 24-21 overtime game at Delphos St. John's on Saturday night and have a short week to prepare for Division VI's top-ranked team. Kurtis Rutschilling had a breakout game for the Tigers with 138 yards and a touchdown. Garrett Thompson added 95 yards rushing.

Thursday, September 21st, 2017
Goal Line
By Daily Standard Staff
Players of the Week
Offense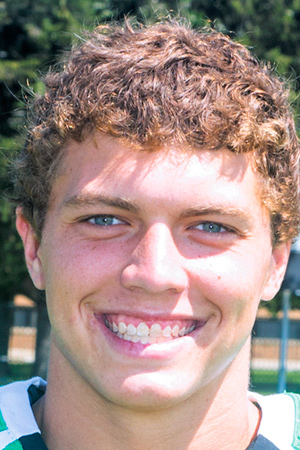 Kole Murlin, ATH
Celina
Six carries for 90 yards and three touchdowns in Bulldogs' 49-6 win over Bath.
Defense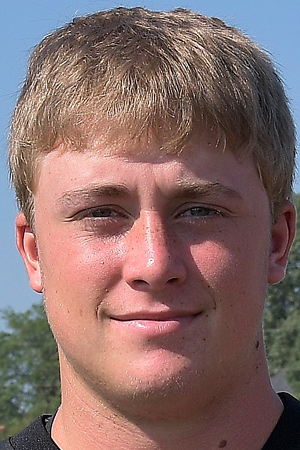 Brad Giere, LB
Coldwater
14 tackles in Cavaliers' 33-7 win over Fort Recovery
MAC Standings
| | | |
| --- | --- | --- |
| | MAC | Overall |
| Anna | 2-0 | 4-0 |
| Marion Local | 2-0 | 4-0 |
| St. Henry | 2-0 | 4-0 |
| Minster | 1-1 | 3-1 |
| Coldwater | 1-1 | 2-2 |
| Fort Recovery | 1-1 | 2-2 |
| St. John's | 1-1 | 3-1 |
| New Bremen | 0-2 | 2-2 |
| Parkway | 0-2 | 1-3 |
| Versailles | 0-2 | 1-3 |
WBL Standings
| | | |
| --- | --- | --- |
| | WBL | Overall |
| Elida | 3-0 | 4-0 |
| St. Marys | 3-0 | 3-1 |
| Van Wert | 2-1 | 3-1 |
| Celina | 2-1 | 2-2 |
| Wapakoneta | 2-1 | 2-2 |
| Shawnee | 1-2 | 2-2 |
| Kenton | 1-2 | 1-3 |
| Ottawa-Glandorf | 1-2 | 1-3 |
| Bath | 0-3 | 1-3 |
| Defiance | 0-3 | 0-4 |