Thursday, November 30th, 2017
Wildcats ready to face Redskins
Division VII State Championship Game- Friday, 10 a.m. Tom Benson Hall of Fame Stadium, Canton
By Colin Foster
Marion Local and Coldwater have developed the reputation of state-title hunters on a yearly basis.
Midwest Athletic Conference-mate Minster has earned that reputation, too.
The Wildcats are making their third trip to the title game in four years and will look to earn their second state crown in that span when they meet Cuyahoga Heights in the Division VII championship game at 10 a.m. on Friday at Tom Benson Hall of Fame Stadium in Canton.
"We're jacked up to play in the state finals again," Minster coach Geron Stokes said. "We've had some kids step up and we've had some great senior leadership that has driven us. We're just excited to be back and grateful for another week of practice."
Minster will meet a Redskins team that fell just short of winning their first state title last year, losing to Marion Local 21-17 in the Division VI game.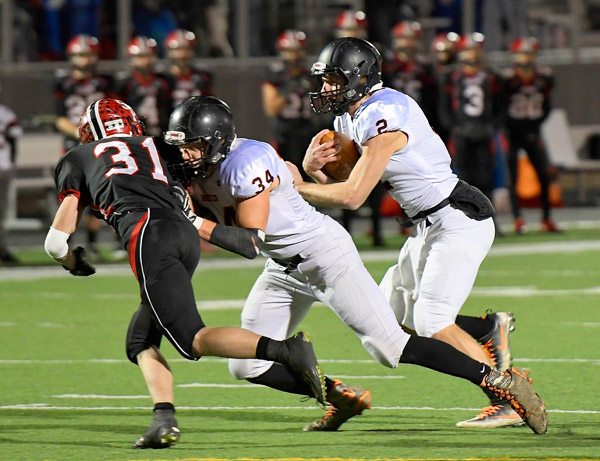 Photo by Nick Wenning/The Daily Standard
Cuyahoga Heights enters with a record of 12-1 and knocked off defending champion Warren John F. Kennedy (40-12), No. 13 East Canton (46-14), No. 2 Dalton (42-41) and No. 3 Danville (38-8) to seal a return trip to the final.
The Redskins returned two of their top offensive playmakers from last year's team in fullback 6-foot-2, 220-pound senior Lucas D'Orazio and 6-0, 170-pound senior Dylan Drummond. In last year's loss to Marion Local, D'Orazio carried the ball 13 times for 34 yards and a touchdown. This season, he has amassed 1,200 yards on 181 carries with 23 rushing touchdowns and two receiving. Drummond had four catches for 87 yards in last year's state final. He has 52 catches for 959 yards with 16 TDs this season.
Cuyahoga Heights also has back three offensive linemen. Five-foot-nine senior Ryan Polk has completed 101-of-165 passes for 1,735 yards with 23 TDs and six interceptions in his first year under center. The offense has produced 38-or-more points in four playoff wins.
"Their offense is incredible," Stokes said. "It's going to take 11. You can't go to the state finals and try to win it with a hole or holes in your defense. They can expose you in all sorts of ways. They can pound you. They can get to the edge. They can throw it over your head. They can throw it in front of you and make you miss. It's going to take 11."
Last year's Cuyahoga Heights defense entered the state final having only surrendered 21 points before Marion Local matched that total. Nine players graduated from that defensive unit. This season, opponents have scored double digits against the Redskins in all but three games.
Minster is coming off a game in which it dominated Norwalk St. Paul like no other team had done this season. Top-ranked St. Paul had blown out every opponent entering last Friday's game. The 11th-ranked Wildcats flipped the script, as quarterback Jared Huelsman rushed for 277 yards in a 40-7 thrashing.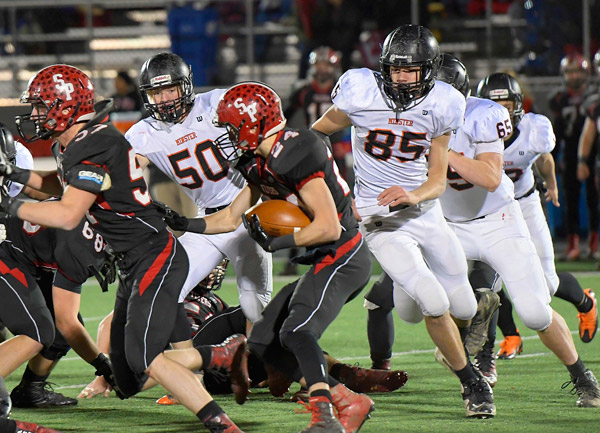 Photo by Nick Wenning/The Daily Standard
"When we saw the tape of Norwalk St. Paul, our kids perked up right away," Stokes recalled. "They thought 'Holy cow, we're in for a dogfight.' It jumped off the screen how good they were, how well they did things. Our kids took a different mentality in their preparation. They could see if we didn't prepare like crazy, if we didn't attack this thing, we're in trouble. Every rep in practice was important.
"They were hungry Friday night. Hopefully we can continue that this week."
Friday's matchup is the first of two state finals meetings between programs from the MAC and Chagrin Valley Conference. Marion Local and Kirtland will face off in the Division VI championship game at 10 a.m. on Saturday.
The last time the Wildcats last met a CVC team was in the 2014 Division VI state final and they claimed the program's first state title since 1989 with a 46-42 win over Kirtland.
Cuyahoga Heights lost this year's matchup to Kirtland 42-35. Redskin coach Al Martin said the Wildcats are comparable to the Hornets in many regards.
"They're extremely well coached," Martin said. "They're really physical, really big up front offensively. The quarterback stands out. He's so patient. You can see his athletic confidence is just so high. He takes his time and reads the blocks and they do a nice job structurally of getting in spread formations and if you're spread out, they run it right at you. If you're not spread out, he's accurate enough to throw it out there to get big plays in the passing game.
"Defensively, they're really aggressive. The linebackers come down hill and they're very physical. They're just very well-coached. They're one of those teams like Kirtland where 11 guys play hard, whistle to whistle."
Thursday, November 30th, 2017
Flyers, Hornets meet again
Division VI State Championship Game- Saturday, 10 a.m. Tom Benson Hall of Fame Stadium, Canton
By Colin Foster
A Cleveland-based reporter made mention of Marion Local's loss to Kirtland in the 2015 Division VI state title game during Monday's state football teleconference.
"Thanks for reminding me of that one," Marion Local coach Tim Goodwin remarked. "Sometimes the ones that get away hurt more than the ones that you get feel good."
On Saturday, Goodwin and his top-ranked Flyers get their rematch with the No. 2 Hornets when they clash at 10 a.m. at Tom Benson Hall of Fame Stadium in Canton.
Two years ago, Marion Local was vying for its fifth consecutive title when Kirtland came from behind in the second half to win 22-20.
"Kirtland has competed really well with other MAC opponents in the state finals and they certainly beat us two years ago," Goodwin said. "That second half we couldn't do much of anything on defense. Credit to them and their kids."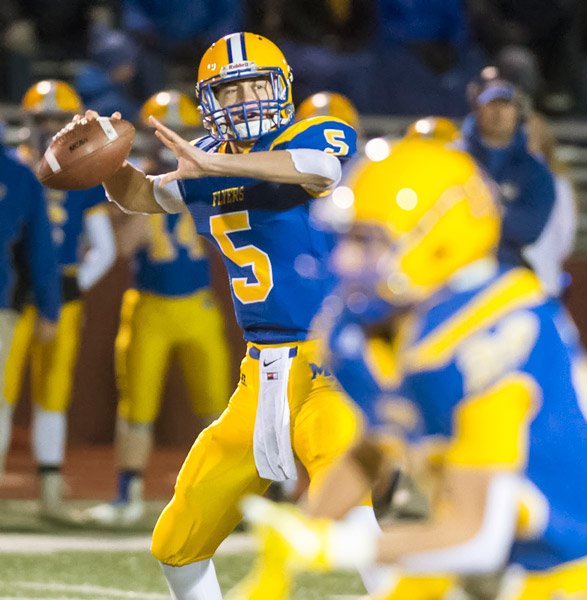 Photo by Mark Pummell/The Daily Standard
Marion Local (14-0) posted shutouts of No. 13 Fort Recovery (27-0), Spencerville (35-0) and No. 9 Coldwater (33-0) to open the postseason and then defeated No. 5 Liberty-Benton 31-13 in last week's state semifinal at Wapakoneta's Harmon Field.
"We had a very young and inexperienced team coming into the year," Goodwin said. "We only had two starters back on both sides of the ball. We had to replace 20 great seniors off of last year's team, but we had some incoming talent that we knew could do some things. It was a great ride through the regular season. We had some ups and downs. We were behind in several games, but our kids made plays when they needed to."
Along its postseason run, Kirtland (14-0) knocked off Liberty (40-13), No. 8 Mogadore (34-28), No. 4 Rootstown 17-7 and No. 3 Nelsonville-York 44-0.
"I'm just real proud of this group of kids," Kirtland coach Tiger LaVerde said. "It's pretty much a different group than what we've had in the past. Their goal was to win the conference, to make the playoffs and then take it one week at a time. I think they've done a real good job of taking care of their business."
The Flyers have a multitude of options in the backfield, including Nolan Habodasz, Alex Partington, Jack Buening and Matt Rethman. Running behind a big and physical offensive line, the Flyers have averaged 236.7 yards in the postseason. Nate Bruns has a 7-to-1 touchdown-to-interception ratio in the postseason, connecting with Nick Tangeman for four scores.
"They don't have very many weaknesses," LaVerde said. "Offensively, they throw the ball with great efficiency and they run the ball with great efficiency. It's going to be a tough battle for our kids. Our kids are going to have to play better than they've played all year. As always, most football games come down to blocking, tackling and turnovers. Those are the three big things we always talk about. We're going to have to try to block well. We're going to have to tackle really well and we're going to have to try to execute and take care of the football.
"They've got good size. Their defensive linemen are very good. Their linebackers are very good and the secondary's very good and very athletic. They're very well coached."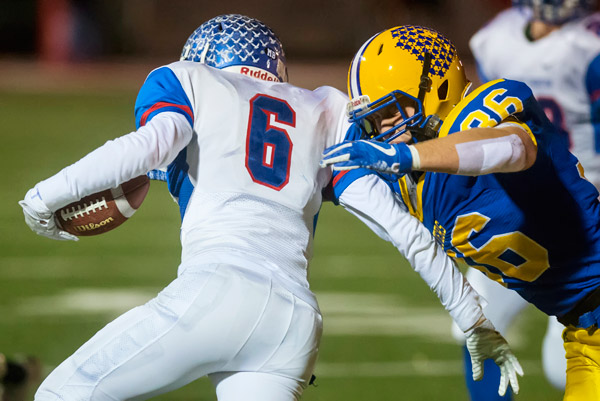 Photo by Mark Pummell/The Daily Standard
Kirtland's run-heavy offense has averaged 42.2 points per game this season. Jake Neibecker (178 carries, 1,299 yards, 19 touchdowns) and Joey Torok (145 carries, 1,263 yards, 15 touchdowns) get most of the workload. Quarterback Dylan Fulco has completed 34-of-58 passes for 529 yards with eight touchdowns and four interceptions. Brandon Samsa leads all receivers with 13 catches for 185 yards and two scores.
Defensively, the Hornets have allowed 10.5 points per game while hauling in 21 interceptions and recovering 10 fumbles. They are a plus-18 in the turnover department on the season.
"Most weeks, if we do a good job against the run early on, the other teams are going to try to do something else," Goodwin said. "With Kirtland, that's not the case. Even if you stop them for a while - like we found out two years ago - they're not going to panic.
"They've got two running backs that are very good. The quarterback's very efficient. They've got a big, strong offensive line. They've got a defense that's very aggressive and active. They're a good team, there's no doubt about it."
Last year, the Flyers rebounded from their loss to Kirtland by winning their fifth title in six seasons with a 21-17 defeat of Cuyahoga Heights in Columbus. They are making their 12th appearance in the title game since 2000, having won titles in 2000, 01, 06, 07, 11, 12, 13, 14 and 16. Marion Local is looking for its 10th title in program history.
The Hornets are making their sixth appearance in the title game, having captured titles in 2011, 13 and 15.
Thursday, November 30th, 2017
Goal Line
By Daily Standard Staff
Players of the Week
Offense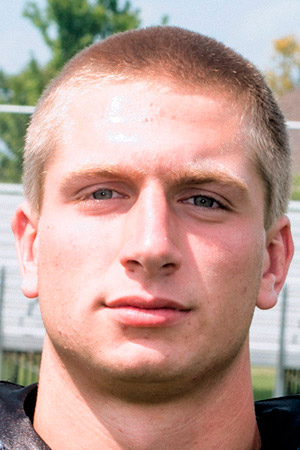 Jared Huelsman, QB Minster
43 carries for 277 yards and five touchdowns in Wildcats' 40-7 win over Norwalk St. Paul
Defense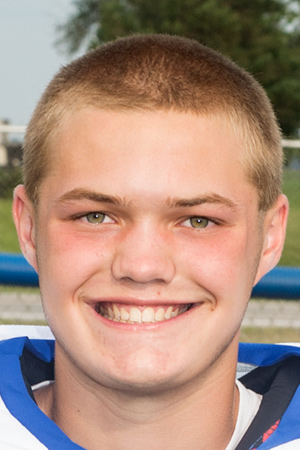 John Tangeman, LB Marion Local
Six tackles and an interception in the Flyers' 31-13 win over Liberty-Benton.
MAC State Football Titles
Marion Local 9
Coldwater 6
St. Henry 6
Delphos St. John's 6
Minster 2
Fort Recovery 1
Versailles 1-*
* - Versailles has six state titles, but only one (2003) was won since the Tigers have been members of the MAC.
The MAC has won 31 state championships in football since 1989.
State Football Finals Schedule
Tonight
Division II
No. 5 Akron Archbishop Hoban (13-1) vs. No. 2 Cin. Winton Woods (13-1), 7:30 p.m.
Friday
Division VII
No. 5 Cuyahoga Heights (12-1) vs. Minster (10-4), 10 a.m.
Division V
No. 3 Wheelersburg (14-0) vs. No. 1 Pemberville Eastwood (14-0), 3 p.m.
Division I
No. 8 Pickerington Central (13-1) vs. No. 6 Mentor (13-1), 8 p.m.
Saturday
Division VI
No. 1 Marion Local (14-0) vs. No. 2 Kirtland (14-0), 10 a.m.
Division IV
No. 7 Clarksville Clinton-Massie (13-1) vs. No. 1 Steubenville (14-0), 3 p.m.
Division III
Dresden Tri-Valley (13-1) vs. No. 1 Trotwood-Madison (14-0), 8 p.m.
State Championship By The Numbers
71-10 - Postseason record of Marion Local going into Saturday's state final.
5 - Number of Division VII state title games, out of five total, where a Midwest Athletic Conference team was playing for a title. The MAC has won three of the first four with the fifth game this Friday.
24 - Consecutive playoff wins held by Coldwater (2012-2016) and Marion Local (2011-2015), most by any team in the state of Ohio.
72 - Record for most career playoff wins, held by both Newark Catholic and Cleveland St. Ignatius. Marion can tie the record on Saturday.
1 - Number of teams seeded eighth to win a state championship (St. Henry in 2004)
2001 - The last time an undefeated team missed the playoffs (Newcomerstown).