Thursday, October 1st, 2020
All set for Battle of Grand Lake
By Gary R. Rasberry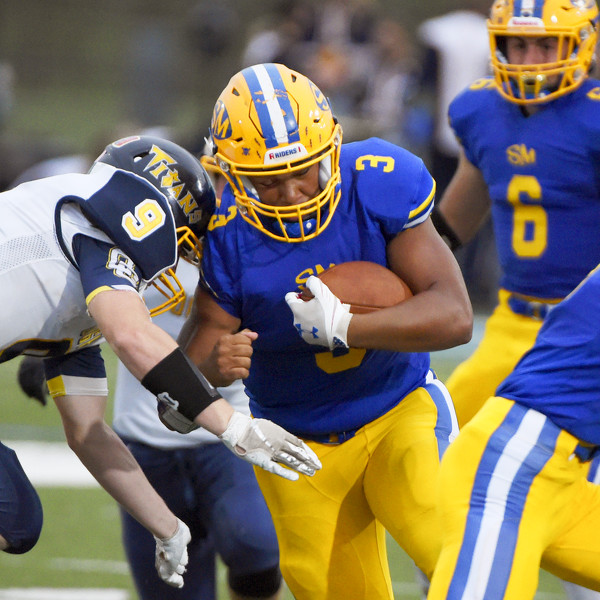 Photo by Dan Melograna/The Daily Standard
Much like Ohio State and Michigan, Celina and St. Marys playing in the final game of football's regular season just seems appropriate.
And this year, it could possibly be a scouting session for both teams.
The 102nd edition of the Battle of Grand Lake pits two teams that are looking to finish 4-2 heading into the Division III playoffs next week.
With the pairings scheduled to be bracketed today, the Bulldogs and Roughriders should host opening round games.
But more of interest is that depending on how they fare and how the seedings go, the two teams could face off for a second time, something that probably has not occurred since the 1930s.
St. Marys has dominated the series, going 66-29-6 over the years and winning the last four games of the series. Celina, which is making its first trip to St. Marys' new field after their 2018 game was the last meeting between the teams at Skip Baughman Stadium, last won in 2015.
Here are some things to watch for at this year's meeting: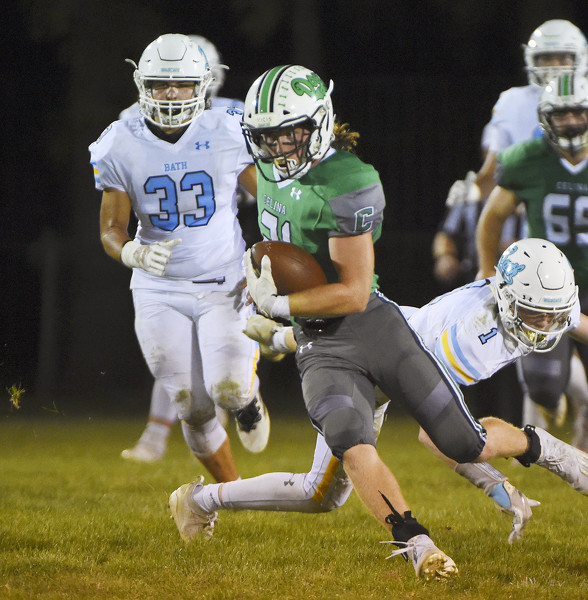 Photo by Dan Melograna/The Daily Standard
IT KEEPS YOU RUNNING
St. Marys with its Wing-T offense remains the WBL's top running team. St. Marys averages 227.2 yards per game on the ground. This season Doug Frye has used a trio of go-to runners to handle the bulk of the rushing. Sophomore Aiden Hinkle leads the team with 352 yards and four touchdowns with Ethan Wedding adding 283 yards and Dylan Trogdlon rushing for 230 yards.
Celina counters with Jaxson Silliman, who is among the leaders in the league in rushing with 430 yards. Bulldog quarterback Cooper Jones adds 288 yards and a team-high four touchdown.
IN THE AIR TONIGHT
While the Roughriders have been solid in stopping the opponents' running game, allowing only 85.8 yards per game, they have been burned by the passing game, most notably against Van Wert when Owen Treece passed for five touchdowns and 342 yards two weeks ago. St. Marys has allowed 856 yards this season with 11 touchdowns.
That could allow Jones to have a big game after getting a breakthrough game last week against Bath when he passed for 185 yards and two touchdowns. For the season, Jones has passed for 658 yards and six touchdowns with a QB rating of 119.19, an increase of nearly 13 points from last week.
While St. Marys is conservative with its passing game - attemping just 52 passes this season, the team is been fairly consistent, throwing for 270 yards with a touchdown and interception. Gavin Reineke has thrown for 259 yards this season. The Bulldog defense has forced seven interceptions with Quinn Andrew leading the WBL with four.
LET'S HANG ON
The Bulldogs have been one of the best teams in the WBL when it comes to forcing turnovers. Celina has a plus-6 turnover ratio, forcing nine turnovers while only giving up the ball three times this season. St. Marys are plus-2 (seven takeaways, five giveaways).
Thursday, October 1st, 2020
Week 6 of season set for playoff tuneups
Computer Points In Review
By Bruce Monnin
This past weekend saw the last games played before coaches vote on the seeding that will be used to determine playoff matchups. That makes this a bit of an odd week. All the games that matter for seeding the 664 teams into the playoffs have been complete in this situation, and the playoff brackets are supposed to be announced today.
That makes this week's upcoming games quite unusual. Absolutely none of the games across the state will have any effect on playoff qualification or seeding. This is likely the only regular season weekend that has been the case since the playoffs were initiated in 1972.
Instead, it is just a week for teams to improve, gain confidence, or even rest and heal before the playoffs start on Oct. 9th and 10th.
Therefore, the computer points mentioned below have no real value for the rest of the football season. I will be recalculating them each week merely for amusement purposes, and maybe to get an idea of which area teams are favored in their playoffs matchups, or in any other games schools schedule if they are knocked out of the tournament.
Last week belonged to the favorites, as nine of the 10 winners from the WBL and the MAC have winning records (Wapakoneta upsetting Kenton was the exception).
This week the WBL has four games in which the opponents are within one game of each other in their current record, while the MAC has three such matchups. The most interesting ones locally are Celina visiting St. Marys, St. Henry traveling to Fort Recovery and New Bremen hosting Versailles.
As previously mentioned, none of these games will affect playoff seeding, but all the teams will want to get that positive momentum going before the postseason begins.
The complete computer points for all OHSAA teams can be found throughout the season at: user.nktelco.net/bdmonnin/football.htm.
Division III Region 12:
Team - Ranking (Computer Points)
Bellbrook - 1st (20.80)
St. Marys - 11th (8.40)
Celina - 12th (8.00)
Elida - 12th (8.00)
Lima Shawnee - 14th (7.40)
Wapakoneta - 17th (4.30)
Only the top six teams in this region will receive first-round byes in the playoffs, so it appears unlikely any of these 3-2 WBL teams will be awarded an off week by the region's coaches. However, teams ranked in the top 16 will get to host their opening playoff game. Right now it seems four or five WBL teams in this region will likely be playing on their home field when the postseason starts.
St. Marys was the big mover, gaining four places after beating Lima Shawnee. Celina dropped behind the Roughriders as their win over Bath generated fewer computer points. The debate over which team is better will be settled at St. Marys this week, though the result will not affect their playoff seeding.
Similarly, Elida gained little from its win over Defiance last week, but did better than Shawnee, which lost to St. Marys. These two will also face off this weekend.
Wapakoneta grabbed some momentum by defeating Kenton. A win over Defiance this week would set the Redskins on a two game roll heading into the playoffs.
Division VI Region 24:
Mechanicsburg - 1st (15.10)
Coldwater - 3rd (11.50)
Fort Recovery - 14th (2.40)
Minster - 15th (1.50)
Anna - 19th (0.80)
Parkway - 21st (0.00)
Two more teams in this region opted out of the playoffs, so now the top 10 teams earn an off week. Coldwater will be one of these teams, while Fort Recovery, Minster and Anna look more likely to host an opening round game by being ranked #11 through #16.
The Cavaliers remained third in the computer points, but don't be surprised if they are voted into the top seed by this region's coaches. With the Cavaliers hosting Anna this week, a perfect regular season looks likely.
Fort Recovery probably lost its chance at a bye with its loss to Versailles. There are still only 14 teams with two wins in this region, so at least a home playoff game looms for the Indians. A big chance to grab some end of season momentum occurs this week as they host 3-2 St. Henry.
Minster and Anna are still borderline for making the top 16, as at least two teams currently in this region will be awarded a home playoff game. The Wildcats have an opportunity to garner some pre-playoff momentum when they travel to Parkway this Friday. Anna has a tougher task on the road at undefeated Coldwater.
Division VII Region 28:
Marion Local - 1st (14.00)
Fort Loramie - 2nd (11.60)
New Bremen - 10th (4.60)
St. Henry - 13th (3.90)
Only 21 teams are now playing in this region's postseason, so the top eleven teams receive playoff byes. That means there will only be five opening round games will be played in this region.
Marion Local should receive the top seed, though it is possible the vote will go to a Fort Loramie team which has won its games by an average score of 51-3. With a home game against Delphos St. John's, expect the Flyers to finish the regular season undefeated.
St. Henry and New Bremen have almost identical resumes. Despite the fact the computer points say they are each borderline for a bye, I expect both teams to be voted into the top 11. Both have interesting games this week as the Cardinals host Versailles while the Redskins visit Fort Recovery.
Other Regions of Interest:
Division III Region 10: Seventeen teams have earned a win so far in this region, so expect Defiance to play their opening playoff game on the road.
Division IV Region 14: The top eight earn postseason byes and eight teams have records of 4-1 or better in this region. This includes Van Wert, which is currently ranked fifth. Kenton likely will not receive a bye but instead will host its opening playoff game.
Division V Region 18: There are only seven byes in this region and seven teams with one or fewer losses. So, Ottawa-Glandorf (ranked third) should earn a bye week. With 16 teams having two or more wins, it feels unlikely that Bath (ranked 14th) will get to host their playoff game, although the Wildcats' win over Kenton is better than many of these teams have on their resumes.
Division V Region 20: Versailles is ranked eighth even though the Tigers are one of just five teams with four or more wins in this region which has eight first round playoff byes. So, expect Tigerball to receive a first round playoff bye while they use their game against New Bremen to prepare for the postseason.
Division VII Region 26: Twenty teams have two or more wins in this region, so Delphos St. John's feels like a team which will be going on the road to start the postseason next week.
Thursday, October 1st, 2020
Two-Minute Drill
By Daily Standard Staff
ST. HENRY vs. FORT RECOVERY
Barrenbrugge Athletic Park
Last Season: A Cobe Wendel 30-yard field goal early in the fourth quarter proved to be the difference in the Indians' 24-21 win at St. Henry. KJ Jacobs rushed for 137 yards and a touchdown for St. Henry.
About the Redskins: St. Henry bounced back from a shutout loss to Marion with a big win over Parkway last week. Owen Lefeld rushed for 237 yards with three touchdowns and a two-point conversion to contribute 20 of the team's 29 points. The Redskins have done most of their damage in the middle portion of their games, outscoring opponents 66-33 combined in the second and third quarters.
About the Indians: After a strong first half of offense, Fort Recovery struggled in the second half as Versailles scored 21 unanswered points to turn a 21-21 halftime tie into a 49-28 blowout win. Quarterback Clay Schmitz passed for 307 yards with two touchdowns in the win to become the first area quarterback to go over 1,000 passing yards on the season. The Indians have struggled in taking care of the ball, sporting a minus-7 turnover ratio.
ANNA vs. COLDWATER
Cavalier Stadium
Last Season: Riley Huelskamp and Bart Bixler combined for more than 300 yards rushing as the Rockets routed the Cavaliers 49-8. The game marked the first time Coldwater was subjected to the running clock "mercy rule" as a losing team.
About the Rockets: Anna will look to tune up for the postseason against Coldwater. Anna will likely be on the road to start the playoffs, so playing at Cavalier Stadium will give them a feel for road trip football. Quarterback Kohlten Carey has been sacked 11 times this season and will be under pressure by the Coldwater defense.
About the Cavaliers: Coldwater should be a top seed in Division VI Region 24 as the top-ranked team in the state will look to run the regular season table. Quarterback Myles Blasingame has passes for 656 yards and 10 touchdowns and leads the team with 470 yards rushing.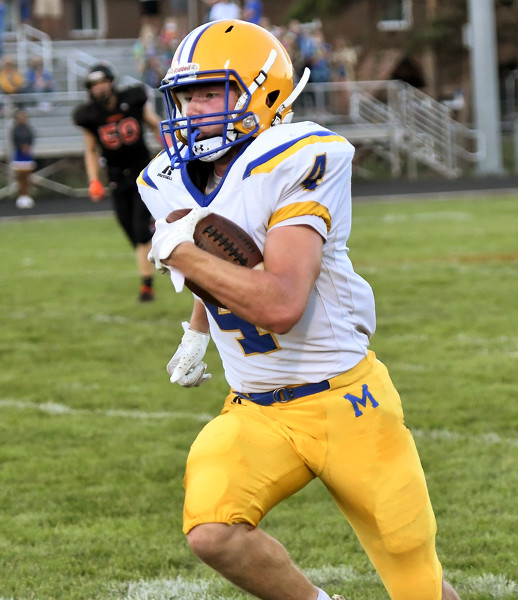 Photo by Nick Wenning/The Daily Standard
DELPHOS ST. JOHN'S vs. MARION LOCAL
Booster Stadium
Last Season: Grant Meier rushed for two touchdowns and the Flyers' defense held the Blue Jays to under 100 yards of total offense in a 24-0 victory.
About the Blue Jays: St. John's had solid offensive numbers, tallying more than 300 yards of offense, against Coldwater, but struggled after taking an early 7-0 lead in a 57-13 loss. The Blue Jays are minus-5 in turnover ratio and are only 11-of-55 (20%) on third down conversions.
About the Flyers: Marion shut out its second straight opponent in beating Minster 28-0 last week. Last week marked the first time this season that Marion scored points in the first quarter of a game. The Flyer defense forced four turnovers to raise their season total of 15 (10 interceptions, five fumble recoveries) in addition to 14 sacks.
VERSAILLES vs. NEW BREMEN
Cardinal Stadium
Last Season: Zach Bertke and Mitchell Hays combined for 239 yards rushing and three touchdowns in the Cardinals' 23-7 win over the Tigers.
About the Tigers: Versailles had a big second half in beating Fort Recovery 49-28 last Friday. Quarterback Carson Bey rushed for 139 yards and two touchdowns and passed for 185 yards and three more scores to lead the way. The Tigers recovered two fumbles last week.
About the Cardinals: After a bounce-back over Anna, the Cardinals look to get a good tuneup for the postseason with a quality matchup with Versailles. The New Bremen defense has allowed just 58 points in five games and are a staggering plus-10 in turnover ratio, which helps as the team is only sightly ahead of their opponents in total offense - 268 yards to 257 yards.
MINSTER vs. PARKWAY
Panthers Stadium
Last Season: Alex Schmitmeyer rushed for 168 yards and two touchdowns as the Wildcats rolled past the Panthers 39-7. Jacob Niemeyer connected with Trent Roetgerman for a 98-yard touchdown pass.
About the Wildcats: Minster has only scored more than seven points twice this season (vs. Coldwater and St. John's but has scored just 38 points this season. Parkway has allowed 31.2 points per game this season, giving Minster hope to get the offense going before the postseason begins. Minster is minus-10 in turnover ratio. A win would allow coach Geron Stokes to break his tie with Ken Newland for most wins in Minster history.
About the Panthers: Parkway was shut out for just the first time last week against St. Henry, but the Panthers have not given up fewer than 21 points in any game this season. Quarterback Eli Rich leads the team in rushing (229 yards) to go wth 659 passing yards. A win would avoid the first winless regular season since the 2012 team went 0-10.