Saturday, May 12th, 2007
St. Marys man pens book on the Great Depression
Eldon Montague writes from his perspective as a young boy
By Janie Southard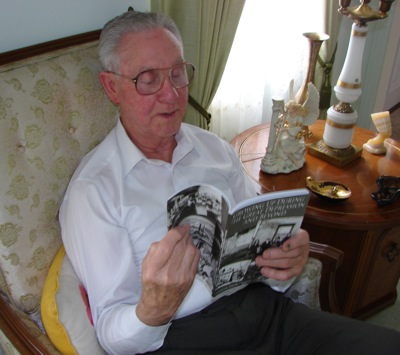 ST. MARYS - Lifelong Auglaize County resident Eldon "Monty" Montague has written a book recalling the Great Depression in St. Marys from a kid's perspective. It's written in an easy, breezy style, like a letter from home.
"I didn't start out to write a book at all. I was just jotting down some memories. Oh, I guess it was about a year ago, I spun around from my desk at the office and typed out all of what became chapter two on my electric typewriter," Montague told The Daily Standard last week at his home in St. Marys where he has lived for 57 years.
After he decided to write a book, he found things came easier to him after he established chapter titles, which seemed to give him focus. One such chapter is "The Old Mill Race," which contains one of Monty's favorite memories.
"We kids used to tread water at the top of Lock 12 in about 8 feet of water. (Lock 12 is located in what is now the Chestnut Street parking lot.) Most of us could swim but the area was not large so we just treaded water," said Montague, a semi-retired St. Marys attorney.
One day an older kid who the others considered a slow thinker jumped into the water.
"He thought we were standing on the bottom. Unfortunately, he couldn't swim so we had to rescue him. After that we always called him Water Duck," he said. "I still laugh about that."
The book is called "Growing Up During the Great Depression and Beyond" but Montague said kids back then didn't feel "depressed." Some families lived better than others, but that was just the way it was. Kids accepted it all as normal, he said.
In the chapter called "Odds and Ends" the author writes of riding his bike to the picture show in downtown St. Marys. He carried his admission and popcorn money (15 cents) in his mouth.
"Well, I hit a bump and swallowed my money. Of course, I had to make other plans for the day ... Some time later my mother recovered those coins and they were still spendable," he laughed.
The entire 78-page book was written "off the top of my head," he said.
"I simply wrote as I remembered. No research. And, yes, I know there are a few typos. But I told Messenger Press to just leave everything as I wrote it," he said seated on a yellow-flowered sofa in his living room amid an assortment of antiques and travel mementos.
On the dedication page he writes: "The Author begs forgiveness for any misstatement of facts, due to old age, the diminishing ability to recollect things after all these years, and all the water over the dam."
The book is dedicated to his mother, Flora Hertenstein Montague, who was born on the banks of the Miami & Erie Canal. She took pride in being able to recite the alphabet - backwards.
Montague paid for publishing and emphasized he's "not making a penny" on book sales. The books are available at Canalside Book Shop in St. Marys, at New Bremen Coffee & Book Company and at The Book Mark in Wapakoneta.
"I've been please with the reception of this book. So many have called to say they've enjoyed it. In fact, some are ordering issues for all their children," he said.
The author said one reason he wrote the book is that he hadn't run across any of this information in book form. "I guess I just wanted to preserve some of these old times," he said.