Saturday, May 12th, 2007
Redskin boys dash to the top of the MAC mountain
St. Henry captures first MAC title since 2000; Versailles girls win third straight title
By Bruce Monnin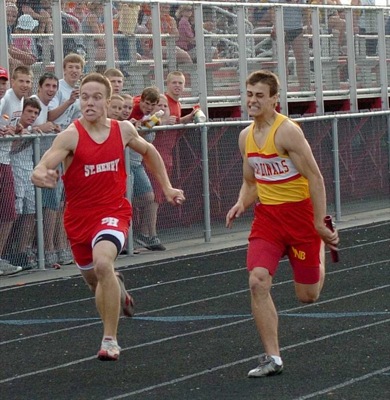 NEW BREMEN - In high school track and field, quite often teams succeed due in a great part to the efforts of just a few exception athletes who dominate their events.
The St. Henry boys used a different method Friday night, as they won only two events en route to a 21.5 point victory over Coldwater at the MAC track meet.
For the boys, St. Henry scored 128.5 points to triumph over Coldwater (107 points), New Bremen (83), Minster (79) and Marion Local (77.5). Versailles won the girls' portion, scoring 121.5 points with Delphos St. John's (96 points), Minster (85), St. Henry (82) and New Bremen (63) earning the second through fifth places.
While they weren't winning many events, the St. Henry boys were scoring high in almost every event, and placing two runners in six of the eight individual events run Friday night. Ryan Huwer helped pull the Redskin train, winning the 200 meter dash, placing third in the 100 dash, helping the 4x100 relay team to a second place finish and anchoring the 4x200 relay which set a new MAC meet record.
The Redskins last won the boys MAC title in 2000, but before that you have to go back to 1982 for their previous championship.
"I think we have a good chance to continue on and do good things next week," stated a very pleased St. Henry coach Michael Eyink. "We're just happy to come out of the MAC on top."
While the St. Henry girls did not win the conference title, they did have an outstanding night. Catie Evers won the 100, 200 and 400 meter dashes (setting a new MAC record in the 400), and the 4x400 relay team also set a new meet record. Each of the four girls on the relay team turned in extraordinary performances - for instance, Evers ran a faster split than her record breaking run in the 400 dash. They were so excited they were still crying and celebrating long after the race.
A teary-eyed Coach Eyink perhaps summed it up best with his exclamation, "That's just awesome!"
Catie seemed proudest of her
(Continued from page 7)

part in the winning 4x400 relay team.
"I was really nervous going into that last relay. I didn't know how we would do," admitted Evers. "But we pretty much kicked butt."
Carmen Moorman also had a great night, finishing second to Evers in the 200 and 400 dashes, while being part of the third place 4x200 relay, and running a great second leg of the 4x400 relay.
"It was amazing," gushed Moorman. "I didn't think I would do that well today, but I just had this attitude that I was going to get out there and keep going."
Coldwater was able to keep close to the St. Henry boys, and much of it was due to their dominance of the distance events. David Wilker won both the 1,600 and 3,200 meter runs (setting a new meet record in the 3,200), but almost as important was the second place finishes in both events turned in by Dusty Kuess. While Wilker was running away with both races Kuess was being hard pressed for second place by St. Henry's Doug Ranly and Dan Rex.
Kuess was particularly challenged in the 3,200 run where the St. Henry duo closed down the gap late.
"I had to keep pulling away from them and sprinting in the middle of the race," acknowledged Kuess. "I've been practicing my kick. I needed it."
New Bremen finished third and continued a recent tradition of scoring high in the hurdles races. After finishing second to Parkway's Jacob Fox in the 110 hurdles (where Fox set yet another meet record) and anchoring the second place 4x200 and third place 4x100 relays, Bryce Bergman put forth a convincing win in the 300 hurdles.
Bryce has been involved in several tight finishes in this race on the season, but this time he bolted out to an early lead on the way to victory.
"This week I have really been working on trying to get out from the blocks quicker," confirmed Bergman, "trying to pick up a step or two on the first three hurdles."
Minster used its first day lead in the field events to hold on to fourth place. Marion Local moved up to fifth, thanks in part to some late points coming from Dale Bruns' exciting come from behind win in the 800 run, Greg Gehret's domination in the 400 dash, and both combining with Jordan Schmackers and Dillon Kremer to win the 4x400 relay which capped off the evening.
The Versailles girls used similar methods to win their conference title. After grabbing a lead in Tuesday's field events, the Tigers scored consistently in most of Friday's events, limiting their losses to runner-up St. John's in the relays and hurdles while also countering third place Minster's strength in the distance events.
In fact, Versailles only won a single event in the running finals, when Mindy Henry set a new meet record to edge out Minster's Brigitte Sherman in the 800 meter run. Sherman had a great night herself, winning the 1600 meter run and then meeting her goal of breaking the meet record in the 800 run, only to finish second to Henry.
Minster grabbed another distance win when Bernadette Burke dominated the field while winning the 3200 run. She jumped out to an immediate large lead as if that was her plan, but she explained otherwise "I just start fast. I get excited at the start," explained Burke. "I just have a goal each race and I try to do whatever I can to get it."
St. John's scored victories in the 4x100 relay, the 4x200 relay and the 300 meter hurdles, but did not have the depth to be able to stay in contention with Versailles.
Parkway's Marian Bevington scored the other area victory at the meet, cruising to a big win in the 100 meter hurdles.
Next week all these athletes start their tournament run at various district track meets.