Friday, December 21st, 2007
Sharing the Christian spirit
By Shelley Grieshop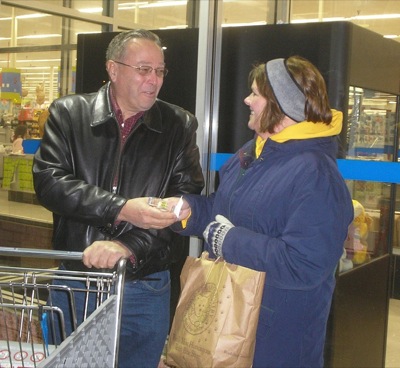 It was a cold and gray evening but a couple hundred rolls of Scotch tape was all it took to break the chill and warm the hearts of Christmas shoppers in St. Marys on Tuesday.
The "elves," members of Wayne Street United Methodist Church in St. Marys, were putting into action their Random Acts of Kindness ministry as they distributed 350 free rolls of tape to customers scurrying in and out of stores at the St. Marys Square Plaza.
"This holiday season we just wanted to give people a simple gift, a roll of tape, a friendly smile and a warm hello," says Angie Myers, who is co-chairing the mission project with Bev Hurlburt.
The idea to do small, simple deeds for others is one the group plans to continue each month. The debut at Christmas time was purely coincidental, Myers says.
"It just happened that when we started looking at our opportunities to see what we could do, the holiday season was upon us," she says. "We do plan on continuing it indefinitely."
The response from shoppers was phenomenal, Hurlburt says.
"What an amazing night. All eight of us loved it," she says. "It was great to see the wonder on people's faces as they discovered we were not asking for money or had any kind of catch."
Several people were definitely caught off guard and shocked by the group's generosity.
"We handed a roll of tape to one mom, and her son, approximately 10 years old, was behind her. His eyes lit up and he said to me, 'Yes! Tape rules! Give me a high five!' And he and I high-fived," says Hurlburt.
A few weeks ago, the group intended to pass out coffee and hot chocolate at St. Marys' WinterFest celebration, but inclement weather and the timing of the rain date canceled the action.
Everyone involved in this week's project is now brainstorming on ideas to do next. The mission clan has high hopes for the project; they heard comments Tuesday night from a Celina church member who was impressed with their idea.
"We are thinking, wouldn't it be fabulous if this idea caught on?" Hurlburt says. "What a wonderful way to share kindness and love for others."
Hurlburt and Myers say they hope the project catches on and becomes a reminder to everyone that random acts of kindness should be done every day, all year long.