Friday, December 21st, 2007
Bulldogs sweep swimming meet
By Gary R. Rasberry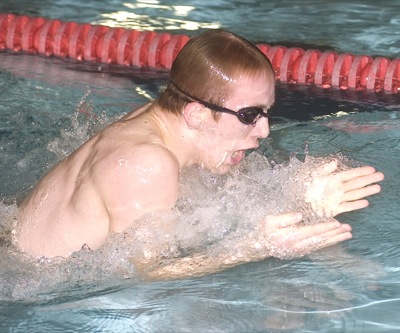 WAPAKONETA - In one of the first tests of local swimming supremacy, Celina showed its mettle while Coldwater showed a lot of improvement.
Celina swept the meet featuring Coldwater, St. Marys, Wapakoneta, St. Henry and Parkway at the Wapakoneta YMCA on Thursday evening.
The WaterDog girls took the title with 125 points while host Wapakoneta was second with 101. Coldwater finished third with 30 followed by St. Henry (27) and St. Marys (25). In the boys meet, the Celina boys dominated with 119 points. Coldwater was a distant second with 64 followed by Wapak's 53. St. Marys (42), St. Henry (12) and Parkway (9) rounded out the team scoring.
In addition to winning all six relay races on the girls' side, Celina also got plenty of individual first-place wins. Kirsten Samples took the 50-yard freestyle title while Ashley Coon took home the fastest time in the 100 butterfly. Paige Mertz captured first place in the 100 freestyle with Courtney McKirnan taking the 100 breaststroke.
For the Celina boys, Dan Hierholzer captured the 100 backstroke while Jay McKirnan took home the 100 butterfly race title. Eric Muhlenkamp completed the Celina victory run with a win in the 100 breaststroke.
WaterDogs coach Matt May was happy about his team's performance.
"I see a lot of improvement out of the beginners. Our experienced swimmers seem to be coming around," said May. "It's getting to the point in the season where we're now getting in real good shape. Times are starting to drop a bit and starting to get close to where we were at the end the year last year. I'm pretty happy with the results.
"It's one of those meets where you try different things, tell kids to race their race a little different (and) tell them to try something different and see what happens, see if it works and learn from it."
The AquaCavs brought home three individual titles in the boys division. Sophomore Sean Anthony brought a pair home, winning the 200 and 500 freestyle races while teammate Courtney Brown earned praise from coach Jeff Knapke with a win in the 50 freestyle.
Knapke, in his first year as head coach of the program, was happy about his squad's effort.
"Kids are doing really well this year. We're dropping some times," said Knapke, himself a former AquaCav. "... I think we'll be okay. We're still a little shy this year with just 22 members, shy of the members we'll need to pick up the points."
The other local winner was from St. Henry as Scott Weitzel took home the Individual Medley title.
Celina hosts Bowling Green and Anthony Wayne on Saturday evening at the Celina YMCA. The next big meet comes December 29 at the Lima Area Swim Coaches Association Holiday Meet at the Lima YMCA.