Monday, March 3rd, 2008
Injury finally too much for Kunk
By Gary R. Rasberry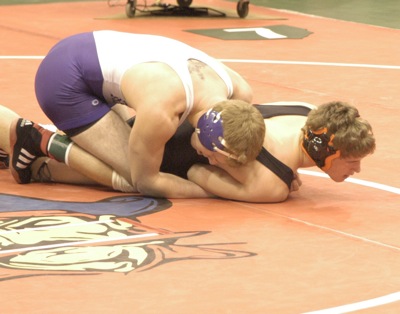 COLUMBUS - There's no questioning the guts of Tyler Kunk.
The Coldwater senior went through the wrestling season with a shoulder injury suffered during football.
Rather than rest the shoulder and miss his last year of the sport he loves, he fought through the pain and made it to the final eight of the 171-pound weight class in Division IV.
But when faced with taking on an opponent for a higher spot on the podium - and risk possible additional injury - or maintaining health, Kunk made what he called one of the toughest decisions.
Kunk opted to take a default in the fifth-place match against Clinton-Massie's Levi Schwab, finishing his season with a sixth-place showing at state in his third appearance at the Schottenstein Center. Kunk ends the season with a stellar 39-5 record.
Kunk had faced Schwab earlier in the season and knew the Clinton-Massie grappler's style of wrestling could cause problems for his shoulder.
"I tried to wrestle Schwab the other week (at the Fairmont District) and it didn't work out," said Kunk. "Just the way he wrestles and I wrestle puts his head on my shoulder. I just didn't want to go out there and have something happen to my shoulder that makes it even worse, so later on down the road I can't even move my arm. Right now, I'm just trying not to have surgery after this season."
Kunk, a true mat rat whose father - served as one of his coaches at state - wrestled at Coldwater and is a junior high coach, knew it was a tough decision.
"It was a hard decision. I'm not the person who just gives in and throws in the towel," said Kunk. "But there's a certain time where you have to. You can't take another match."
Kunk was in line for a possible third-place match as Saturday began as he faced Chase Tucker in the consolation semifinals. Tucker had a 1-0 lead in the third thanks to an escape, but Kunk was working out of the down position and thought he had several chances to get the point to tie the match. The officials, however, thought different and the bout ended up 1-0 to Tucker, putting Kunk in a battle for fifth place.
In the break however, Kunk decided to not risk further damage as he and coach Chuck Alig went to the head judges' table to inform them he would default.
While his last bout didn't pan out as planned, Kunk's legacy with the Cavaliers will be remembered. His 153 wins is the most by a Coldwater wrestler and his 153-33 record (.822 winning percentage) is second on the all-time list.
More important is that Kunk leaves the program on a high. After not having a state placer until 2005 and just two overall, Kunk - along with classmate Nick Uhlenhake - both placed in the same season.
"It's been a long four years. It shows you how great of coaches we have and the progress our wrestling team is making," said Kunk. "Coach Alig and coach (Rob) Schmidt do a great job of getting us ready and prepared for the end of the season. I think our program is on the rise. That's just great to see.
"I look back and I made some mistakes, messed up a few times, but overall I like the way it ended."