Monday, March 3rd, 2008
Treon reaches his goals, and then some
By Gary R. Rasberry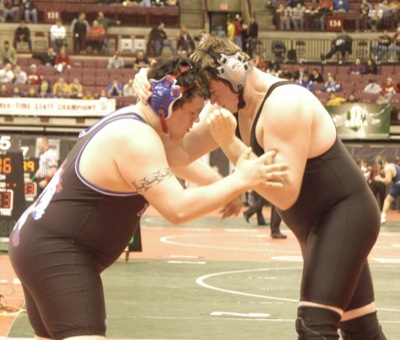 COLUMBUS - For Mike Treon, just getting to state was a goal.
Getting a win at state was another.
Earning a spot on the podium was the icing on the cake.
The Versailles junior finished eighth in the Division III 285-pound weight class, becoming not only the first Tiger placer since 2005 when Dave Bernholt placed fifth at 145 pounds, but the first heavyweight to place at state since Ben Gilmore placed sixth at 275 back in 1995. Treon ends his season at 35-15, the most wins in a season by a Tiger heavyweight.
"I just came here to win a match," said Treon. "I won two and got into the placing (matches) as a junior. Now it's just getting better next year.
"I was here when Bernholt placed. I was an eighth-grader and I came up here to watch. Just seeing that final (bout) brought chills. I just wanted to be out there wrestling."
Treon only wrestled once on Saturday, facing Josh Reynolds of Greenview in the seventh-place match. Through the first two periods, the pair were knotted in a scoreless tie.
In the third period, Reynolds chose the down spot as Treon worked hard to try and turn Reynolds for back points. Midway through, Treon cut him loose, giving Reynolds a 1-0 lead, and tried to get a takedown. Reynolds ended up getting a takedown of his own in the final seconds to get the 3-0 win.
"We wrestled at the Holiday (The GMVWA Holiday Invitational in December) and he knocked me out. There it was about the same thing," said Treon. "There it was 3-2. We're just about the same style of wrestlers: just trying to go the distance. We just can't hold each other down. It's frustrating."