Monday, April 7th, 2008
79-year-old Montezuma 'barber' keeps on dancing and singing for the big show
By William Kincaid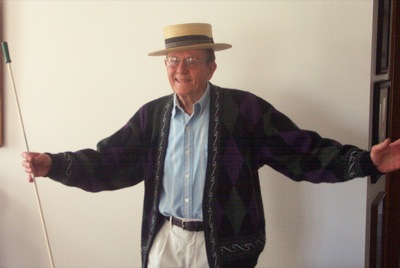 MONTEZUMA - At 79, barbershop singer Bud Preston, with his signature straw hat and cornerstone cane, can still break out a 3-minute soft-shoe dance.
For the last two weeks Preston has practiced his dance - not a tap dance, but what he calls a slow, rhythmic dance - with his son-in-law, Paul Mizer, the former Marion Local Schools band director for 23 years.
Preston and around 26 other members of the Grand Lake Sound Waves are preparing for their annual kickoff concert on April 19 at the New Bremen High School auditorium. The concert, "Remember the Days," will be performed twice, with shows at 2:30 and 7:30 p.m. It kicks off the Sound Waves season of performances at local churches, festivals, picnics and other gatherings.
"Remember the Days" will begin with one of the singers acting as a grandfather telling a baby about the good 'ole days. Sound Waves will perform up to 10 songs, Preston said.
"It's kind of a take off vaudeville," Preston said about the show, selected by the Waves' Director Dale Dicus and a music committee.
The Sound Waves will share the bill with Forte, a barbershop group from Cincinnati, and Ricochet, a comedy quartet from West Virginia. Preston said each concert will last around two hours.
Preston - a charter member of Sound Waves and former elementary teacher and principal at Celina schools - still gets nervous before shows.
"It was June 4, 1990, that about 15 to 20 men gathered at the St. Paul United Methodist Church in Celina," Preston wrote in his history about Sound Waves. "From this small but enthusiastic beginning, it turned out to be full speed ahead."
The group decided there was enough interest in the Grand Lake area to start a chapter of the Society for the Preservation and Encouragement of Barbershop Quartet Singing in America.
Since its origin, the Sound Waves' popularity has grown, which Preston attributes to their performance of the National Anthem at local high school basketball games.
"We get a lot of good publicity out of these basketball schools," Preston said.
The first such presentation was given Nov. 24, 1990, at the then new Coldwater High School gymnasium.
"Although people stood while the chorus sang "The Star Spangled Banner," a true standing ovation was received as the chorus walked off the floor," Preston wrote. "Spectators, coaches, players and even referees shook the singers' hands as they made their way off the floor."
Since 1990, Sound Waves has performed 276 free shows, including such places as nursing homes, hospitals, churches and funerals and 133 paid shows. It is a non-profit organization that uses its ticket proceeds to pay for the group's music, outfits and insurance, among other things. The rest of the money goes to Sing America, Sing Canada - an organization promoting music at schools - and local charities.

Sound Waves show:
What: "Remember the Days," a concert of the Grand Lake Sound Waves, Forte and Ricochet
When: April 19, shows at 2:30 and 7:30 p.m.
Where: New Bremen High School auditorium
Ticket prices: $10 in advance, $12 at door
How to get tickets: Call Bud Preston at 419-268-2184 or any other Sound Waves member