Monday, April 7th, 2008
Celina tracksters have a good showing
By Gary R. Rasberry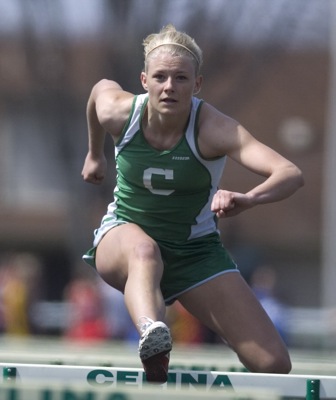 The weather could not have been better for Saturday's Celina Invitational.
The host Bulldogs came up with some solid performances against five other Western Buckeye League teams and finished respectably in the six-team meet.
Defiance, buoyed by its distance crews, swept both the boys and girls titles. Celina's Runnin' Women took a close second, edging defending WBL champ Ottawa-Glandorf by one point.
"For the girls, it's such a balanced competitive league. So many good seniors, especially," said Celina head track coach Dan Otten. "It's definitely a preview. Defiance, I knew they had some good freshmen coming in. They got their veteran distance girls. They've got a lot of events covered.
"Getting second, beating O-G, is kind of nice for us. First time we've done that (beat O-G) for a while."
The Celina boys, with some young runners and throwers, placed third in a competitive field with Wapakoneta finishing second.
"There's a lot of competitiveness (in the WBL)," said Otten. "There's no world-class performances, but a lot of good stuff. I was happy with the boys."
The senior girls paced the Runnin' Women. Julie Snyder had a tremendous day, winning the long jump and high jump in the field events portion, then breaking her own school record in the 100-meter hurdles with a time of 14.89, which is also the track record.
Eryn Langenkamp added the other win on the day for Celina, taking the 200-meter dash with a time of 27.22. Langenkamp also finished second behind Snyder in the long jump, third in 100 hurdles and behind defending Division II state champ Allison Schroeder of O-G in the 300 hurdles.
Distance ace Melissa Roth helped the Bulldogs' cause with a second-place showing in the 3,200 to go with a fourth in the 1,600.
LeAnn Ward added a second-place showing in the discus.
"Our veteran girls did really well," said Otten. "They came through like they're supposed to. We're still looking for young pups who can find their spot in the world.
"Julie did her thing. Eryn had a real nice day. Katie Hague had a good day in the hurdles (fifth in the 100, sixth in the 300). Unfortunately, there's a few other good hurdlers ahead of her (Snyder and Langenkamp). Melissa Roth had a good day. Cayla Hellwarth (third in the pole vault, top four in three relays) and Kelsey Waterman (relays) had a good day, so our veterans really came through."
For the boys, senior Kelby Rosengarten came up big in his specialty, taking the 110 and 300 hurdle titles and adding seconds in the long jump and 200 dash.
Luke Bonvillian added a first in the pole vault, clearing 12 feet for the win. Jacob Archer came up with a win in the shot put, going three feet farther than the runner-up.
In the distance events, sophomore Andrew Goodwin had his first duel against Defiance's Zac Wiles in what could be a precursor of the WBL meet. Wiles won both the 1,600 and 3,200, with Goodwin taking second in the 1,600 and finishing third behind Wiles and Defiance teammate Trevin Flickinger in the 3,200.
"For Andy being a sophomore and doubling (running both the mile and two mile), he's running really well," said Otten.
"I think we're going to get better. Defiance and Wapak were a little deeper than I would have expected. That's good, though."
Celina will make two trips to Hardin County this week, going up Thursday for a dual meet with Kenton before returning to Robinson Field on Saturday for the Kenton Relays.