Monday, April 28th, 2008
Staff members win AP awards
By Daily Standard Staff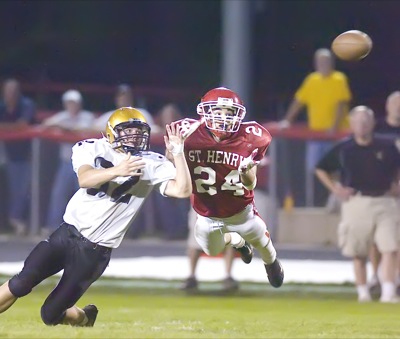 A photographer and a writer for The Daily Standard were awarded first through third place awards at the annual 2008 Associated Press (AP) banquet held on Sunday in Columbus.
Staff photographer Mark Pummel earned a first-place award for best sports photo for an entry titled "Football Catch."
The judge called Pummell's entry the "perfect football photo."
"Every element is in place at this optimal angle for an instant read," the judge wrote.
Pummell also was awarded second place in the category for overall best photographer.
Pummell has been the newspaper's staff photographer for more than 12 years.
Staff reporter Shelley Grieshop took third place out of four entries chosen for the category of best investigative reporting for her two-part series on the local foreclosure scene, which was published in January 2007.
The judge wrote, "Although this is not investigative journalism in the purest sense, it is an outstanding, in-depth, probing look at the Celina-area chapter of the painful American foreclosure saga."
Grieshop has been a staff reporter at the paper for 10 years and covers law enforcement, courts and the health beat. She also does features on various topics and serves as church editor.
More than 3,000 contest entries were submitted to the AP this year from more than 70 newspapers across Ohio. The Daily Standard competes in Division II for newspapers with a daily circulation of 8,000 to 12,999.