Wednesday, February 4th, 2009
Parkway now offering Japanese classes
By Janie Southard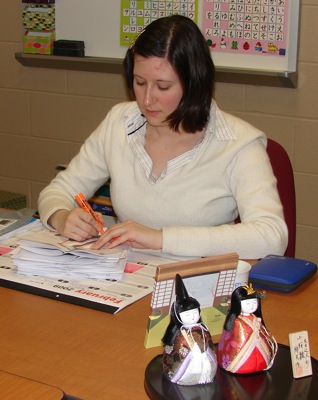 ROCKFORD - Parkway teacher Kimberly McConnell is busy at her desk during her free period working one-on-one with a student. The conversation is lively, quick and almost musical. Actually it's Japanese.
McConnell is fluent in that language and is determined that this first year of teaching at Parkway also will bring her students to an appreciation of the Japanese culture.
"Most colleges teach business Japanese. I want to foster (my students') interest in the culture, in order to sustain them through the boring business Japanese in college," says McConnell, who solely teaches Japanese at Parkway. Last year she worked as a translator for TS Tech in Columbus, which makes seats for Honda.
There's a whole lot more to Japanese than just words, according to McConnell, whose vocational choices included law, art and Japanese language. She ended up at the University of Evansville (Ind.) majoring in art with minors in political science and Japanese.
"The Japanese choice amazed my mother because I didn't do all that well in high school Spanish. I even had a private tutor and I still didn't get it," she says.
Through learning Japanese, she became aware that she is probably dyslexic.
Learning Japanese was much easier for her than Spanish because, as she puts it, Japanese sentences are decided. They are written only one way.
"In English there are many options on how to (construct) a sentence. Sentences in Japanese have only one order," she says, adding the structure variations in some other languages make understanding very difficult for someone with dyslexia.
With three years experience living in Japan after college with the JET (Japan Exchange and Teaching) Programme, McConnell is well versed in the nuances of the culture, for example within the language are several variances.
"There is no universal speech pattern in Japanese. There is the Japanese the women speak, and within that there is polite speech, the way they speak to their family and the way they speak to animals. Men speak in an honorific to superiors, another way for subordinates and family and animals. Above everything else is the way everyone speaks to royalty or customers," she explains.
People acquainted with Japanese customs may have observed that when women laugh they cover their mouths. This is not just a little quirk, according to the teacher.
She says the Japanese have believed for centuries that teeth are unattractive, all teeth not just truly bad teeth.
"Laughing causes teeth to be exposed, so a woman will cover her mouth with her hand so she'll look cute," McConnell says demonstrating with her own hand.
She learned most of her Japanese by immersion with native speakers. Through JET she requested to live with a country family rather than in the city where people are more likely to know English. She demonstrates with a long stream of Japanese with only the words "doll" and "calendar" spoken in English.
"You see how you'll eventually have to pick it up just to survive," she says.
A big indicator of how foreigners can get along better with Japanese employers is how soon the foreigner can get over his "I-need-to-say-something" attitude.
"It's difficult for people to accept that their own opinion doesn't matter. It can only matter if the foreigner is judged to have gained enough expertise to back up his opinion," she says.
Another big tip is that when a Japanese citizen says yes, it means only that he heard you.
"It doesn't mean yes as we understand yes," she says, adding she finally learned to withhold her opinions and suggestions for improvement. She simply did as she was told and was always praised for it.
Although her childhood saw the family moving frequently due to her father's job as a troubleshooter for a pharmaceutical company, the family roots were in Spencerville. She now lives in Rockford.
"We'd come back here for Christmases. Things like Kewpie and Siefert Potato Chips make this area seem like the home that was never our home," says McConnell, who this summer will marry Keisuke Araki, a man she originally met at a coffee shop in Japan during her stay.