Wednesday, February 4th, 2009
Quick start helps Indians past Cavs
By Gary R. Rasberry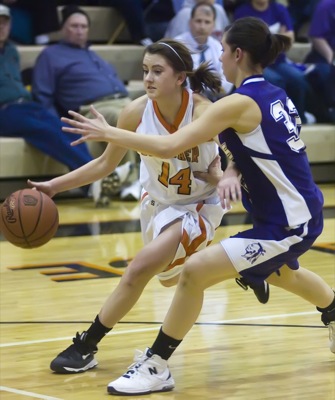 COLDWATER - A hot shooting start for Fort Recovery allowed the Indians to keep Coldwater at bay to pick up a 53-44 win in a rescheduled Midwest Athletic Conference contest at The Palace on Tuesday night.
The Indians improve to 12-3 on the season and 5-1 in MAC action while the Cavaliers drop to 3-12 overall and 1-5 in conference play.
Fort Recovery started off the night by connecting on nine of its 12 field-goal attempts in the opening quarter, a 75-percent clip, while Coldwater struggled on offense in going just 3-of-12 in the opening quarter. Kendra Brunswick had five points while Kelsey Wuebker and Nicole Pottkotter added four each as the Indians led 19-9 after the first quarter.
"That's been our nemesis all year. We'll play three quarters of decent basketball and we'll have one quarter that's not as solid," said Coldwater coach Nick Fisher. "Like we told them: with our schedule, you can't afford to do that. We have to play four quarters."
The 10-point margin would basically be the median for the rest of the game as Coldwater worked its defensive pressure to get back into the game. The Cavaliers got as close as four points at the three-minute mark of the second quarter, only to have Fort Recovery come back and push the lead back up to 29-18 at the half.
"It was a physical game, an aggressive game," said Indians coach Doug Bihn. "We turned the ball over too many times (20). That's something we have to address. We had different people handling the ball, people at different spots. We need to get that cleaned up, hopefully before tournament starts."
Just when it seemed the Indians would put the move on to pull away with three minutes left in the third quarter as Fort Recovery was up 39-25, Coldwater forced a turnover or got the key rebounds - the Cavaliers outboarded the Indians by a slim 34-32 margin - to get back to within single digits. Coldwater was as close as 43-36 with six minutes left in the game before the Indians got back to its 9-10 point cushion for the rest of the game.
"We're proud of the fact that we didn't let that go to a 20-point game," said Fisher. "We kept closing it up."
"We knew it was going to be a tough game, of course, every MAC game is a tough game," said Bihn. "Coldwater's a good team. Their record doesn't show it. They lost a lot of close games. They play hard. Nick's kids play hard and they don't quit."
Joanna Snyder led the Indians with 12 points while Chelsey Leuthold added eight with Brunswick contributing seven. Three other Indians scored six each.
Kara Uhlenhake paced the Cavaliers with 11 points and 12 rebounds.
Fort Recovery has a practice day today before hosting St. Henry on Thursday in MAC play. Coldwater also has a home game on Thursday, hosting New Knoxville.