Tuesday, May 18th, 2010
Icons offer glimpse into Lord's presence
Unique Eastern artwork coming to spiritual center
By Shelley Grieshop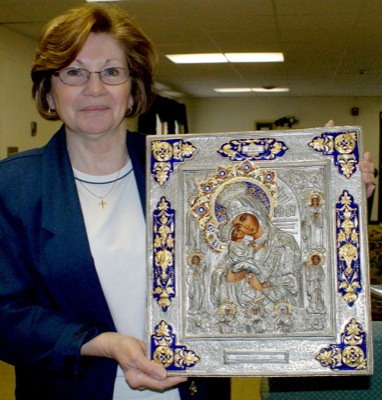 MARIA STEIN - A partnership between the local spiritual center and the University of Dayton is bringing historical art to the Grand Lake area.
Twenty-five pieces of religious art known as sacred icons will be on display at the center in Maria Stein for three weeks beginning Sunday. This is the first time the Maria Stein facility/retreat house has joined forces with the Catholic-based university, which has approximately 50 such icons in its collection.
A sacred icon is a painting created on various mediums that often depicts Christ and the holy family, Sister Jean Frisk, of the university's Marian Library, said. Icon art is unique, particularly in the way iconographers prepare for each project, she explained.
"They must fast, keep silent and pray during the process," Frisk said.
The icons to be displayed at Maria Stein include pictures of Mary and Jesus, and are from various iconographers from all over the world. Some date back to the 1850s and are valued at more than $1,000 each, she added. Many include frames with unusual color, detail and dimension.
Sister Marcia Klawon, an iconographer who resides at the St. Mary of the Angels Convent in Buffalo, N.Y., will be at the spiritual center on June 12 and 13 to explain the art and answer questions. Klawon said the icons are referred to as "written," not painted, because they tell a story.
"They are written spiritual truths in visual form," she said, adding the word icon means "true image."
Klawon has been a Franciscan nun for 65 years. She has completed about 30 icons since 1995, after Pope John Paul II urged Western Christians to become acquainted with the Eastern church art.
"The pope said we have been breathing with one lung and we have to open ourselves to the Eastern church," she explained.
She believes written icons are like "windows."
"We look at Western religious art and it appeals to our emotions. Icons you look through . . .. You get a glimpse beyond what you're looking at and are conscious of (the Lord's) holy presence," Klawon said.
Icons are made according to traditional patterns passed down after their debut in the 4th century. They are not an expression of the artist; true icons are not signed by their creators, she said.
"You don't think about the finished product. You come as a child and focus on each step. You are a servant to the image," she explained. "The true purpose is to bring a person into a prayerful encounter with God."
Klawon calls the art a discipline. It takes her approximately 25 hours to complete each piece and she does it simply "for the glory of God," she added.
Klawon has studied under nine iconographers and now teaches the spiritual art to others.
"I tell my students to 'taste the icon' like it's a great meal," she said.
Spiritual center director Charlene Huff, who traveled to Dayton to retrieve the icons, remains in awe of their beauty.
"We can learn so much about our faith life by experiencing these beautiful pieces," she said. "It truly touches the soul."

If you go:
What: Display of sacred icons on loan from the Marian Library at the University of Dayton
When: 9 a.m.-4:30 p.m. beginning Sunday through June 13, except Memorial Day.
Where: Spiritual Center of Maria Stein, 2365 St. Johns Road
Cost: Free; a freewill donation will be accepted.
Info: Iconographer Sister Marcia Klawon of New York will discuss its history 10 a.m.-noon and 1-4 p.m. June 12 and 13.