Tuesday, September 28th, 2010
Search is over
Celina woman finds siblings after 47 years
By Shelley Grieshop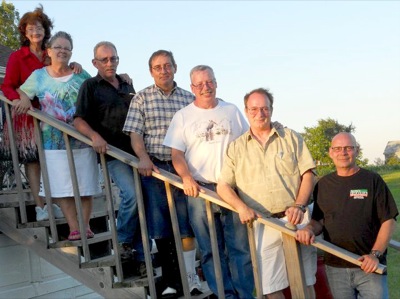 CELINA - For decades, Mary Kay Fries was haunted by a feeling she had siblings somewhere in the world who shared her genes, her facial features, even perhaps her funny-looking toe.
She knew there were at least two - a brother and a sister she had lost contact with more than 47 years ago. After a year of research, she found them and also confirmed her lifelong suspicion: she has seven half siblings, too.
In July, the 60-year-old Celina woman was reunited in Wisconsin with six of the nine.
"I know I just met them, but I feel like I've known them for years," said Fries, as she flipped through a photo album from the summer reunion.
She was just 5 years old when her parents, Robert and Patricia Gingrich, divorced and her mother left to pursue a new life. Fries and her older sister, Linda, were left in the care of grandparents in Troy. Their bed-ridden father lived there, too. He died at the age of 51.
Linda, who now resides in Florida, disappeared after high school graduation.
Younger brother Richard was a mere toddler when the family fell apart. He initially lived with his mother and other relatives but eventually was raised in children's homes in Illinois. His sisters quickly lost contact.
Patricia Gingrich died eight years after abandoning her family. During that short time she married at least twice and gave birth to seven more children who were scattered into children's homes and foster families after her death.
Fries was 13 when she attended the funeral for her 35-year-old mother.
"Truthfully, I have very little memory of that day or my childhood," she said.
It's the absence of memories that brings her to tears. As a child she could only dream about shopping trips and heart-to-heart talks with her mom. The resentment grew as she reached adulthood.
"At work, other women would talk about going out to eat with their mothers and the secrets they shared. I never had that," she said.
Forty-one years ago she married local pastor Larry Fries. She's always cherished the relationship with her in-laws, but admits it never filled the emptiness in her heart.
"I guess I always wanted to know what it was like to feel like part of my own family," she said wiping back tears.
Fries, a home care aide, tried to research her past several times through the years but always hit a dead end. Then, in July 2009, she honed her computer skills and checked out websites like Classmates.com in search of her sister.
"I got two responses right away," she said.
After asking a series of personal questions about birthmarks and nicknames, she knew she'd found Linda.
"What a joyful time that was," Fries said.
The pair joined forces and located their younger brother, Richard. Eventually they made contact with half brothers Larry, Michael and Tim, as well as James, who hosted the first-ever family reunion at his home in Sturgeon Bay. They plan to reunite in Celina in 2012.
That first gathering was initially a bit awkward but the atmosphere quickly changed, Fries said. Hugs and kisses were followed by a steady stream of questions. Everyone was hungry for answers, she said.
"I shared some pictures with my brothers and sister that I had gotten from my grandmother," she said. "Some of my brothers had never seen any baby pictures of themselves or a picture of mother since they were so young when she passed away."
What she found out about her brothers' childhoods shocked her; most struggled to find their way in life. Two of the boys lived on the streets of Chicago for a time, eating out of garbage cans and sleeping in doorways, she learned.
Fries was happy to learn her siblings had - in the end - physically and emotionally survived the fallout of a dysfunctional family.
Michael Atkinson, now 54, spent his younger years at Andover Lutheran Home for Children in Illinois. Today he's a security officer at a jail. He, too, sought out family members at various times in his life but with limited success.
"I did find my brother Jeff and spent a day and a half with him, but then I never saw him again," he said.
Jeffery, Claudia and Clyde Jr. - the three youngest - have yet to be found.
Larry Atkinson, now 56, lives in Orion, Ill. He, too, grew up in a children's home but when it closed he moved in with the couple who ran it. His family history is sad, he admitted, but his focus these days is reuniting the clan.
"Michael and I just got back from a trip to West Virginia to talk to more relatives," he said.
Today the tiniest similarities shared now bind them together as family - even funny-looking toes.
"James has one, too," Fries said proudly.