Thursday, December 1st, 2011
Father, daughter bound with tape, shot
Murder investigation continues
By Margie Wuebker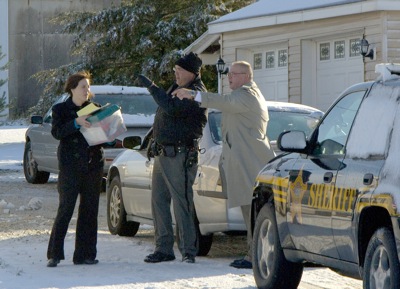 FORT RECOVERY - Solving the murders of a 70-year-old man and his 47-year-old daughter will involve a concerted effort involving law enforcement authorities and the public, Mercer County Sheriff Jeff Grey said during a press conference this morning.
The bodies of Robert "Bob" Grube and Colleen Grube were found Wednesday morning at their 2216 Burrville Road home. The Recovery Township location is between state Route 119 and Fort Recovery-Minster Road.
Grey confirmed the pair had been duct taped and fatally shot. Investigators found no signs of forced entry and no signs of a struggle.
"Items were strewn about some of the rooms as if somebody was looking for something," Grey added. "We do not know at this point what, if anything, is missing."
Colleen Grube was last seen at 5 p.m. Tuesday when she left the home of her brother and sister-in-law, Adrian and Cassandra Grube, after a day of baby-sitting.
Detectives and agents from the Ohio Bureau of Criminal Investigation and Identification (BCI & I) are looking into several possible scenarios of how the culprit or culprits entered the home. They also have not ruled out entry occurred before the daughter had arrived home.
Cassandra Grube made a tearful call to Mercer County 911 shortly before 9 a.m. Wednesday, explaining to a dispatcher she had gone to the home after Colleen Grube failed to show up at her home at 8 a.m. as previously arranged.
When repeated calls to their cells phones and land lines went unanswered, the daughter-in-law put her young child in a minivan and drove to the Burrville Road to check on them.
Sobbing uncontrollably, she told a dispatcher about finding her father-in-law and sister-in-law bound with tape - the man in his wheelchair, the woman on the couch.
She said there were signs of an apparent break-in.
Grey confirmed the victims were found in the same room but declined to identify which room in the two-story frame home. He said no footprints or tire tracks were located in the snow, which began late Tuesday afternoon and continued into the evening.
Investigators did not locate a weapon at the scene and the sheriff declined to say where the victims were shot and how many shots were fired.
"We are keeping some things close to the vest as we conduct a thorough investigation," he added.
Detective Doug Timmerman and an unidentified BCI & I agent were at the Lucas County Coroner's Office in Toledo this morning to witness the scheduled autopsies.
Investigators are hopeful forensic studies will pinpoint the time of death.
"It is going to take the whole community to solve this crime," Grey said in a conference room filled with media and television cameras. "I am confident this case will come to resolution and science will play a part in the solution."
Crucial evidence was taken from the scene, Grey said.
"It is critical at this point to follow the evidence trail," he said. "BCI & I agents arrived shortly before noon Wednesday and processing crime scenes is their area of expertise."
Grey issued a plea to area residents to lock the doors to vehicles and residences. Strangers should not be admitted to homes.
"This kind of stuff is not supposed to happen in Mercer County, and the nice thing about a small community is people realize when something looks out of the ordinary," he said.
Grey asked residents to be aware of strange activity in their respective neighborhoods and to call 911 if they spot anything suspicious.
"Neighbors need to work together to look out for each other's property," he added.
In response to questions regarding burglaries in the area, the sheriff admitted there have been some, particularly at businesses and bars. Investigators do not know at the present time whether there is any tie with the murders of the Grubes.
Anyone who spotted unusual activity in the area of the home after 5 p.m. Tuesday or in the preceding days is asked to call the sheriff's office tip line at 567-890-8477.