Tuesday, June 18th, 2013
Caught in crossfire
Local family on vacation witnesses shooting at church
By Shelley Grieshop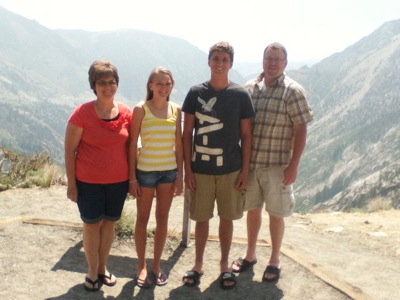 COLDWATER - A local couple on vacation in Utah were three pews away when a man was shot in the head during Father's Day Mass on Sunday.
Alan and Donna Jutte of Coldwater and their two teenage children were unharmed but still in shock Monday after the horrific event in the small Catholic church they randomly chose to attend.
"Everything was calm, normal, then all of a sudden there was this loud bang," Alan Jutte said in a phone call Monday. "I turned around and there was this guy with a gun ... a scary looking guy."
Ogden Police identified the shooter as Charles Richard Jennings Jr., 35; the victim was his father-in-law, James Evans, who remained in critical condition today but is expected to survive. The bullet reportedly struck the 65-year-old man near his ear and exited his opposite cheek as he prepared to kneel.
Jennings - who reportedly entered St. James the Just Catholic Church hand-in-hand with his wife prior to Communion - allegedly fled the scene alone in a pickup truck he had stolen at gunpoint. He was apprehended by officers three and a half hours later in Box Elder County when the truck ran out of gas, police said.
Jennings was booked into jail on suspicion of attempted aggravated criminal homicide, aggravated robbery and illegal possession of a firearm; formal charges are expected today. No motive was given for the shooting. Police are describing it as a domestic relations incident.
"The suspect was specific in the desired target and action," the Ogden Police Department said in a prepared statement to the press. 
Jennings' wife, who reportedly ran from the scene after her father was shot, has not been charged.
Jutte's wife, Donna, and their children, Trent, 16, and Tara, 15, dove for cover under a pew when the shot rang out near the back of the church.
"We were less than 30 feet away," Alan Jutte said, adding the church is slightly smaller than Holy Trinity in Coldwater, where his family attends.
Several parishioners attempted to wrestle Jennings to the ground, including a man in the seat in front of the victim who "leaped across the pew," he said.
Donna Jutte, a registered nurse at Mercer Health, stayed with her children as her husband and others followed the shooter out the back doors.
"We thought maybe he was going to shoot some more," Alan Jutte said.
Jutte paused at the church door and watched as the perpetrator waived his gun around and headed toward the parking lot. No other shots were fired, he added.
Jutte said he was startled to see several people - including the priest - respond to the chaos with guns of their own. He recalled seeing the clergyman down on one knee with a gun in his hand before handing the weapon to someone else.
"That really surprised me," he said. "I thought, 'Wow, I wonder if this happens here a lot?' "
Jutte said the priest anointed Evans - perhaps performing the Last Rites or Anointing of the Sick - before paramedics arrived. Many of the 300 or so parishioners prayed and offered medical support.
The Juttes soon departed.
"We left. My daughter was ready to go home at that point," he said. "It shook us all up and ruined our whole day."
The family - which includes two older children - spent last week in Yellowstone National Park. They are trying to put Sunday's horrific event behind them and enjoy the remaining days of their trip, Jutte said on Monday.
Their presence at the 11:30 a.m. Mass was a simple twist of fate. Their son found the church on the Internet so the family could fulfill their religious obligation, Alan Jutte said.
"It was the location he came up with (that matched) with our traveling time," he added.
- The Associated Press contributed to this story.