Tuesday, June 18th, 2013
Fort Recovery edges Celina in 10 innings
By Gary R. Rasberry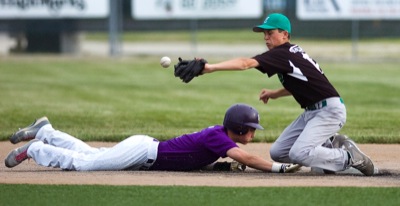 CELINA - Fort Recovery and Celina engaged in a good old-fashioned pitching and defensive duel on Monday night.
After the Indians scored to tie the game at 1-1 in the fourth inning, it wasn't until the 10th before Fort Recovery plated one last run to beat Celina 2-1 in Mercer County ACME action at Montgomery Field.
Celina (3-8) took a 1-0 lead in the bottom of the first when Skylar McCarter scored after a Fort Recovery (7-2) overthrow at first base while trying to complete a double play. Celina added six more hits following two in the first, but Fort Recovery pitcher Jackson Hobbs got solid defense behind him in his complete-game effort on the mound.
"Both teams played great defense. Very few mistakes in this game," said Fort Recovery coach Jeff Wendel. "Like I said earlier in the year, our pitchers pitch to contact and don't walk many guys (Hobbs did not issue a walk and hit two batters). I like our defense and our chances. Great team effort once again."
"It was a great ballgame played by both teams," said Celina coach Todd Steinbrunner. "(Hobbs) did a great job keeping us off-balanced. First inning was the only inning where we had two hits back-to-back when we scored that run."
Cody Vogel, who was limited to designated hitting or playing first base while recovering from a shoulder injury suffered in the spring, made his first pitching appearance of the ACME season for Celina. Vogel was limited to 40 pitches and lasted two innings before Shawn Rose took over on the mound.
Rose gave up the tying run to the Indians in the fourth frame when Jacob Muhlenkamp doubled and later scored on Kent Retz's RBI double. Rose then worked in and out of jams until the seventh inning when the Indians got two runners on base with two outs and was replaced on the mound by C.J. Kimmel. Kimmel got the final out of the seventh and then held the Indians scoreless in the eighth and ninth innings.
"Couldn't ask for anything more from our pitching staff," said Steinbrunner. "Cody got cleared to do some pitching and as a coaching staff we decided to have him on a pitch count. We let him throw 38 pitches and told him we'd let him throw 40. Then we went to Shawn, who continued to throw strikes for us and did a great job. C.J. came in and did the same thing."
In the 10th, Fort Recovery's Blake Boughman, 0-for-4 coming into the at-bat, ripped a double to centerfield. Muhlenkamp then laced a 1-2 offering to centerfield to score Boughman for the go-ahead run before he was thrown out trying to stretch a single into a double. Hobbs and Ben Will then singled before Kimmel prevented any more damage.
"Our 3-4 hole struggled through the night, but with (the game) on the line, Blake had a big double and Jacob came through again with the game-winning RBI," said Wendel. "Just a tremendous effort."
Hobbs enticed Seth Lonsway to ground back to the mound for the first out, then hit McCarter with a pitch. Damon Smith popped out to shortstop for the second out before Vogel singled to put the winning run on base. However, Luebke popped out in foul territory to Muhlenkamp to end the game.
Smith, Vogel and Kimmel each had two hits for Celina.
Derek Backs, Muhlenkamp, Hobbs and Retz each had two hits for Fort Recovery.
Both teams are back in action tonight. Celina travels to Parkway while Fort Recovery will host Marion Local in a doubleheader.