Monday, January 26th, 2015
Local volunteer firefighter retires after 39 years
By William Kincaid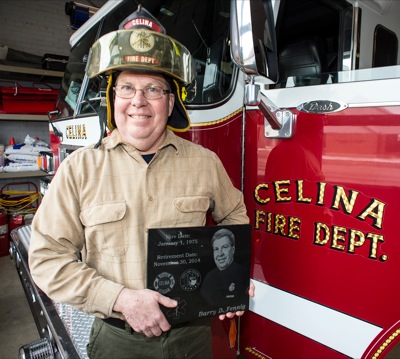 CELINA - For more than 39 years, volunteer Barry Fennig responded to emergency assistance calls throughout Mercer County, whether they came in the middle of the night, during church, at family functions or during work hours.
"I don't consider myself a hero," Fennig said. "Heroes are my dad (Philip Fennig) and all the other veterans that have made us a great country and died for our freedom."
With support from his colleagues, employers and family - he never left the house without kissing his wife, Diane, goodbye - Fennig helped extinguish blazes, such as major fires at Landmark, the Crown Shop and First National Bank. He also helped treat the sick and injured.
Fennig was honored Sunday afternoon during an open house at the Celina Fire Department. City officials, fellow firefighters and paramedics and family members reminisced and congratulated Fennig on his years of volunteering for the fire department and Mercer County Emergency Medical Services.
The Mercer County Commissioners, too, acknowledged Fennig's contributions, last week issuing a proclamation recognizing his countless hours of volunteerism, from Jan. 1, 1975, to Nov. 30, 2014, as both a firefighter and paramedic.
Now 63, Fennig said it's time to slow down, adding he needed to retire to be eligible for state health benefits. He continues to work in the shipping department at Kennedy Manufacturing in Van Wert.
Celina Fire Chief Doug Wolters and full-time firefighter Mike Bruns on Sunday pointed out that Fennig was the first volunteer be certified in both firefighting and EMS duties. Bruns said that was a rather big accomplishment in the late 1970s.
All volunteers now must be both firefighters and EMS.
Unlike many full-time and volunteer firefighters/EMS, Fennig didn't come from a family with a history of firefighting service. Fennig said in his early 20s, a friend recommended he join the department.
Asked if she ever worried for her son's safety, Frances Fennig said, "I always trusted God. He was a good Christian boy."
Ironically, Barry was afraid of heights as a boy, Frances pointed out. He was able to get over that fear through a succession of jobs involving heights.
But he does remember having to climb a nearly 100-foot ladder - one that didn't have the safety railings like today's ladders - to help extinguish a blaze, an experience that was a bit unnerving.
"We train to be prepared to make the situation better in fire and EMS. Yes, at times I've been scared but tried not to show it," Fennig said. "And we do get together later to debrief, especially in tragedies."
Fennig's sister, Tiara Roberts, said people still come up to her to tell her about the times her brother tended to them.
"He's Johnny-on-the-spot," Russell Moorman, a full-time firefighter, said about Fennig's dedication and enthusiasm for the task at hand.
Celina Mayor Jeff Hazel said losing Fennig is a tough blow to the volunteer force because of his extensive experience and expertise.
Many of the firefighters interviewed on Sunday noted the county-wide decline in volunteerism, especially for EMS personnel. Part of the problem, they said, is the time required. Both parents in most families work and often people cannot find the time to acquire the necessary training.
Also, some local businesses - now employing fewer people to do more work - cannot afford to let workers leave the job to fight fires or go on squad runs, according to those interviewed.
"It's hard to get new volunteers because of a lot more training required than when I started," Fennig said. "At Celina we do both fire and EMS."
To further compensate volunteers for their time and to encourage recruitment and retention, Celina officials are considering a raise for the volunteer force. The eight part-time volunteer firefighters receive $9 per hour and some benefits and are guaranteed at least an hour's pay when called. Their last raise in 2008 increased their wages from $6 per hour.
Celina has 16 full-time firefighters. Wolters said he would like to have at least 10 volunteers.
Both Hazel and city councilman Jeff Larmore said they support a raise.