Monday, January 26th, 2015
Panthers snap losing streak
By Dave Stilwell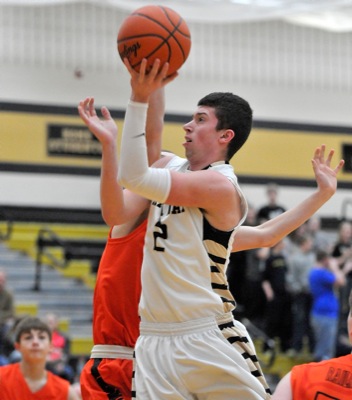 ROCKFORD - A 13-2 run in the third quarter proved to be decisive in Parkway's 53-40 victory over the Bradford Railroaders on Hall of Fame Night at Panther Gymnasium.
The win ends the Panthers' seven-game losing streak. Parkway last won Dec. 23 against Ridgemont.
Bradford rallied from an early deficit to tie the game at 24-all at halftime. However, the Panthers forced several key turnovers in the third quarter and converted at the offensive end to regain the momentum.
"We really tightened up our defense and held them to four points in that third quarter," Parkway coach Rick Hickman said. "We needed a quarter like that because we had given them too many in the first half."
Tanner Bates found his range from beyond the arc early with three first-half treys to help the Panthers build an eight-point lead midway through the second quarter.
But the Railroaders ended the first half with a 10-2 run to tie the game at intermission.
Bradford played very patiently against Parkways' 1-3-1 zone in the first half and tried to slow the game down even more after gaining a brief 26-25 lead early in the third quarter.
"I have to give them credit. They controlled the tempo," Hickman said. "They were deliberate, passed the ball around and did not make many mistakes. We tried to force them into mistakes in that third quarter."
Brody Adams accounted for seven of Parkway's points in a 14-2 run that put the Panthers up 38-28 heading into the fourth quarter.
Bradford briefly cut the deficit to five in the fourth quarter, but Parkway responded with six unanswered points, including nice back-door baskets from Bates and Branson Gibson, to go up 46-35 with 2:51 left in the game.
"I was proud of the kids in the fourth quarter," Hickman added. "They played hard, ran the offense very well, and shot the ball much better than they had earlier in the game."
The Panthers finished the game shooting 54 percent (22-of-41) from the floor, including 6-of-15 from three-point range. The Railroaders did not make a three point shot, getting most of their points in the paint from Drew Patty and Jarrad Crist who scored 14 and 10 points respectively.
Adams paced the Panthers with a game-high 16 points.  Bates was close behind with 15 points and Gibson also netted double digits with 13.
Parkway improved to 4-10 with the non-conference win, while Bradford remains winless at 0-11.
The Panthers will host Minster Friday in Midwest Athletic Conference action.