Monday, January 9th, 2017
Area swimmers shine at Jay County
By Colin Foster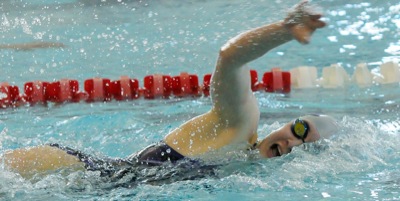 PORTLAND, Ind. - The new kids on the block had big performances for the Celina swimming teams on Saturday at the Jay County Invitational.
So did the Bulldog veterans.
It all added up to a great day for the Green and White in Indiana.
The Celina boys and girls both placed second at the meet. The boys scored 425 points and the girls 389 points. Oak Hill won both divisions, with the boys totaling 486 points and girls 439 points.
Freshmen Justin Fleagle and Keaton McMurray won multiple individual events for the Bulldogs.
Fleagle blew away the field in the 200-yard freestyle, posting a winning time of 1:51.23, more than six seconds ahead of the next closest finisher. Fleagle also cruised to victory in the individual medley with a time of 2:04.70, nearly 13 seconds ahead of the next closest finisher.
McMurray was the best performer in the 100 butterfly with a time of 54.95 seconds. McMurray also swam to a title in the 100 breaststroke with a mark of 1:04.19. Teammate Ian Darras took runner-up in the event with a time of 1:07.10.
Celina occupied two of the top-four places in the 50 freestyle. Mason Baker won with a time of 23.11 seconds. Teammate Garrett Weininger was fourth with a 23.86. Baker struck again later in the 100 free with Baker earning his second top finish of the day (50.75 seconds).
In the 200-yard medley relay, Fleagle, Darras, Grant Guggenbiller and Baker crushed the competition with a time of 1:43.19, more than five seconds better than runner-up Oak Hill.
The result was the same for Celina's group of McMurray, Weininger, Baker and Fleagle in the 200 freestyle relay. The Bulldogs won with a time of 1:30.31. And for good measure, another Celina relay team claimed the title in the final event of the day, the 400 freestyle relay. McMurray, Austin Haines, Guggenbiller and Weininger had a victorious mark of 3:32.65.
"We've got a lot of talent on the team this year," Celina coach Matt May said. "I think when push comes to shove down the road here, we're going to see some spectacular things out of our boys.
"McMurray and Fleagle are really making some waves. I think when you combine that with the strong senior class we have this year, they're going to do some good things at state. It should be fun to watch and see how everything unfolds."
Kenzie Conn and Amanda Slechter were bright spots for the Celina girls as both racked up individual wins. Conn won the 100 backstroke with a time of 1:03.70 and took runner-up honors in the 50 free with a mark of 26.43 seconds. Amanda Slechter was runner-up in both the 200 individual medley (2:26.16) and 100 fly (1:06.19). Duncan was fourth in the 200 IM (2:33.31) Zoe Rolfes placed fourth for Celina in the 100 free (59.47 seconds).
The Bulldog quartet of Slechter, Conn, Rolfes and McKenna Black won the 200 freestyle relay in a time of 1:47.21. Additionally, Conn, Duncan, Amanda Slechter and Black placed third in the 200 medley relay (2:00.13). Later in the 400 freestyle relay, Paige Sutter, Danielle Slechter, Duncan and Rolfes finished third (4:12.10).
In Friday night's diving action, Celina's Sawyer Weitzel had a strong showing, earning silver with a score of 422.70.
"On the girls' side, I think we're looking a lot better than we did last year," May said. "We've got a lot of new freshmen. Kenzie Conn is one of them who is really posting some nice times for us and really bringing some new light to all of our relays.
"Once we get to the end of the season and they're rested, I'm sure they are all going to be swimming great. I'm pretty confident that they'll be back at state."
The Minster girls were the highest-scoring small school in fourth with 256 points. Three big schools were in front of the Wildcats in Oak Hill, Celina and Jay County.
Minster's Kaitlynn Albers was fourth in the 200 freestyle (2:10.93) and teammate Claire Borgerding took sixth (2:16.50). Albers later earned second in the 500 freestyle (6:00.67). Madeline Magoto placed third in the IM (2:32.05) and also earned a fourth-place finish in the 100 fly (1:06.80).
Magoto, Borgerding, Emma Watcke and Albers were runners-up in the 400 freestyle relay, teaming for a time of 4:06.23.
"We are so deep in girls right now, it's awesome," Minster coach Kelly Schulze said. "I actually have a problem; I've got too many fast ones and I can only enter so many."
The Minster boys scored 14 points at the meet and finished 13th. But with many personal bests, Schulze was proud of the effort.
"Personal bests, season bests, lots of dropped time - and not just a little bit of dropped time, full seconds, several seconds, even in short races," Schulze said of the boys.
The Fort Recovery girls finished sixth overall with 175 points.
And it was a big day for Fort Recovery's Alexis Bubp, who broke the school record on her way to winning the IM. Bubp completed the race in a time of 2:23.69. Bubp followed by earning silver in the 100 free (57.64 seconds). The previous record of 2:24 was held by Cori Stone.
Bubp also played a role in the success of Fort Recovery's relay teams.
Cassidy Martin, Sophie Timmerman, Faith Hull and Bubp took fourth in the 200 medley (2:01.36). That same group finished third in the 200 freestyle relay with a mark of 1:48.23.
Martin was runner-up in the 200 freestyle with a time of 2:08.37, finishing just behind Oak Hill's Khloe Price, who completed the event in 2:07.11. Martin also placed fourth in the 100 backstroke (1:06.96).
In the 500 freestyle, Timmerman swam her way to a third-place finish (6:03.47)and then later notched a second-place finish in the 100 breaststroke (1:12.25).
"We were really happy about Alexis breaking the record," said Fort Recovery coach Mindy Bubp. "We had some really good swims in our relays. Sophie Timmerman had a good 500 free and a good 100 breast. She swam her best times in both of those events. Cassidy Martin had her best time in the 100 back, so we had some really good swims. I'm really happy with what they're doing, and our relays are looking really strong."
The Fort Recovery boys team finished ninth in the competition with 87 points, impressive considering the fact that only seven swimmers make up the entire roster.
"Nolan Thobe is swimming really well in the 100 breast and the IM for us," coach Bubp said. "Harrison Kaup is swimming good as well in the 50 free. Our relays are starting to come together as well."
Coldwater's Caleb Keck, looking to reach the state podium for a fourth straight season, was head and shoulders above the rest of the competition during Friday's diving portion. The West Virginia-signee won easily with an overall mark of 489.75.
"It wasn't a PR, but it was another first - a strong first by any means," said Coldwater coach Janelle Miller of Keck, who also finished sixth in the 50 free on Saturday.
Coldwater's Jack Bills earned silver in the 100 backstroke with a time of 1:02.08 and also added a bronze in the 200 IM with a time of 2:20.96 in helping the team to an eighth-place result in the boys' competition with 99 points.
"Jack Bills had a great day today," Miller said. "In the backstroke he ended up dropping a second and the IM was right at his PR. I'm very happy with those times. He's been dropping a lot of time this year in general."
The Coldwater girls finished ninth with 101 points. Mara Tobe had a pair of top-eight finishes in the 100 back (sixth) and 100 free (eighth). The Cavs 200 medley relay team of Tobe, Mariah Bruns, Emily Prenger and Grace Wendel swam a season-best time of 2:05.46 while finishing seventh. The 200 freestyle relay of Tobe, Bruns, Paige Hoyng and Wendel also took seventh.
"Most of the times were right on target where they should be this year," Miller noted. "We had some people who struggled today and we had some people who were outstanding. Paige Hoyng dropped six seconds in her 500 free. That's impressive."
The New Bremen girls were the third-best MAC team in the field behind Minster and Fort Recovery, placing seventh with 167 points.
Among the highest finishers for New Bremen were Ashton Heitkamp and the 200 freestyle relay team. Heitkamp was fourth in the 50 free, securing the spot with a time of 26.84 seconds. The 200 freestyle relay team of Heitkamp, Rachel Kremer, Alana Speelman and Taylor Paul placed fifth with a time of 1:50.13.
The Cardinal boys' team placed 11th with a grand total of 62 points.
The St. Marys boys placed 10th after racking up 74 points. The Roughrider girls were 11th with 29 points.
St. Marys' Kyle Lucas was third in the 100 breast (1:07.16) and also placed fifth out of 23 competitors in the 200 free (2:03.36).
Marion Local finished 12th in the boys competition (45 points) and 14th in girls (14 points).
"We had a good second half of the meet," Flyer coach Scott Smith said. "The breast strokers did really well. Alex Partington, Seth Pierron and Jonathon Schmitz all did well for the boys in the breaststroke. Hannah Kramer, Vivian Garmann and Emily Brunswick all did well in the breaststroke, too. The relays did well. The kids have really been working really hard and they're probably a little tired. We've got to keep pushing them and see what happens here.
Another highlight for Marion Local was the coach's son, Paul Smith, dropping 15 seconds in the 500 freestyle en route to a personal best time of 6:48.41.
St. Henry placed 12th on the girls side with 26 points. Julia Beyke had a good outing for the Redskins, placing fifth in the 50 free with a time of 26.98 seconds.