Friday, October 20th, 2017
Catholics, Lutherans reaching out
Faithful learn about their counterparts
By Ed Gebert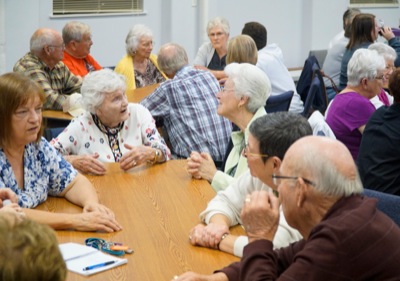 CELINA - The tables filled up quickly as two local congregations' members, many of whom had grown up being told not to associate with people from "that other church," mingled at tables in Immaculate Conception Church's Parish Activity Center.
Almost 500 years ago, a young monk named Martin Luther raised some objections to the Roman Catholic Church. Eventually, Luther's objections led to the Protestant Reformation. The Catholic Church was split into those who remained loyal to the pope and those who followed Luther's teachings, or Lutherans.
The split has remained wide for most of the 500 years since, but lately more conversation has arisen between Lutherans and Catholics as the 500th anniversary approached.
In November 2016, the congregations of Immaculate Conception, led by the Rev. Ken Schnipke and of St. John Lutheran Church, led by the Rev. Jeffery Gramza, began a local conversation based on those being held around the world.
This yearlong series of conversations has led to closeness and Christian love between the people of the two congregations, they said.
"I think what both of our churches learned over the years is that there is more that unites us than divides, and my hunch is that there was kind of a battle of wills when Luther and the archbishop were going back and forth in the original conflict. Both dug in and held their ground," Schnipke said. "What we have learned is that there were a lot of years that we didn't talk as churches as a whole, and it's been more in the last 50 years or so that I think we've started talking and dialoging. And as we dialogue. we gained a greater understanding of one another, and we're not so much 'other' as we are similar."
Gramza agreed.
"What I have experienced is that, as we have talked, foundationally our faith is the same. Salvation by grace through faith. That's what it's all about," Gramza said. "We express some things in different ways, but for the most part, our theologies are very close, our practice of the faith is very, very similar. So as Father said, we are far more alike than we are different."
The conversation and discussion have continued over the past 12 months, culminating with Thursday's meeting, entitled, "Lutherans and Catholics on the Road Again - Another Look at old Things, new Things, Common Things and Last Things," and a joint prayer service scheduled for 7 p.m. Thursday at St. Lutheran (the Purple Door Church) in Celina.
At the PAC meeting, members of the two congregations mixed freely and laughed amid serious discussion and questioning. After a quick introduction, those assembled around the tables engaged in small-group discussion for about 10 minutes before Schnipke and Gramza answered questions about the beliefs of the two denominations and explained their distinctive doctrines. Touched on was each church's teaching on the Eucharist, the number of sacraments and the place of marriage, beliefs about the saints and the role of tradition in Catholic doctrine as opposed to the Lutheran belief that all doctrine must have a Scriptural basis.
Both Schnipke and Gramza concurred that the discussion has succeeded.
"I think we've been pretty successful here with the group that we've had. There was a hunger out there for people to know one another and know what this conversation is about. It's about learning about each other with new eyes and open eyes," Schnipke said.
He also noted that members of the group were familiar with one another through the community. A few families are part of both congregations, and several youth from Immaculate Conception attend youth group at St. John.
"Maybe the only real change is that people have seen how similar we are. Because I think at an intellectual faith level, they didn't realize that we were that close. Many of the historical anecdotes that we have like, 'I wasn't allowed to date a Catholic girl,' or whatever, we're already at a point that we're sort of laughing at those and saying those are past. And I think, for the most part, they are," Gramza said. "But there was another level we had to get to where we haven't just moved beyond hating each other, now we've actually joined hands and we love one another, and we're nurturing one another and supporting one another's ministry and participating with one another in mission and outreach and those kinds of things,"
After some consideration, Schnipke declared that perhaps "success" is not the right word for the program.
"I'd probably use the term that this has been 'blessed.' It's been a blessing kind of interchange. I think that people have raised questions that they haven't thought about before," Schnipke said.
Gramza noted that his only disappointment was that the two churches have not yet reached the goal of sharing Communion together.
"I think that ultimately the goal in the Vatican and the goal for the global Lutheran Church is that by 'this date' we would have been at the table together. And they're still talking that this is the primary goal, but we're not there yet," Gramza said.
Although nothing has been planned past next Thursday's combined service, both Schnipke and Gramza said they are open to more group events and projects. For now, this will be the final step in the ecumenical efforts. Gramza said that it will be a great time of fostering unity between the two congregations.
"It's not a Communion service, because we're not there yet. So it will be a time of singing and celebration. There will be a portion for remembering the way that we have slandered one another and hurt one another, and not been faithful to one another," he said. "Then moving forward into some imperatives, making promises to one another before God that we are moving forward in new relationships, nurturing one another, blessing one another, caring for one another, supporting one another."