Friday, October 20th, 2017
Soaring Flyers
Marion outlasts Fort Recovery in five sets
By Gary R. Rasberry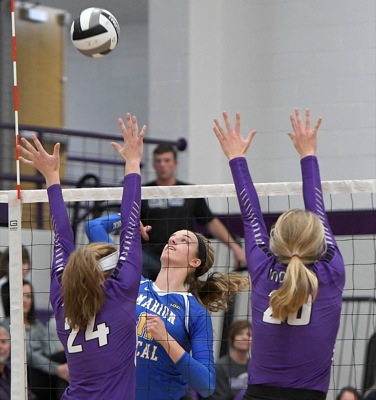 FORT RECOVERY - Volleyball fans from Marion Local and Fort Recovery each had plenty to cheer about during Thursday's Division IV tournament battle.
The Flyers dominated the first two sets before the host Indians rallied back with two strong efforts in the third and fourth sets to force a deciding fifth set.
Marion senior hitters Kara Evers and Kylie Albers stepped up in the final set to help the Flyers come away with a 25-16, 25-23, 9-25, 16-25 and 15-8 win at Fort Site Fieldhouse to advance to next week's Van Wert district against St. Henry in the late match. The first match pits top-seeded New Bremen against Ottoville.
The Flyers (14-10) dominated from the start of the first set and had the Indians on their heels. Marion jumped out to a 9-1 lead and never looked back even as the Indians managed to close the gap to as many as five at one point.
"I thought we came out with a lot of urgency and played very well from the get-go," Flyers coach Erica Schulze said. "I'm definitely happy how we started in set one."
The second set was back and forth with the Flyers winning by two, but Indians coach Chelsea Kahlig acknowledged her team was starting to pick up steam.
"The second set was huge. We just let a couple errors get to us," Kahlig said. "Winning that set would have been the difference maker. We had a trend starting in the middle of the season starting bad. When you get down 7-1 in the beginning of the first (set) against a traditionally-good school in this environment, you'll pay for it."
Fort Recovery (19-4) turned the tide in the third by giving Marion a taste of its own medicine from the first set. Paige Jutte and Carley Stone found their hitting stroke and the blocks started producing results as the Flyers were held to single digits.
"We knew Fort Recovery was never going to give up," Schulze said. "Going into sets three and four, they played well and executed well. They dominated."
The Indians started pulling away from the Flyers in the fourth set during Madison Rammel's service run as Fort Recovery jumped out to a 9-4 lead. Later, Cassidy Martin served up several big points to push the lead to 18-11. Hitting and serving errors stymied the Flyers as the Indians leveled the match at two sets each.
Fort Recovery got the serve to start the fifth set, but Albers quickly put the Flyers in front 1-0. Evers followed with a kill to make it 2-0 before the Indians scored. A stuff-block by Martin tied the set at 2-all, but Evers tallied the kill to put the Flyers in front. A hitting error by the Indians made it 4-2 and then a kill by Evers made it 5-2 and forced Kahlig to call a timeout.
Fort Recovery was able to get back the serve on the ensuing play and a Brooke Gaerke stuff cut the deficit to 5-4, but Marion held tough and kept the lead as Taylor Huelsman served up two big points - both coming via Fort Recovery miscues. Later, with Morgan Heckman serving, Adaline Mescher tallied a block to make it 13-7 and then Albers had back-to-back kills for match point and match winner to send the Flyers into celebration mode.
"We knew going into (tournament) if we were going to make a run, we'd have to earn our points," Schulze said. "It was huge to have two seniors (Evers and Albers) step up and get those huge kills in the fifth set."
"We had girls that played well," Kahlig said. "Brooke Gaerke (11 kills and six blocks) probably played the best game of her career.
"We really didn't have an answer for Evers. When we played them earlier in the year, we handled her. That's what won us the (regular season match), honestly, four weeks ago."
Evers finished with 15 kills with Albers tallying nine kills and Mescher six kills. Natalie Rethman had 22 assists and 14 digs with Carrie Fesenmyer adding 28 digs.
Martin finished with 14 kills and five blocks. Stone added 12 kills and 11 digs. Kiah Wendel recorded 27 digs and Rammel dished out 41 assists.