Saturday, July 28th, 2018
Area teams play at Ruschau Classic
By Colin Foster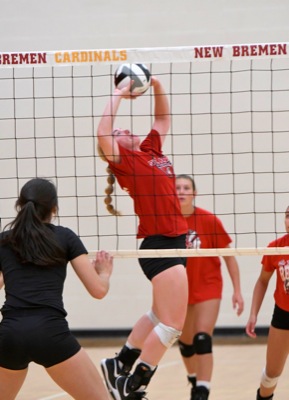 NEW BREMEN - The Mark Ruschau Summer Classic featured a classic championship battle between a pair of programs led by friends and former volleyball associates Tricia Rosenbeck and Diana Kramer.
Rosenbeck's St. Henry squad defeated Kramer's New Bremen team two games to one in the title tilt. The Redskins won the opener 25-20, lost the second 19-25 and then took the final set 15-9.
"It was a great tournament - every team that was in it was tough," Rosenbeck said. "Going through pool play, we were really up and down, but once we got to the tournament, my girls really turned it around and played consistently. I was proud of how we played. We beat some really good teams."
The tournament field was made up of 12 teams, including Versailles, Celina, Marion Local, Fort Recovery, New Knoxville, a second New Bremen team, Delphos St. John's, Minster, Anna and St. Marys. The top eight teams in pool play reached the championship round. Celina, Versailles, Fort Recovery, Anna, New Knoxville and Marion Local were among the participants. But it was an All-MAC Final Four, with the Redskins topping the Rangers in one semifinal and the Cardinals beating the Indians in the other.
This was the third annual edition of the Ruschau Classic. Ruschau was a longtime Daily Standard sportswriter and New Bremen resident who passed away in 2014.
"It's a great tournament," said Kramer, who had coached with Rosenbeck at St. Henry before helping New Bremen win a state title last year. "It's a great way to end the summer as we get ready to go into the season. It's early. It's always interesting to see what each team is going to have early on. It'll be interesting to see how each team progresses throughout the season. But this tournament is for a great cause in Mark. I know that he's very proud of all these teams. He's a big sports fan. There is a bigger cause for why we were playing today.
"It was just a good day. Good volleyball, and it should be a fun and exciting year."