Tuesday, August 14th, 2018
Fire destroys area motorcycle shop
By William Kincaid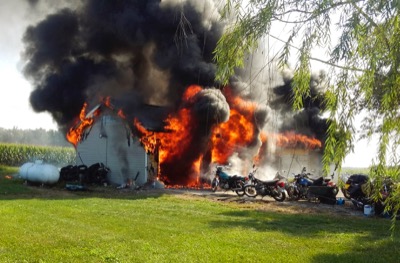 CELINA - A motorcycle customizing and repair shop was deemed a total loss after a fire broke out and gutted the garage on Monday night, according to Coldwater Fire Chief Bret Forsthoefel.
No one was injured during the blaze at Tim Hagar's One Eye Customs, 5632 Fleetfoot Road, but the shop sustained damages estimated at $200,000, Forsthoefel told the newspaper this morning. He said the business is insured. Several motorcycles were lost in the fire.
The Coldwater Fire Department was called to the scene at 5:03 p.m.
"(A person) was working in the shop on a motorcycle when the carburetor backfired, caught on fire," Forsthoefel said.
The worker tried to put out the fire using an extinguisher, but the flames grew too big, according to Forsthoefel.
Forty firefighters from Coldwater, Celina, St. Henry, Burkettsville and Montezuma fire departments responded to help extinguish the flames.
Firefighters, Forsthoefel said, left the scene at about 7:30 p.m.
During the fire, firefighters were able to remove and secure 25 gallons of racing fuel from the garage. The fuel, he said, could have exploded into a massive fireball if it had ignited.