Tuesday, August 14th, 2018
Celina boy's pig tops Ohio State Fair record
By Sydney Albert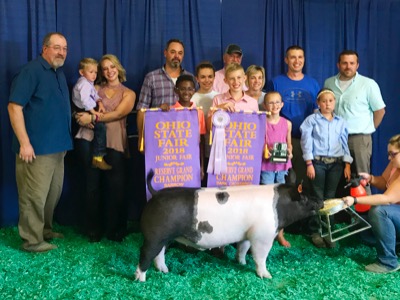 CELINA - Several children from Mercer and Auglaize counties placed well in the Ohio State Fair, with one local boy breaking an auction record for his barrow.
Grant Adams, 11, Celina, worked hard for weeks to raise his pig, Deuces, so when he received the ribbon for reserve grand champion, it was a "pretty big deal."
All the time feeding, washing and walking with his pig seemed to impress others at the fair, too. His barrow sold for $33,000, a record for the reserve grand champion, according to a state fair news release.
The pig was purchased by a consortium including Bob Evans Farms, Kale Marketing, Ohio Harness Horsemen's Association, Ohio Farm Bureau, Event Marketing Strategies and Huffman's Market.
The grand champion Swiss cheese, produced by Pearl Valley Cheese Co. to represent the seven dairy champions and supreme dairy showmen, also sold for a record $28,000.
Of the seven dairy champions, three were from the Grand Lake area: Marissa Topp of Auglaize County won Grand Champion Ayrshire, Abigayle Dicke of Mercer County won Grand Champion Guernsey and Madeline Topp of Auglaize County won Grand Champion Red and White. Madeline Topp also was named as supreme showman for the first week of the fair.