Wednesday, September 5th, 2018
Living with Alzheimer's
Area residents fighting for their loved ones, others
By Sydney Albert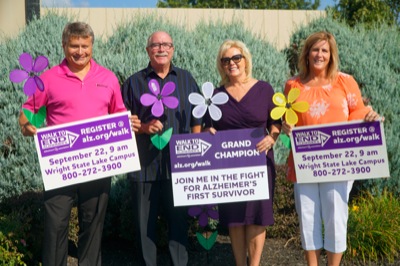 CELINA - Alzheimer's disease is challenging for both those affected and their families, which is why several local people dealing with the affliction are dedicated to improving the lives of others.
Alzheimer's is the sixth-leading cause of death in the U.S., and roughly 5.7 million Americans are living with the disease according to Alzheimer's Association information.
After Anna Katterhenry's mother had been diagnosed, she watched the woman she'd long admired and who had been the rock in her family start to change.
A hard-working woman with a creative soul, her mother found Alzheimer's to be no easier to face. Diagnosed in her late 60s, her mother had hidden the news from her children, Katterhenry said. It wasn't until a physician had insisted she start bringing someone with her to appointments that the truth came out. For a long time, her mother lived in denial, and her father helped cover up the condition.
As the illness progressed, her mother started to become frustrated when she couldn't remember how to do things she had always done such as cooking and making coffee. She had even begun to wander at night. After Katterhenry's father had a heart attack, her family was forced to find an Alzheimer's care unit for their mother. She was in and out of the unit for eight years until her death.
According to Katterhenry, watching her mother progress through the disease was like losing her twice. It was an experience she wouldn't wish upon anyone else, which is why she and several others in the Grand Lake region are raising money for a cure.
Katterhenry and her husband are on the Grand Lake Alzheimer's Committee, which organizes the third annual Walk to End Alzheimer's. The 2018 Grand Lake Walk to End Alzheimer's will be held Sept. 22 at Wright State University-Lake Campus. Proceeds go to researching a cure for the disease, but Katterhenry said other resources will be available to provide information about the disease.
Access to resources can improve patients' quality of life, which Dan Muhlenkamp, another committee member, said is important until a cure can be found.
Both of Muhlenkamp's parents were diagnosed with early onset Alzheimer's, but their experiences differed greatly. His father lived in denial of his disease and was bitter, angry and afraid before he died. Still, Muhlenkamp said he likes to focus on the positive aspects of life such as how his mother handled Alzheimer's.
His mother always said she wanted to do the best with the hand she'd been dealt and wanted to make things easier for her children and grandchildren. She didn't hide from the disease and did everything the doctors recommended, such as keeping a diary and taking her medication.
When his mother was admitted to an Alzheimer's care unit, Muhlenkamp remembers he made a habit of singing and dancing with her at the end of every visit. He couldn't sing, but neither of them cared, and it was a pleasant way to say goodbye. This ritual continued for years when one day his mother turned to the nurse after their dance and asked who Muhlenkamp was.
The nurse immediately came up to ask him if he were OK, and Muhlenkamp replied that he was. At that point his mother was 81 years old and confused, but she still enjoyed life enough to dance with a smile on her face with someone she didn't know.
For Muhlenkamp, re-
searching a cure is important, but he also wants to find ways to improve the lives of those living with the condition. Cognitive tests can help identify the disease but no surefire way to get an early diagnose exists. He believes the sooner people come to terms with their disease and get treatment the more likely they will be to have a better quality of life.
He also hopes that by spreading information on Alzheimer's and its early signs, people find it easier to recognize the symptoms.
Talking about whether and when Alzheimer's patients want to be put into a care facility are hard subjects, but both Muhlenkamp and Katterhenry recommended having the discussion. It can help ensure the patient's quality of life and ease the guilt of family members, who may be unsure about taking that step.
Kim Krugh, another committee member, has struggled with guilt after she placed her mother into a facility. After her father, who had been her mother's primary caretaker, died, the responsibility fell to her. It was hard, and Krugh said she reached a point when she started to feel depressed. Yet now that her mother is in a facility, Krugh thinks she's doing well.
The disease still affects her - she has trouble forming sentences, and she may say she wants to go home, but she has no idea where home is - but Krugh thinks that being surrounded by trained staff trained has been better for both of them.
Support groups are available locally. One meets at the Mercer County Council on Aging building in Celina at 6:30 p.m. on the second Tuesday of every month. Another meets at Otterbein in St. Marys at 1 p.m. the fourth Thursday of every month. Katterhenry also recommended alzconnected.org as a resource for those struggling with Alzheimer's or their family members.
Registration for the Sept. 22 walk at the Lake Campus will start at 9 a.m., and the walk will begin about 10 a.m. Participants may walk the full two miles around the campus or they can walk as far as they feel comfortable. Representatives from local Alzheimer's groups and care units will be available to answer questions and offer resources. A kid zone and a pinwheel flower garden also will be set up.

Walk set:
WHAT: 2018 Grand Lake Walk to End Alzheimer's
WHEN: Sept. 22, registration at 9 a.m., walk at 10 a.m.
WHERE: Wright State University-Lake Campus