Thursday, December 6th, 2018
CAPT donates $200K to Tri Star program
By Tom Stankard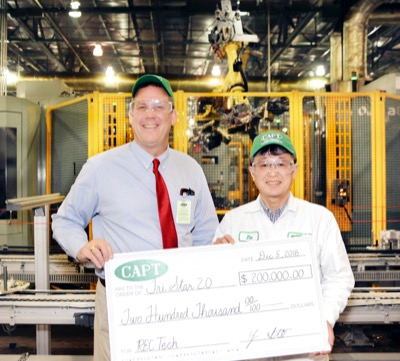 CELINA - A donation from Celina Aluminum Precision Technology will allow Tri Star Career Compact educators to better prepare students and adults for manufacturing careers.
CAPT officials on Wednesday morning presented a $200,000 donation to Tri Star Director Tim Buschur to be used to purchase robots for the school's robotic, electronic and computer technology program, Buschur said.
"This will be a great boost for the program," he said, adding it will benefit both students and those who take adult education programs. "Students and adults will be able to have the latest technology to train with."
"In turn it will allow CAPT to have a great workforce and continue to grow what they've done for years," he added.
"Supporting the community is one of our missions," CAPT President Yutaka Ito said. "Supporting the younger generation is important for the future of the community and our future as well."
The robots will be installed in Tri Star's new facility expected to be ready at the start of next school year.
Construction of the facility remains on schedule as crew members have been busy installing windows on the $25 million building located along State Route 703 across from Wright State University-Lake Campus, Buschur said.
REC tech is one of Tri Star's fastest-growing programs, Buschur noted. The program three years ago had 16 students enrolled. This year, 36 are enrolled with some on a waiting list.
"With our new facility, we will take up to 50 students (in the REC-Tech program)," he said. "That alone will help local companies like CAPT to have a workforce."
Skills learned in the program can be used in the automotive industry, CAPT Vice President Tom Rable said.
"You need the technical mindset to be able to maintain the automated equipment," he said.
The new Tri Star facility will house all 15 programs and allow for future growth, Buschur said.
Not many young people are interested in manufacturing careers, Ito said. This is a problem, Buschur added, because manufacturing is one of Mercer County's biggest industries.
To help, he wants to get elementary and middle school students more aware of what Tri Star does and the "great jobs available in the community," Buschur said.