Thursday, December 6th, 2018
The return: Mikesell fully healthy and having fun again
By Colin Foster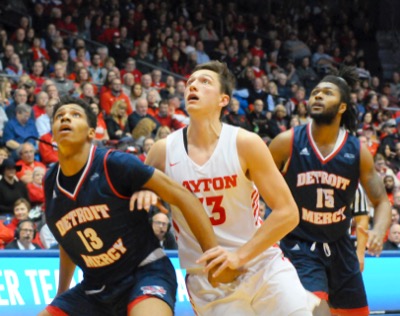 DAYTON - University of Dayton Arena had 12,700 fans in attendance for Tuesday's game with Detroit Mercy.
And the Flyer faithful cheered loudly when the announcer introduced starter No. 33, from St. Henry, Ohio, Ryan Mikesell.
The 6-foot-7 redshirt junior missed all of last season after having undergone two hip surgeries to repair impingements, but he has returned to play pain free and is having fun again.
He and the Flyers had a lot of fun Tuesday.
Mikesell totaled 10 points, five rebounds and three assists, and redshirt freshman Obi Toppin put on a dunking clinic - with eight slams and a career-high 22 points - as the Flyers laid a 98-59 drubbing on Detroit.
Dayton had 30 assists on 37 made field goals, outscored Detroit 54-22 in the paint, held a 42-24 edge in rebounds and used a 16-0 scoring run to put the game out of reach by halftime.
"What'd we finish with 98 points?" Mikesell said. "We had 30 assists. It's a lot of fun when the ball's moving like that and everyone's getting involved."
The Flyers improved to 5-3 and ended a stretch of three straight close losses, all of which came to teams ranked in the Associated Press Top 25. They will get a shot at another Top-25 team Saturday, visiting No. 8 Auburn.
Two years ago, Mikesell averaged 5.7 points and 3.9 rebounds per game for the Atlantic 10 champions and NCAA tournament qualifiers. He wasn't in the lineup during the 14-17 campaign in 2017-2018 but believes they have the pieces in place this year for another tournament run.
"The goal is A-10 championship and NCAA tournament," Mikesell said. "That's what you come to Dayton for. You don't come to Dayton to be average. You come to Dayton to be great.
"We just have so many guys who can get out and run in transition," he continued. "It's a lot of fun. Our defense helps out our offense. If we can get stops, we can get out in transition and that's when we're our best. When you have athletes like that, it opens up a lot for myself. They have to help, make sure there's no dump-down dunks, and I get open 3s in the corners and wings. It kind of all ties together. It's a lot of fun. These guys are young, and they're hungry."
Mikesell's return to the court was far from easy. He played with pain throughout his sophomore season. After the Flyers' loss to Wichita State in the NCAA tournament, Mikesell met with a surgeon and was diagnosed with hip impingements, also known as femoroacetabular impingement (FAI). He was told that if he didn't have the bone-shaving procedure done soon, hip-replacement surgery may be required by the time he reached his early 30s. Mikesell had the first surgery done in May 2017 and then returned to Columbus for the second surgery a month later.
Seven months after his surgery, Mikesell resumed basketball activities on a limited scale, which included ball-handling drills, jumping exercises and shooting. A month later, he participated in non-contact activities at practice and slowly began to work his way back to full strength.
"I feel a lot better out there - that's the biggest thing, because my sophomore year, I was in a lot of pain," he said. "I would be out there playing, but I wouldn't really be focused necessarily on that just because I was in a lot of pain. Just being out there playing with no pain is refreshing."
Two years ago, Scoochie Smith, Charles Cooke, Kendall Pollard and Kyle Davis were the upperclassmen and leaders. It's a role Mikesell has taken on this season.
"I kind of lead by example, but now with this group of guys, there's only a few upperclassmen, so we not only have to lead by example and also talk to the younger players and make sure they're up to standards and make sure they're mentally OK," Mikesell said. "If they have questions, you answer them and just try to help them out. It's kind of the same thing with how Scooch, Kyle and all those guys helped me.
"I got my butt kicked in practice my freshman and sophomore years by Scooch and Kyle and Kendall, all those guys," he added. "That only makes you better. When I'm out there now, I'm more comfortable and confident because I've played a lot of games at this level."
Not only is Mikesell back to having fun on the court, but he's also having his best season. No. 33 is averaging 9.8 points and 4.9 rebounds while shooting 56 percent from the field and 42 percent from long distance.
"My outlook on the game is so much different now," he said. "I sat there last year and I couldn't play, so anytime I can play in front of crowds like this, I'm going to take full advantage of it, because one day it's going to end. I'm just going out there, staying hungry and having fun. That's been my approach."