Saturday, December 8th, 2018
Six injured in crash
SUV carrying Coldwater swim team members strikes tractor
By Tom Stankard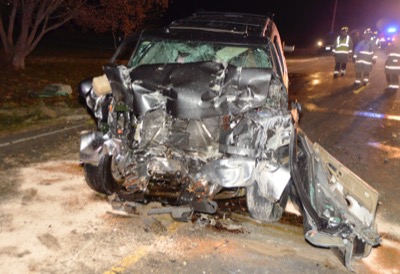 BUTLER TOWNSHIP - Six people were injured when an SUV carrying Coldwater High School swim team members struck the back of a tractor on Fleetfoot Road at about 7:30 p.m. Friday.
Emily Prenger, 17, Coldwater, was driving a GMC SUV with four passengers southbound on Fleetfoot Road between Buschor and Younger roads, Mercer County Corrections Capt. Doug Timmerman said.
Her vehicle struck the rear of a tractor operated by Hubert Homan of Coldwater, Mercer County Sheriff's Chief Deputy Gery Thobe said. The impact knocked the tractor onto its side, Timmerman noted.
Coldwater Fire Chief Brent Forsthoefel said Homan appeared to be in critical condition.
The SUV's occupants were heading home from practice at the Auglaize/Mercer Counties Family YMCA North Branch in Celina. Prenger was pinned in the vehicle and appeared to be in critical condition, Forsthoefel said.
Freshman Laci Schritz was sitting in the front passenger seat, Timmerman said. Freshmen Brianne Burrows, Naomi Cervantes and Keaton Freeman were sitting in the second row.
Timmerman said Burrows appeared to be in serious condition while the others apparently had less-serious injuries.
Homan, Prenger, Burrows and Cervantes were transported to Mercer County Community Hospital in Coldwater. Freeman and Schritz were transported to Joint Township District Memorial Hospital in St. Marys.
Homan, Prenger and Burrows were taken by helicopter to Miami Valley Hospital in Dayton, Timmerman said, noting a hospital spokesperson told him they were in serious but stable condition.
The SUV occupants apparently were using seatbelts as some had burns from the belts, Forsthoefel said.
Thobe said he didn't know if the tractor's safety lights were on when the accident occurred.
Neither speed, alcohol nor drugs have been determined to be factors in the accident, Timmerman said. He was unsure if either driver was distracted when the accident occurred.
The SUV's front end appeared to be completely demolished with parts scattered across the roadway, while the tractor was turned onto its side. Fleetfoot Road was reopened about 10:30 p.m.
Thobe said the accident remains under investigation, and no more information was available at press time.