Saturday, December 8th, 2018
'Dogs start fast, fend off Cardinals
By Colin Foster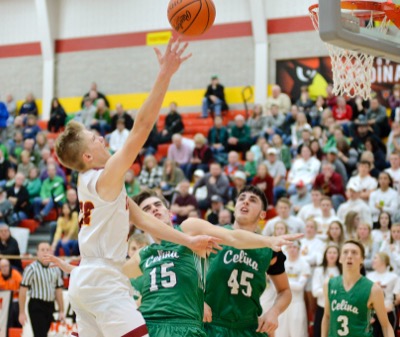 NEW BREMEN - Celina coach Jay Imwalle watched New Bremen rally to defeat Kalida last week.
"Kalida got up 8-10 points twice on New Bremen, and New Bremen fought back," Imwalle said. "That's what we talked to the kids about all week. We knew they weren't going to go away. They were not going to quit."
The Bulldogs didn't allow the Cardinals to stage a comeback Friday.
Brett Schwieterman scored 14 of his game-high 18 points in the first half as Celina built a big lead and didn't let New Bremen closer than nine the rest of the evening in a 60-41 victory at Cardinal Gymnasium.
Celina (2-0) had a 19-4 lead by the end of the first quarter, with Schwieterman leading the way with eight points. Corbin Murphy came off the bench to provide six points in the frame for Celina and Austin Okeley added five.
"I thought we did a pretty good job of executing our offense and taking good shots," Imwalle said. "Brett's got his feet set, and I think the majority of them were inside-outside shots, which we encourage them to take, because you've got your feet set and you're ready to shoot it."
New Bremen (1-1) cut the score to 22-10 early in the second quarter after a three-point play by Patrick Wells, but Schwieterman followed with 3s on consecutive possessions - his third and fourth of the half - and Celina took a 30-14 advantage into the locker room.
The Bulldogs shot 6-of-9 from behind the arc in the first half. On the flip side, the Cardinals were 0-of-7 from deep.
"They shot the ball really well," New Bremen coach Brad Francis said. "I don't know what they hit - to me it felt like they hit seven of their first eight or eight of their first nine. I don't know exactly what it was. We knew they were capable of that. You can fight and scratch and claw back when you're down seven, eight or nine, but it's a little different story when you're down 15."
Nick Wells and Mitchell Hays hit 3s early in the third quarter, and the Cardinals went on to cut the lead to single digits at 37-28. But Murphy collected an offensive rebound and hit 15-footer at the buzzer to put Celina back up by double digits.
"Our goal was to get it to single digits by the end of the third quarter and we had it there for about 10 seconds," Francis said. "We just had a couple balls not go our way. Not going to sit here and cry, but little things just seemed to not go our way on those 50-50 balls. Sometimes that's your own fault."
Okeley helped the Bulldogs increase the lead in the final period by scoring 12 of his 17 points.
"One thing we've talked about the last couple weeks is don't think, just react," Imwalle said. "Tonight I don't think we did a lot of thinking. We just did a lot of reacting, and when you do that, good things happen."
Austin Cotterman and Murphy added eight points apiece for Celina.
Patrick Wells had 11 points to lead New Bremen. Nolan Bornhorst and Hays each added nine points.
Celina travels to Toledo Bowsher tonight. New Bremen is off until Friday when it opens Midwest Athletic Conference play at New Knoxville.