Friday, April 26th, 2019
Tri Star receives $100K donation
Peoples gives funds for project
By Tom Stankard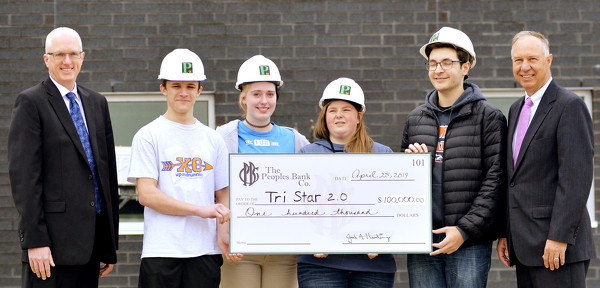 CELINA - Peoples Bank officials on Thursday donated $100,000 for Tri Star Career Compact's new 2.0 facility being built on State Route 703.
Bank president Jack Hartings and president-elect Dan Broering presented the check to Tri Star Director Tim Buschur and interactive media students. The money will help fund the Star Room, which will be used for hosting community events and adult education classes.
"We're pleased to be a part of this," Hartings said.
Buschur led check presentation attendees on a tour of the new facility, noting the Star Room is intended for the whole community, not just Tri Star students.
"This is a community center, and we're all about the community because it's our lifeblood," Hartings added.
Peterson Construction crew members have completed 65 percent of the $25 million project located on 15 acres across from Wright State University-Lake Campus.
Fanning-Howey Associates designed the 100,000-square-foot facility to resemble a corporate office rather than a traditional school building, Tri Star Assistant Director Brian Stetler has said. It will consolidate the compact's 15 career programs under one roof with 19 classroom and laboratories.
Having all students in one central location will take the quality of their education to the next level, Hartings said.
Interactive media students Jayden McEldowney, Danielle Hall, Libby Keck and Riley Muhlenkamp said they're excited to take classes in the new facility next school year.
Taking classes at Tri Star helps them prepare for college and meet new friends they wouldn't normally meet, Hall said.
Support from the community has been "amazing," Buschur said, as several companies in addition to Peoples Bank have made donations to the project totaling $1.9 million. Other funding comes from a 15-year, 0.95-mill bond levy passed in 2016 by 79% of Mercer County voters and 69% of Auglaize County voters. The state will cover $8 million of the project's cost with the levy covering remaining $17 million.
"It shows support we have and the needs for these type of jobs," Buschur added. "It's a testament to the kind of people in this community."