Monday, September 23rd, 2019
President Trump, Australian prime minister visit Wapakoneta business
Trump takes credit for business investment
By William Kincaid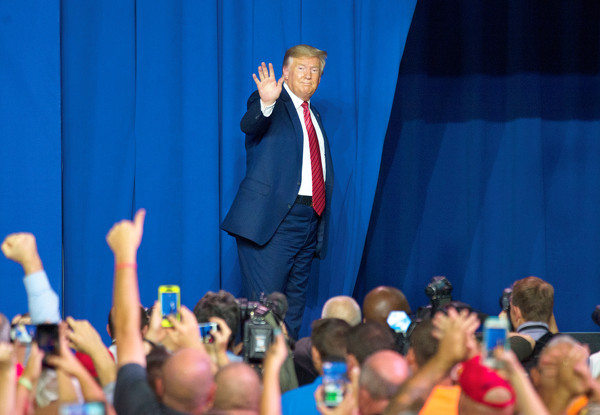 WAPAKONETA - President Donald Trump said Australian-owned Pratt Industries' investment in the United States and its new paper mill and corrugated box factory in Wapakoneta is a victory for American workers, manufacturing and jobs.
"Today we celebrate the extraordinary economic partnership between our nations, and we proudly declare that Pratt Industries and this great, great state of Ohio is open for business," Trump told an enthusiastic crowd on Sunday evening after touring the mill with Australian Prime Minister Scott Morrison.
Trump stayed mostly on script during his roughly 20-minute address, using the event to highlight what he called the restoration of America's manufacturing might and efforts to strengthen the enduring bonds between the United States and Australia under his administration.
Pratt Industries has pledged to invest billions of dollars in the United States and create 5,000 new jobs here over the next decade, Trump said.
"This massive new investment is made possible by the historic tax cuts and tax credits that we signed into law," Trump asserted. "We lowered our business tax from the highest anywhere in the developed world to one that is extremely competitive, even considered pretty low."
Since then American companies have brought $1 trillion back onshore, Trump continued, saying there's never been a better time to hire, invest, build and grow in the United States.
"Every day we're seeing more products roll off the assembly line stamped with that beautiful grouping of words - 'made in the USA,' " Trump said.
Trump said foreign-owned companies invested an additional $250 billion in American in last year alone, with more than $3 billion coming from Australia, which he described as an important ally and trading partner.
"Unlike so many other nations, Australia upholds the principles of fair and reciprocal trade," he said.
Trump said he's done exactly what he said he would when he promised to fight for Ohio jobs and workers, claiming the state is enjoying its lowest unemployment and the most success ever.
"Companies around the world are realizing there's nowhere they'd rather be than right here in the American heartland, and there is no worker more skilled than the American worker," Trump said.
Pratt Industries Chairman Anthony Pratt credited his plans to invest in the United States to Trump's economic polices.
"Mr. President, if it wasn't for your presidency, this mill would not be here today," Pratt said.
Trump said the Wapakoneta mill will recycle discarded paper into 400,000 tons of high-quality new paper and more than 300 million boxes without cutting down a single tree, "proving that we can protect and grow our economy at the same time."
"When this plant is fully operational, hundreds of Ohio workers will have full-time jobs with quality health care, retirement benefits and really great wages," Trump said, adding that one-fourth of the mill's employees are veterans.
Earlier in the day, in Texas, Trump joined Indian Prime Minister Narendra Modi to highlight the growth of U.S. exports to India and billions of dollars spent by India on U.S. defense equipment. Neither mentioned trade tensions.
Deafening drums marked the entrance of Trump and Modi as they clasped hands and walked across the stage in a packed Texas stadium, sending a message of unity between the world's two largest democracies.
The president also discussed border security, an important campaign issue in Texas, which shares a border with Mexico.
"We are taking unprecedented action to secure our southern border and stop illegal immigration," Trump said.
About 50,000 Indian-Americans attended the "Howdy Modi!" rally in Houston, where the crowd chanted "Modi! Modi! Modi!" as the prime minister took the stage to introduce Trump as "my friend, a friend of India, a great American president."
- The Associated Press contributed to this story