Wednesday, October 9th, 2019
Nature walk turning 50
By Sydney Albert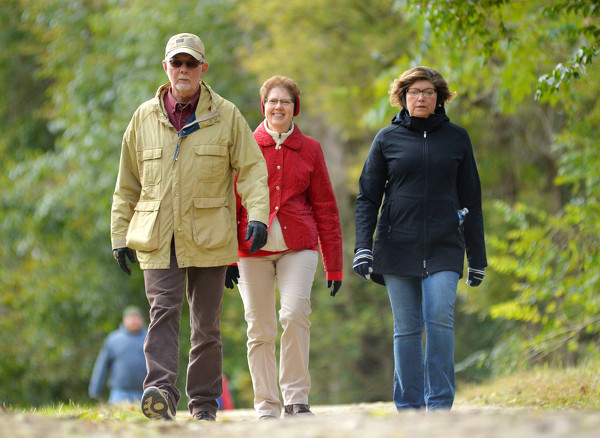 ST. MARYS - The 50th annual Walk with Nature Fall Festival will be held from noon-5 p.m. Oct. 20 in Memorial Park, giving families and nature lovers a chance to enjoy the Miami-Erie Canal towpath trail and the activities of a fall festival.
The event dates back to 1969, when local lawyer Eldon Montague thought it would be nice for people to get exercise and find some community spirit by walking the canal together and seeing what the community had to offer, said Stan Davis of the St. Marys Kiwanis. Montague headed up the event for years, but now it is organized collaboratively by the St. Marys Kiwanis Club and the Heritage Trails Park District.
Over the years, it has become more than just a walk along the canal. Davis said about 10 years ago, organizers began to include elements of a fall festival. It started with serving hot dogs, then a food booth was added and over time the event grew to include a farmers' market, Civil War re-enactors, pumpkin painting for kids, music in the gazebo and a craft fair.
The Walk with Nature is a great family festival, Davis said, and the activities are all free. The only thing people need to buy is anything that catches their eye from the vendors. With good weather, the event usually draws about 1,000 people to walk the trail, and another 500-600 who like simply to peruse the activities and vendors in Memorial Park.
For those interested in walking the canal, handouts will be available at the registration tent in Memorial Park. Organizers ask for registration only to keep track of how many participants attend each year, Davis said. Participants can get points for the Road to Fitness Challenge organized by Grand Lake Health System.
It's a neat walk with a lot to see, Davis said, and people can walk as far as they like along the towpath trail. Dogs are welcome so long as they are on leashes, and shuttle buses will regularly pick up and drop off people at 40 Acre Pond and Lock 14 Park.
The Shifferly Road Band will provide music at the gazebo this year. They're newcomers to the event who play modern blues, country, classic rock and pop songs, a shift away from the bluegrass bands usually playing at the festival, Davis said.
Activities such as the farmers' market; arts and crafts for kids, including pumpkin painting, sponsored by the St. Marys Public Library and Arts Place; the Civil War re-enactors; and craft fair will take place in Memorial Park. A car show will also be held at the High Street Shelter House parking lot.

If you go:
WHAT: Walk with Nature Fall Fest
WHEN: Oct. 20, noon to 5 p.m.
WHERE: Memorial Park, St. Marys