Wednesday, October 9th, 2019
Bulldogs sweep rival St. Marys
Feel-good win
By Colin Foster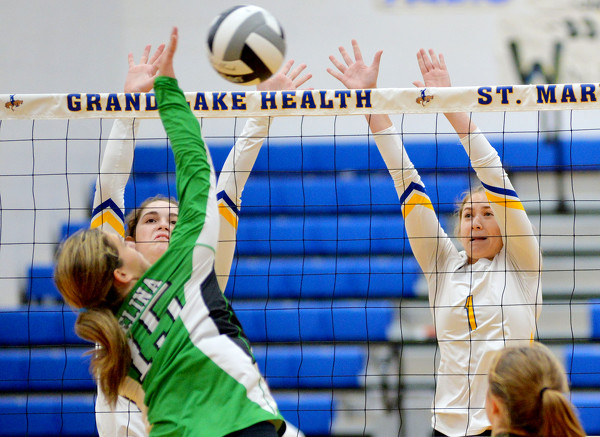 ST. MARYS - Celina has endured a season of ups and downs.
But a win over Grand Lake rival St. Marys on Tuesday left Celina coach Amy Sutter feeling rather chipper.
"It always feels good beating that team across the lake," said a smiling Sutter after a 25-21, 25-18, 25-23 sweep at Murotech Court. "I think we played with a lot of confidence and we didn't let some of our mistakes rattle us like they have sometimes in the past. I think that's kind of a growth thing for us."
The Battle of Grand Lake featured three competitive sets. The Bulldogs (9-12, 5-3 Western Buckeye League) were just better at finishing.
Abbie Young had an ace as part of a 3-0 service run to open the game for St. Marys (8-13, 4-4 WBL). A kill by Amelia Lutz and an ace by Allison Brown put Celina on the board. The Bulldogs took their first lead at 8-7 following a Samantha Carlin ace and a Roughrider hitting error. Leah Walter followed with a couple of kills with Claire Bertke adding a spike and a block as St. Marys reclaimed a fourth-point lead at 16-12.
The Roughriders just had no answer for Brooklyn Bourne and Emma Guggenbiller in the end. Bourne's third kill of the set tied it at 19-all and then Guggenbiller sent Celina ahead with a kill of her own. Bourne and Guggenbiller each had five spikes for scores in the set, with Bourne also adding a set-clinching ace.
"That first set we were able to be in it most of the game and be up, and it was just kind of in that final part where we let go of our leads," St. Marys coach Madison Broering said. "The outcome didn't go the way that we wanted to. We need to be able to play consistently throughout the set. When we get to point 25, we have to be able to execute and finish."
Brown and Carlin each collected their second aces as Celina opened up a four-point lead early in set two. A couple kills apiece by Walter and Carly Caywood helped St. Marys stay afloat, though. Walter's third kill pulled her team within one at 12-11. A Bertke blocked tied it on the next volley and Walter's fourth kill gave St. Marys its first lead since 2-1.
The Roughriders couldn't hold on.
Bourne followed with a five-point service run. Celina turned that 13-12 deficit into an 18-13 lead as Guggenbiller and Maria Lutz capped the run with back-to-back kills. Kayla Brunswick added a couple clutch kills to help Celina secure a 25-18 win.
The third set was tied at 2, 3, 4, 6, 7, 8 and 9. Celina and St. Marys then traded 5-0 runs to tie it up at 14-all. The Bulldogs had another run in them, though, to go back in front by a handful thanks to kills by Amelia Lutz, Maria Lutz and Brunswick. St. Marys rallied back to within one at 24-23 on a spike by Addison Lauth, but Maria Lutz ended it with her eighth kill of the night.
"We had a couple hitters really hit well," Sutter said. "Kayla Brunswick hit that line really well. Brooklyn Bourne had a good night.
"I did get a chance to scout them and we stressed trying to serve really strong to keep them out of system a little bit more," the Celina coach added. "I think we did that. We avoided the libero. We had a strategy and it worked."
Bourne had a match-high 10 kills for Celina. Amelia Lutz and Kayla Brunswick added seven kills each. Carlin tallied 34 assists and 11 digs with Rose McGohan chipping in 15 digs.
Caywood matched Bourne's game-high with 10 kills for St. Marys. Walter added eight kills, Cherissa Priddy dug up 14 in the back row and Young dished out 14 assists for the Roughriders, who were playing without one of their top hitters in Samantha Ackroyd due to injury.
"We definitely missed having Sam," Broering said. "She's a great player, did a great job hitting from the outside and being aggressive. We kind of experimented last night with different options. Haley Felver came in tonight and I thought she did a great job of being smart, putting balls in court and still being aggressive."
Celina hosts Van Wert on Thursday. St. Marys visits Defiance.