Saturday, October 12th, 2019
Group not shy about gun safety legislation
By William Kincaid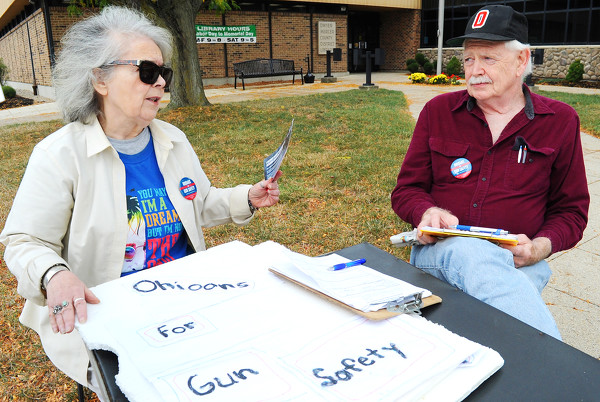 CELINA - Local political activist Cheryl Davis said almost everyone she has talked to at various events for the last several months has agreed to sign a petition that would close state loopholes in background checks on gun sales.
Though Davis and fellow activist Dave Linn are active in the Mercer County Democratic Party, they insist that the push for common-sense gun background checks is not a solely partisan movement.
Rather, the call for action has cut across party lines as many believe that something must be done to curb gun-related violence plaguing the nation, the pair asserted.
"I think more people are taking it more seriously now. People that probably wouldn't have signed it last year did because of the two shootings that happened right in a row there," Linn said about common-sense gun background checks while referring to back-to-back shootings in El Paso, Texas, and Dayton that left 31 people dead. "A lot of Republicans have signed without question."
Davis, Linn and others this summer have been gathering petition signatures on behalf of Ohioans for Gun Safety, which describes itself as a statewide grassroots group that aims to make Ohio "a safer place for our children and grandchildren through common-sense background checks for gun safety."
They've staked out spots in Celina at the downtown farmers' market, near the lighthouse, at the Mercer County Fair and now, in front of the library. They'll be back out in front of the library today from noon-4 p.m.
"We've done really well for a rural county … I think it's a good movement. We did great at the fair. That was right after the Dayton shooting," Davis said. "Every place I go I have (the petition) so if I see people I know I'm like, 'Hey, come sign my petition!' "
The group seeks to change Ohio law to require background checks on virtually all gun sales, according to The Associated Press. They say the proposal would close a loophole allowing sales without background checks at gun shows or between private individuals.
"Basically, if you're buying a gun, there needs to be a federally licensed dealer involved and they need to run a background check," the Ohioans for Gun Safety website reads. "Also, federally licensed dealers must conduct background checks on private sales the same way they would if they were selling a gun out of their own inventory under current law."
Exceptions to the proposal would be transfers between family members and transfers of antiques, curios or relics, as well as temporary transfers for the specific purpose of hunting and to a federally licensed gunsmith for repair, according to the website.
Should the petition advance, it would first ask Ohio lawmakers to enact universal background checks. If lawmakers decline, the petition could be presented directly to voters, according to The Associated Press.
Linn said the ultimate impetus behind the petition is to pressure the state legislators to act. If they fail to do so, Ohio's voters would do the job for them.
He believes if people want to buy a firearm they should be subjected to background checks to ensure they're not a risk to society. What he finds particularly disconcerting is strangers making firearm transactions in parking lots with absolutely no oversight.
"Especially when you can shoot 45 people in 34 seconds or whatever," he added. "Other people look at it differently."
However, Linn made clear that he supports Americans' right to bear arms.
"This has nothing to do with coming to take your guns. I've got a .22 (caliber) rifle," he said.
As Davis and Linn made their pitch to passersby in front of the library on Friday morning, they piqued the curiosity of Bret Jones. The 60-year-old mechanic from Rockford considers himself a proud gun owner and sportsman. He acknowledged the problem of mass shootings in American.
"This stuff's got to stop, these shootings. Kids from our age, did any (from) our era ever go into a school and start shooting? We carried guns to school … because we were going hunting after school," Jones said. "That's the most horrible thing that ever could be. To think somebody walks into a school and kills a bunch of kids. There's nothing worse."
Yet he expressed ambivalence on what may be the solution.
"Honestly, folks, I don't know what the true answer is," he admitted.
The three then engaged in respectful discourse.
Linn said the proposal is a starting point for meaningful change.
"If you could reduce it by 2%, it's 2% of less people that will be injured or killed," he said. "I'm not saying that this is the only way. Nobody knows for sure. You 'vegot to take a step. You can't just say, 'let it go, nothing you can do,' (and) wash your hands."
Davis too voiced frustration with the prevalence of gun violence in America.
"Some of the stuff that has been going on with the guns is very scary," she said. "I don't know. I don't know what the answer is. I don't know why our society has become so violent. But maybe we've always been violent."
Regardless of whether a person signs the petition, Davis said the advocacy has proved to be an excellent way of opening up a civil dialogue between people with varied convictions and beliefs.
- The Associated Press contributed to this story.