Saturday, October 12th, 2019
'Cats romp 'Skins
By Bruce Monnin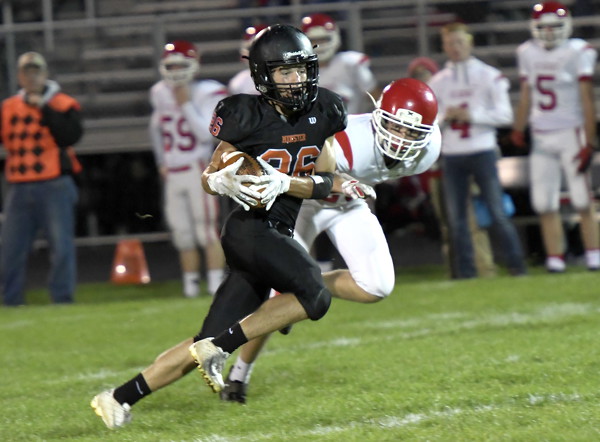 MINSTER - The St. Henry Redskins had dominated the Minster Wildcats in their matchups the last three years, winning those games by an average score of 33-12. This time, the tables were turned, as Minster dominated St. Henry in every aspect of the game while compiling a 45-7 victory on Friday night.
"I just liked out energy," Minster head coach Geron Stokes said. "We had a bounce to us tonight that I haven't seen in a while. We looked scrappier than we've been."
The Wildcat defense started the game on the right foot, forcing the Redskins to a three and out on their opening series. After a short punt, Minster needed just one play, as Jacob Niemeyer connected with Trent Roetgerman on a short pass. Roetgerman proceeded to rip through the St. Henry defense for a 44-yard touchdown.
The Wildcats needed only two plays on their next drive. Niemeyer hit Brendan Bornhorst for a 68-yard pass to the Redskin one-yard line. Alex Schmitmeyer ran it in on the next play.
The third Redskin possession was ended by a Schmitmeyer interception. Minster was more deliberate this time, using three plays to score. It was Niemeyer to Roetgerman for a 57-yard scoring strike to make the score 21-0 at the end of the first period.
"Niemeyer's getting comfortable," added Stokes. "We have to get him more comfortable. We needed people to make plays tonight, and guys did."
The second quarter was similar to the first, as Minster scored three more times. The first came on another Niemeyer-to-Roetgerman connection, this time from seven yards out. Niemeyer scored the next touchdown on the ground, running in from 26 yards out. Schmitmeyer capped the half with a one-yard score, making the Wildcat advantage 42-0 at intermission.
Much of Minster's success came from their dominance of both sides of the line of scrimmage.
"Sam Werling has never played left tackle before, and he played there all night tonight," praised Stokes. "It was a big time response by him. I'm really proud of all our guys."
The second half featured a running clock and one highlight for each team. The Wildcats ended their opening drive with a 33-yard field goal into a driving headwind by kicker Bryan Falk.
"That was the only reason I put him out there, to see what he had," explained Stokes. "That was a heck of a response by him."
St. Henry earned its only score of the game in the fourth quarter when KJ Jacobs rushed for a 49-yard touchdown, thus providing the final 45-7 score.
Schmitmeyer was the game's leading rusher with 106 yards and two touchdowns on 16 carries. Jacobs countered for St. Henry with 97 yards and one score on 22 carries.
Through the air, Niemeyer needed to complete only 9-of-14 passes to rack up 224 yards. Roetgerman was his favorite receiver, catching four passes for 122 yards and three touchdowns. Bornhorst added another 91 yards on three receptions.
Minster's record is now 6-1, and the Wildcats hit the road next week to face 6-1 Marion Local. St. Henry's record drops to 1-6, and the Redskins will host the 2-5 Fort Recovery Indians.