Friday, October 18th, 2019
Panthers fall, Redskins roll
By Colin Foster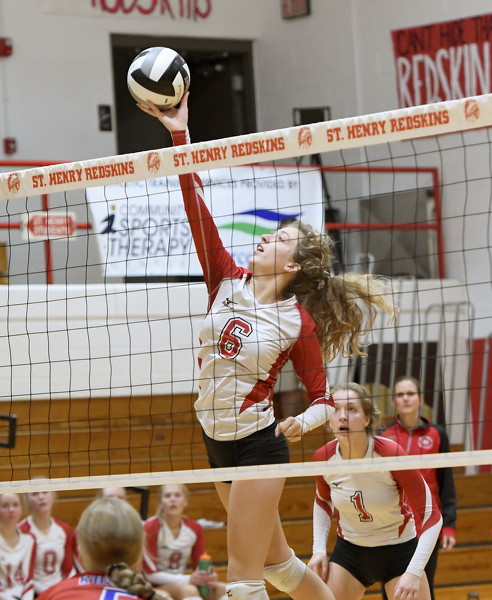 ST. HENRY - Parkway fell short in its upset bid against No. 16 Crestview on Thursday night.
Wayne Trace might have been thinking upset on the bus ride to take on No. 1 St. Henry … Yeah, that didn't happen, either.
After losing the opening set against Parkway, Crestview won the next three for a 22-25, 25-13, 25-21, 25-18 victory in the first of two Division IV sectional championship games. In the nightcap, No. 1 St. Henry did what it was supposed to do in sweeping Wayne Trace 25-11, 25-11, 25-7.
And now Tricia Rosenbeck's Redskins will play Crestview at 5:30 p.m. on Monday in Kalida.
"Obviously they have the Gregory girls (Lexi and Bailey) who are very, very great volleyball players," Rosenbeck said of Crestview. "We'll always have to know where Lexi is, whether she's in the front row or back row. They're very scrappy. It'll be a tough matchup for us."

Crestview 3, Parkway 1
Parkway gave Crestview a run for its money.
The Panthers just gave up too many runs to win, coach Jordan Henkle said.
"You work to get a lead in some of those sets and you work hard. The next thing you look up and it's back to tied up," he commented. "We had too many errors, too. We were just timid at times, afraid to make the play to make the difference. We battled. We played hard. It wasn't lack of effort. We just didn't make as many plays as they did."
Crestview entered the contest with just 14 set losses on the season, one of which came against Parkway during a 3-1 victory in September. That set-loss number reached 15 on Thursday.
After falling behind 4-0 in set one, Parkway went on a 12-3 run - and it was led by Johnson and Johnson. Sisters Macy and McKenna Johnson each had three kills during the run, and Parkway's lead eventually reached eight. The Knights got within three late, but the Johnsons were too strong. They combined for 12 points -six kills and one ace for Macy and five kills for McKenna - in a 25-22 victory.
"You've got two sisters on the court, which is fun," Henkle said. "You've also got two different players, so they kind of compliment each other well. It's fun to coach sisters like that."
Set two, however, was a different story.
The Knights reeled off 11 unanswered points to start it and never looked back in a 25-13 win. Parkway did show a little bit of spunk at the end, though, and it carried over to set three.
The Panthers opened this set with a 6-0 run, before the Knights responded with a 12-3 run led by Laci McCoy's three kills and one block. Macy Johnson kept Parkway afloat with five more kills in the set, her last cutting the score to 21-20. But McCoy and Lexi Gregory followed with spikes for Crestview as the Knights held on for a 25-21 win.
Parkway began set four with a 3-0 run, capped by Gracyn Temple's second ace of the evening. Crestview took its first lead at 8-7. Parkway came back with a 6-0 run, only to be overtaken at 15-14 after committing a hitting error. From there, Gregory tacked on three more kills to her ledger, McCoy added two herself and Parkway became error prone as the match ended with a 25-18 result.
Gregory had 15 kills and McCoy added 11 kills for Crestview.
Macy Johnson had a match-high 18 kills for Parkway. McKenna Johnson finished with 13 kills, Grace Rogers dished out 35 assists and Kris Kirby tallied 21 digs.
The Panthers conclude their season 9-15.
"Thankful to the seniors for all their hard work," Henkle said. "The message to the rest of the girls was not to be satisfied with 9-15 because I know we're better than that and I know we have the players to be better than that."

St. Henry 3,
Wayne Trace 0
St. Henry won by sweep for a 17th time this season.
None of the sets were close, either.
Hannah Bruns had a four-kill, two-ace stat line in the opener, and five Redskins got in the kill column. Brianna Siefring added a trio of aces in the 25-11 win.
St. Henry scored the first nine of 11 points in set two, with the University of Tennessee at Martin-bound Addy Vaughn collecting three aces. The Redskins again scored the first nine of 11 points in the third set. Bruns finished out the match with a handful of kills as she collected a game-high 14 of them to go along with her three aces.
Other stat leaders for the Redskins were Marlee Vaughn (17 digs), Addy Vaughn (29 assists, seven digs, three aces) and Siefring (three aces, 13 service points).
"I just thought we controlled the match from beginning to end," Rosenbeck said. "Coming in, we knew we'd be able to do that if we played our style of volleyball."
The top-seeded Redskins will meet fourth-seeded Crestview for a first time this season. In the late game at Kalida, second-seeded Fort Recovery takes on seventh-seeded Lima Central Catholic.