Monday, January 13th, 2020
Nurse aides needed
Several factors behind shortage
By Tom Stankard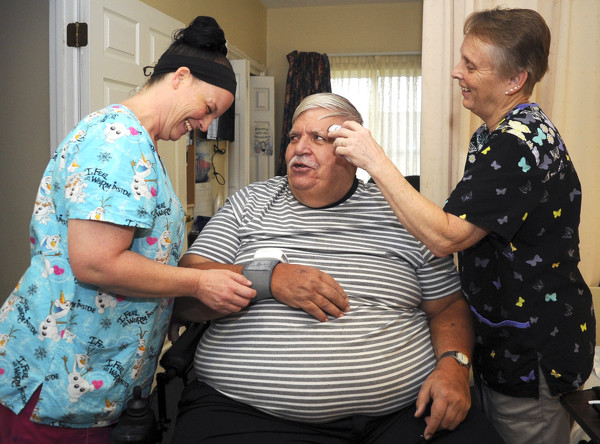 Several local health care providers have reported difficulty in recruiting nurse aides amid a surging economy.
"In two years, I've had more openings than I've ever had in any facility," Celina Manor Administrator Peggy Stewart said.
Stewart and Otterbein Senior Lifestyle Choices, St. Marys, Executive Director Melissa Smalley said earlier this week the low unemployment rate in Mercer and Auglaize counties has made finding employees hard.
"When the economy is good, industry is good, and we're always looking for people. It's a struggle all industries are facing," Stewart said.
This is evident as Celina Manor employs 40 nurse aides and is looking to hire six more. Otterbein has 90 staff members but is down 50 potential workers. Briarwood Village in Coldwater has 200 employees and is looking for 80 more. Officials at those two facilities did not have a breakdown on how many of those positions are for nurses aides.
While larger senior homes such as Otterbein with about 250 residents are finding it difficult to recruit, The Gardens At Celina Administrator Charles Jackson said his facility has not had that experience.
"We have the luxury of being small. The larger you are, the more people you have to staff, and the harder they are to find," he said.
The shortage is not just local, Stewart said, as more and more people throughout the country have become less interested in the profession.
"In the past, it was a profession of pride. People looked up to them. Some of that has gone away," she added.
Nurse aides work in nursing and residential care facilities and hospitals. They are frequently physically active and may even be required to help lift or move patients, according to the U.S. Bureau of Labor Statistics.
The profession may have lost its appeal because people may not look at caring for the elderly as a fun career, Smalley said.
"It may not be in their mind because it's not flashy. We have to make sure we're sharing our story of what a great industry this can be and what a rewarding industry it can be to take care of the elderly," she stressed.
To recruit nurse's aides, Otterbein has turned to modern measures to attract the younger generation to what she feels is a rewarding profession, Smalley said.
"We've tried to use social media as a platform to show people it's a fun place to work at and what a career it is to take care of people who can't otherwise. It can really be a fun thing to do," she added.
The shortage is mostly limited to post-acute care and not hospitals, said Shelly Ruppert, executive director of human resources at Grand Lake Health System.
Grand Lake Health System has been proactive to ensure enough staff is employed, Ruppert said.
"We are active in the community with local schools to encourage students to consider nursing aide as a career option," she added.
Being a nurse aide is a good way to gain experience and exposure to the health care field, Ruppert said.
"Some will remain nursing aides throughout their career while others will pursue further education," she said.
Nurse aides must complete a state-approved education program and must pass a state competency exam to become certified, according to the bureau.
Stewart expects over the next couple of years an influx of residents as baby boomers get older, leading to a need for more nurse's aides.
"Medical science has advanced people's lives and, as they age, they need more assistance with daily living," she added.
As baby boomers age, employment of nurse aides is expected to grow 9% from 2018 to 2028 from 1.51 million to 1.65 million nationally, according to the bureau.
An average pay of $13.72 per hour and high emotional and physical demand, however, may lead people to leave the occupation, requiring additional replacements, creating opportunities for job seekers, according to the bureau.
Briarwood recently raised its wages for nurse aides from $12 to $14 per hour - above the national average - to remain competitive, administrator Ryan Douglas said.
"We would like to keep turnover as low as we can," he said. "It's hard work and takes someone who is caring and compassionate."